From Zero to Start-Up In 18 Months
Bauer Entrepreneurship Grads Reflect on Wolff Center for Entrepreneurship Program
Published on May 22, 2019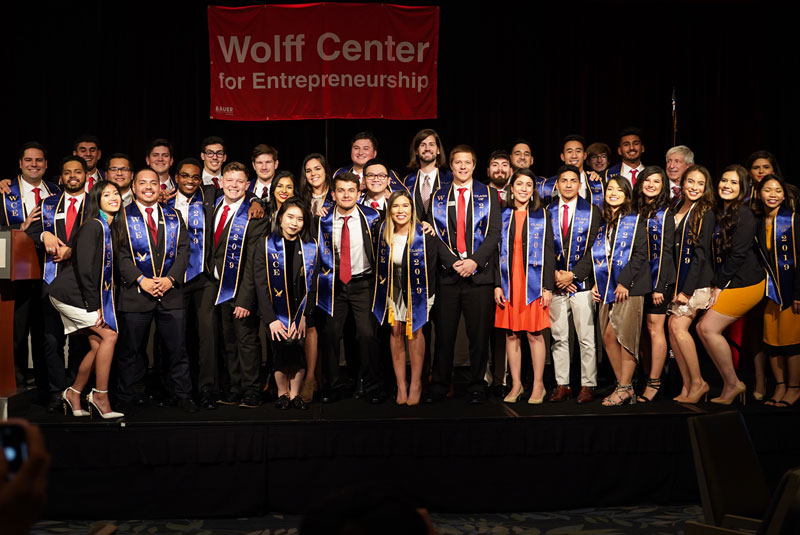 This spring, Bauer College's Wolff Center for Entrepreneurship (WCE) celebrated a graduating class that represented 10 different nationalities of students who each launched a start-up from scratch during their time in the program, pitching nationally to judges and investors, networking with prominent players in the Houston innovation ecosystem and getting a range of hands-on experience in building a business.
The program begins with a competitive application process, with just 30-40 undergraduate students accepted into each cohort. Bauer's BBA in Entrepreneurship is a lockstep program of nine custom-designed courses covering four semesters, where students learn the basics of entrepreneurial strategy, costs and budgets, business planning and implementation, and leadership.
In addition to the classroom experience, WCE students participate in enrichment activities that include a business plan competition, retreats and an annual trip to Berkshire Hathaway headquarters in Omaha to spend time with Warren Buffett.
Experiential learning is a major component of Bauer's entrepreneurship program, with WCE students getting hands-on experience through an Amazon seller course, developing business plans for intellectual property and experiencing retail business with the annual Wolffest pop-up food festival on campus.
"We are creating seeds that we're going to send out in the community," WCE Director Dave Cook said. "The values they learned here, what we preach about having a purpose, the value of relationships and having discipline, will all be values put into play in their own companies."
Here, several new graduates of Bauer's Wolff Center for Entrepreneurship share their experiences in the program.
Jacob Skok, WCE Class of 2019
"WCE is truly a revelation of who you are. It is designed to test you through a variety of experiences to see how you cope with failure and success, individually and on a team. More than anything, it instills the character that makes global leaders. Be prepared to open your mind and hearts, reflect and build your personal character, and push yourself to the limits of mental exertion. More than anything, this program is about teaching you to live a balanced life between the motivations of your head and heart to live your best life."
Alex Santander, WCE Class of 2019
"To me, the Wolff Center for Entrepreneurship is and always will be so much more than just an academic program at the University of Houston. Throughout this program, I was able to obtain knowledge, encouragement and self-awareness, but most importantly, I was able to earn my independence. I no longer feel dependent on other people to do things for me. I feel capable of doing anything I put my mind to because I know WCE equipped me with all the tools and resources I needed to succeed out there in the world.
If someone in the near future ever asks me to describe what WCE gave me in just ONE word, aside from first-class education of course, that word will be DETERMINATION. Because of WCE, I am not longer fearful of failing anymore. I know that I have what it takes to get up and start all over. I am more confident in myself, more aware of my surroundings, and I know how to establish meaningful and long-lasting relationship because I know I am worth it."
Victoria Rayol, WCE Class of 2019
"The first thing that comes to my mind is how much confidence WCE gave me. However, it goes beyond being confident in myself. This program changed my life both personally and professionally. WCE gave me confidence when looking and analyzing a balance sheet; confidence in presenting in front of 200+ people and being a fearless presenter; and the confidence in being able to be vulnerable and tell my story to people I trust. I am ready to walk my path towards my future goals."
Omar Alvarado, WCE Class of 2019
"At the Wolff Center, I had the best 18 months of my entire life. I believe the most important take away from WCE was the meaningful relationships not only with professionals, founders and millionaires in the Houston area, but also with start-up founders and tech world professionals. I had the chance to apply every single topic learned, travel across the country, lead teams, and compete in business plan competitions with NASA IP and my own start-up. I learned that dreams can become real, but hustle, sacrifice and faith are key to make it happen. Finally, I had the chance to discover how to apply my passion and business education into something that really excites me to work on for the rest of my life, and I feel I can make an impact in the world."