Duddlesten Foundation Establishes Scholarship For Bauer Students
Scholarship Support Named for Houston Real Estate & Civic Leader
Published on July 11, 2019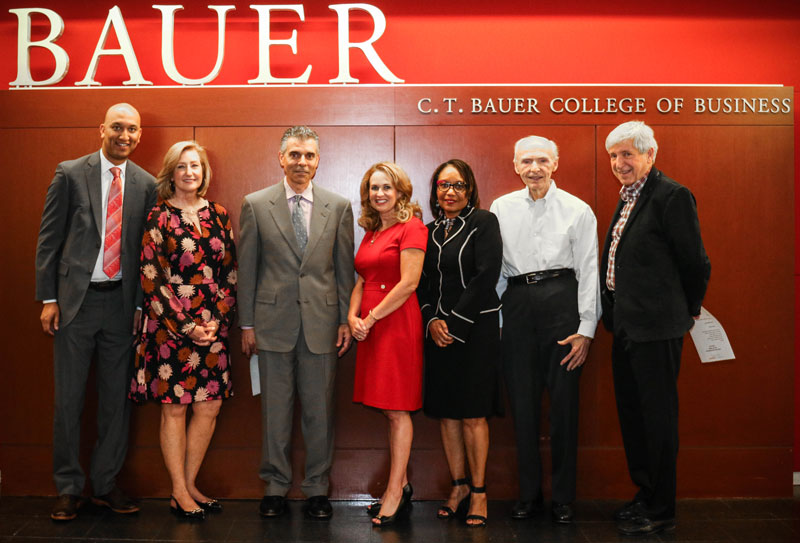 Twenty-five, full-time undergraduate students at C. T. Bauer College of Business will begin benefitting this fall from the Wayne B. Duddlesten, Sr. Scholarship.
Charlene Slack, executive director of the Duddlesten Foundation, recently presented a $250,000 grant to Bauer College leaders to establish the scholarship, which will provide 25 scholarships at $10,000 each for Bauer students in the upcoming academic year.
The late Mr. Duddlesten was "a proud Houstonian who enjoyed mentoring young businessmen and businesswomen," Slack said. "He wanted everyone to achieve their potential and become a contributing member of society."
Slack said Duddlesten actively encouraged those he worked with to grow and hone their skills with hard work, self-starting initiative, good judgment, honor and character.
"'Always do what you say you'll do,' was one of his favorite sayings," Slack said.
Duddlesten was one of the first "big box" retail developers in the United States and served or led numerous civic boards vital to the Houston region. Early in his career, he founded a large regional advertising agency which specialized in real estate marketing. He later formed and operated a general contracting firm that developed and operated commercial income-producing properties in Texas and throughout the country.
The Duddlesten Foundation awarded a total of $1,180,500 to 33 non-profit organizations in 2018. In 2014, the Foundation gifted the University of Houston with a $100,000 grant, matched dollar-for-dollar, to establish the Tier One Scholarship for highly qualified students.