Bauer Spring 2019 Commencement Set for May 13
More Than 1,000 Bauer Students to Cross Stage at Fertitta Center
Published on May 6, 2019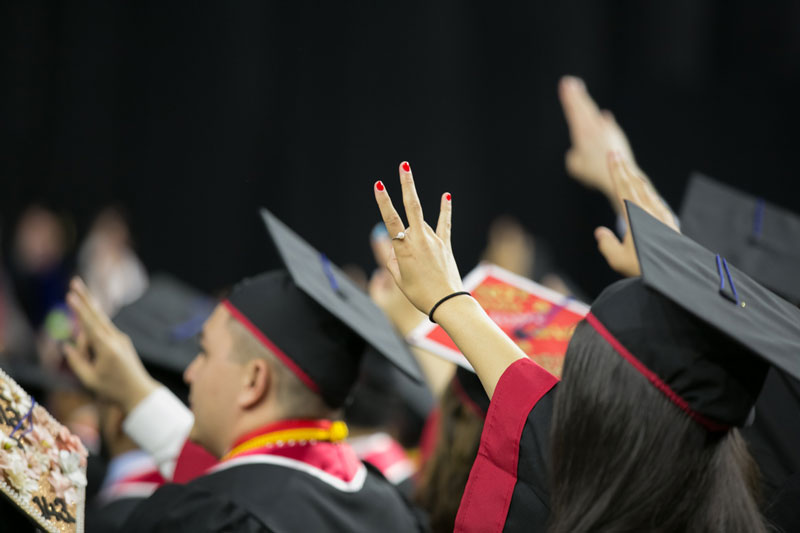 More than 1,000 graduating students from the C. T. Bauer College of Business will be recognized on May 13 at the college's Spring 2019 Commencement Ceremony.
The ceremony, hosted in the Fertitta Center on the University of Houston campus, will be held in two ceremonies. For logistical information on the event, including parking, student check-in and guest information, click here.
Ceremony I: 9-11:30 a.m.
Majors:
Entrepreneurship
Management
Marketing
Ph.D. Candidates
Master's Candidates
Ceremony II: 2-4:30 p.m.
Majors:
Accounting
Finance
Management Information System
Supply Chain Management
#BauerGrad19 By The Numbers:
Total Number of Graduating Students: 1,090
Undergraduates: 826
Graduates: 264
MS Accountancy: 100
MS Finance: 19
MS Global Energy Management: 2
MS Marketing: 6
MS MIS: 2
MS Supply Chain Management: 8
MBA: 79
EMBA: 34
Ph.D.: 14
This semester's graduating class includes candidates for bachelor of business administration degrees, as well as those completing graduate (MBA, Executive MBA and MS) and doctoral business programs. Bauer College Interim Dean Tom George will honor the degree candidates with remarks.
During Ceremony I, the University of Houston will present a Doctor of Humane Letters degree, honoris causa, to Cyvia Wolff, namesake of the Cyvia and Melvyn Wolff Center for Entrepreneurship. This is the highest honor the University can bestow.
The college will share live coverage of the ceremony throughout the day on Facebook, Instagram and Twitter, with #BauerGrad19. The university will also livestream the ceremony (click here for more information on the telecast).
For more information about the Bauer College Spring 2019 Commencement, visit www.bauer.uh.edu/commencement.