Bauer Professor Explores "Whole Self" Workplace Approach in New Research
Bauer Executive Education Offering Women In Leadership Program in August
Published on July 16, 2019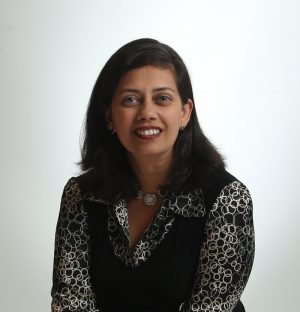 For years, an unspoken workplace norm encouraged employees to lead separate lives, relegating parenting or other personal life responsibilities to a separate realm that never surfaced at work.
In her popular book, "Lean In," Sheryl Sandberg advocates for a more enlightened, less compartmentalized approach for leaders:
"I am now a true believer in bringing our whole selves to work. I no longer think people have a professional self for Mondays through Fridays and a real self for the rest of the time...Instead of putting on some kind of fake "all-work persona," I think we benefit from expressing our truth, talking about personal situations, and acknowledging that professional decisions are often emotionally driven."
Applying a "whole-self" approach is the foundation of the Bauer College Women in Leadership Executive Education course offered twice a year at C. T. Bauer College of Business. (The next session is Aug. 16 and 17).
Bauer Professor of Marketing Vanessa Patrick is lead faculty for the Executive Education course and has recently co-authored a forthcoming paper in Organizational Behavior and Human Decision Processes that advocates adopting a "whole self" approach in the workplace.
The research paper, "Juggling Work and Home Selves: Low Identity Integration Feels Less Authentic and Increases Unethicality," suggests that "bringing your whole self to work" benefits both individuals and the organizations they work for.
"In this research, we found that low identity integration led to greater feelings of inauthenticity and a higher likelihood of engaging in unethical behavior," said Patrick. Her co-authors are Mahdi Ebrahimi, a Bauer College doctoral alum who is now Assistant Professor of Marketing at California State University; and Maryam Kouchaki, Associate Professor at the Kellogg School of Management, Northwestern University.
The researchers conducted a series of studies, in which participants were induced to adopt either a mindset that was low in work-life integration (work and life viewed as separate and non-overlapping) versus one that was high in identity integration statements (work and life as seamless and overlapping). They then engaged in activities designed to test their inclinations toward cheating. The findings show that low identity integration individuals were significantly more likely to cheat compared to high-identity integration individuals. The authors argue that adopting an integrated work-life identity makes an individual feel more authentic and less likely to behave unethically.
The "whole self" approach advocated in Bauer's Women in Leadership program draws from the expertise of highly qualified female faculty from Bauer. In addition to Patrick, faculty for the program include Spec's Charitable Foundation Professor JeAnna Abbott; Assistant Dean for Career Services Jamie Belinne; and Management & Leadership Professor Dusya Vera.
"We have created a very unique program that allows people to come in and examine not only where they're at as managers, but encourages them to develop the self-knowledge to leverage their strengths as whole individuals to lead others and advance their own careers," Patrick said.