Bauer Entrepreneurship Students Bring NASA IP to Market
Wolff Center for Entrepreneurship Student Team Earns Recognition in Business Plan Competition
Published on April 19, 2019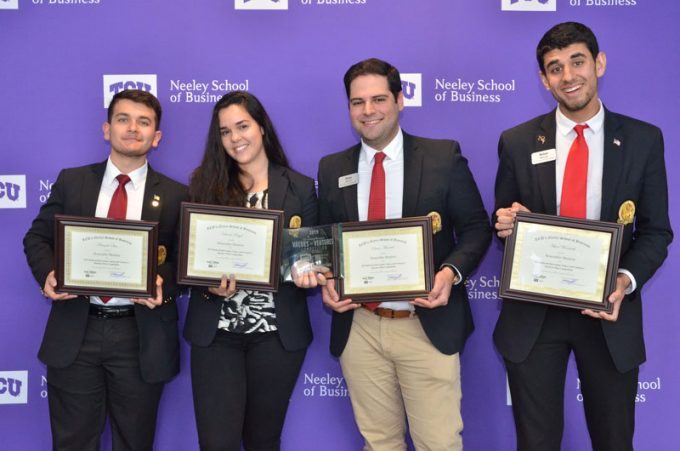 A team of undergraduate students from Bauer College's Cyvia and Melvyn Wolff Center for Entrepreneurship earned recognition at a recent business plan competition for their work on bringing NASA intellectual property to market.
Students Victoria Rayol, Ricardo Soto, Asher Warriach and Omar Alvarado received an honorable mention finish at Texas Christian University's Richards Barrentine Values and Ventures Competition earlier this month. The team pitched AquaFix Solutions, a NASA-patented chemical solution that is used during the pre-treatment phase of the desalination process, increasing the water recovery rate of plants by 15 percent.
The students spent eight months creating the business plan, working with Dean Muirhead, inventor from NASA of AquaFix Solutions, Ronan McGovern, co-chair at the International Desalination Association Program, and Randall Shaw, facility manager for the Federal Bureau Research Facility in New Mexico, who is allowing the team to test the product.
The project is part of the second-semester curriculum for Wolff Center students, who form business plan teams from an IP that is either licensed from the University of Houston or from NASA. The teams are guided through the process by WCE professors and an outside mentoring advisory group.
"The Intellectual Property project and Aquafix helped all of us to step out of our comfort zone," Rayol said. "We presented in front of more than 400 people and developed a whole company from nothing, helping all of us to learn to operate as entrepreneurs."
Rayol credits the team's success to the support system at Bauer College and the Wolff Center. In addition to the IP project, entrepreneurship students at Bauer take on experiential learning in the form of an Amazon seller course and Wolffest, the capstone project that requires student teams to form pop-up food stands during a three-day on-campus food festival.
"WCE allowed us to express all of our entrepreneurial ideas in so many ways, as well as giving us the tools to perfect these ideas," she added. "Projects like Intellectual Property, Wolffest and Amazon provides us with real world experience that we can apply to our personal and professional lives."