Bauer College Welcomes New Dean
For Paul A. Pavlou, Student Success & Giving Back is Personal
Published on July 1, 2019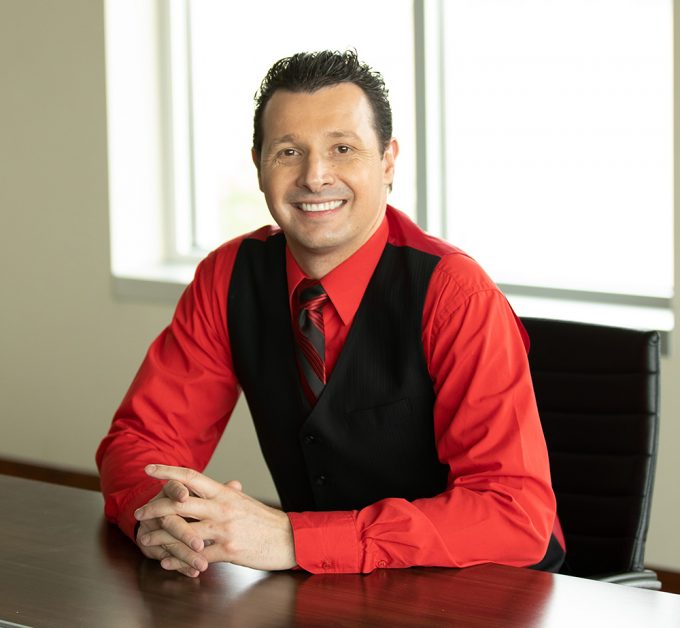 Paul A. Pavlou has been around the world, over 65 countries to be exact, but there's one city that has made a lasting impression on the Bauer College Dean ― Houston.
Born in Cyprus, a small island in the Mediterranean, Pavlou first came to the United States as a college undergraduate student, studying electrical engineering at Rice University.
"My first point of entry to this country was Houston with a full-ride Fulbright scholarship," he said. "That was the only way I could afford to come to the United States for education."
Pavlou made the most of that gift of higher education, completing his Bachelor of Science (Magna Cum Laude) in Electrical Engineering with a double major in Managerial Studies from Rice in 1998 before moving to Los Angeles to attend the University of Southern California (USC) for graduate school, where he earned a Master of Science in Electrical Engineering.
From there, he attended the Marshall School of Business at USC to pursue a PhD degree and start his career as a professor. Pavlou graduated with a Ph.D. in Information Systems in 2004 and was hired as a professor at the University of California at the Riverside campus, later that year. In 2008, he moved to Philadelphia to join the faculty of the Fox School of Business at Temple University, where he was soon promoted to the Milton F. Stauffer Chair Professor of Information Technology and Strategy.
"Research is very close to my heart, especially when research can inform and impact many constituents, namely students at all levels, industry practice, executives, and society at large," he said.
In his research, Pavlou has explored cutting-edge topics that merge concepts from data science, marketing, management and operations, following the evolution of the Internet and its impact on commerce, communications, and socialization.
"More recently, I have been focusing on analytics and artificial intelligence," he said. "Some of the work shows the impact of this technology on the future of work and organizations ― how we, as individuals, will actually work alongside machines that become more intelligent and can help us in different ways, but at the same time, they can replace us. Therefore, we are looking at the broader societal implications of these sophisticated technologies as a whole and how they transform business and society."
Pavlou's research has been well-received by both the scholarly community and practitioners. His work has been cited almost 40,000 times by Google Scholar, and he was recognized among the "World's Most Influential Scientific Minds" by Thomson Reuters. He was named No. 1 in the world for publications in the top two information sciences journals, MIS Quarterly and Information Systems Research, in 2010-2016, and this year, he earned the 2019 Sheth Foundation/Journal of Marketing Award for a paper on the explosion of research related to the impact of the Internet and related technologies on consumers, businesses, and the emerging digital marketplace.
In 2010, Pavlou applied his passion for education and research to an administrative role, starting with Director of PhD Programs, then Associate Dean, and over the last three years Senior Associate Dean for Faculty, Research, Doctoral Programs, and Strategic Initiatives at the Fox School.
"That's where the passion of leadership and transforming lives came to me," Pavlou said. "I saw that I could do much more to help others, primarily students, transform their lives with high-quality education, providing cutting-edge programs informed by research to guide their training, and helping them get high-quality jobs."
In his role at Fox, Pavlou oversaw all research activities and centers, including the development and mentorship of research faculty and Ph.D. students. During his tenure, five of the school's disciplines were among the Top 10 in the nation in terms of research productivity. He also initiated and implemented a strategic plan to enhance the school's research visibility and showcase the broader impact of research on academia, industry, practice, the classroom, and public policy and society.
When the leadership position of the University of Houston's business school became vacant last year, Pavlou saw an opportunity to return to the city that seemingly started it all. In March, UH Provost and Senior Vice President for Academic Affairs Paula Myrick Short announced Pavlou as incoming Bauer College Dean.
"The ability to transform lives through a leadership role is what drove me to this position," Pavlou said. "I have been very fortunate in my life with full-ride scholarships for all my degrees in order for me to be in this position here, so I simply want to give back by helping others.
He added: "I'm very excited about this position because I think the Bauer College is uniquely positioned to achieve awesome things, and I am passionate to achieve that."
As he officially starts the position on July 1, Pavlou plans to spend the first 100 days on the job listening and learning as much as he can from students, faculty, and staff about the Bauer College, as well as opportunities for strategic growth. Soon thereafter, under his leadership, the college will launch a formal strategic planning exercise to identify key priorities for the next five years (2020-2024).
"I see strong enthusiasm across the board," Pavlou said. "Bauer faculty, staff and students have been extremely welcoming with a lot of great ideas, and I'm encouraged by the engagement I've seen with our alumni and the business community. There is already a very strong focus on student success, and that's something I'd like to promote even further, enhancing graduation and placement rates, finding ways to better engage and mentor students, and enhancing an experiential learning component to help students get high-quality jobs."
Now that he's made his way back to Houston ― this time, with his wife (Angelika Dimoka, a noted researcher herself who will also join the Bauer faculty) and their 6-year-old daughter, Aurelia Nikka― Pavlou plans to reflect on the kindness and generosity that brought him to the city more than 20 years ago and allowed him to build a career in academia.
"Do good," he said. "It's very simple. I just like to use all of my energy to do some good things to help students, faculty, staff, businesses, and society as a whole. That is what drives me."