Ramchand Steps Down, George Named Interim Dean
Latha Ramchand Steps Down as Dean, Thomas George Appointed Interim Dean
Published on June 22, 2018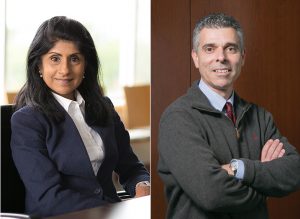 After nearly 30 years of service at the University of Houston, Latha Ramchand has announced her plans to step down as dean of the C. T. Bauer College of Business.
Effective August 9, Ramchand will leave her role at Bauer College to join the University of Missouri-Columbia as the institution's new provost. Thomas J. George, who has served as the college's senior associate dean for faculty affairs, will serve as interim dean.
George is also C. T. Bauer Professor of Finance and the director of the AIM Center for Investment Management at Bauer College. As senior associate dean, his responsibilities included overseeing faculty recruitment, retention, promotion and tenure processes for the college. George has also worked closely on annual budget planning for the college as well as developing new curriculum and initiatives. His research focus is on market microstructure, asset pricing and behavioral finance.
UH Provost Paula Short announced today that she will be conducting a nationwide search for the next Bauer College dean and will soon appoint a search committee to begin the process of recruiting her successor.
Ramchand joined what was then known as the UH College of Business Administration in 1993 as an assistant professor and was promoted to associate professor with tenure in 2000. In 2006, she was appointed associate dean for Graduate & Professional Programs, then served as associate dean for finance and administration in 2008. She was promoted to the rank of professor in 2009, continuing to serve as associate dean. In 2011, after Dean Arthur Warga stepped down, Ramchand was appointed dean.
Under Ramchand's leadership, the college focused on initiatives to support student service and faculty research, launching the Bauer in D.C. Fellowship Program, the Working Families Agenda and several degree and certificate programs. The college also developed new initiatives to connect to the community, including startup accelerator RED Labs and the SURE Program.