Bauer College Welcomes Faculty for Fall 2019
Published on August 27, 2019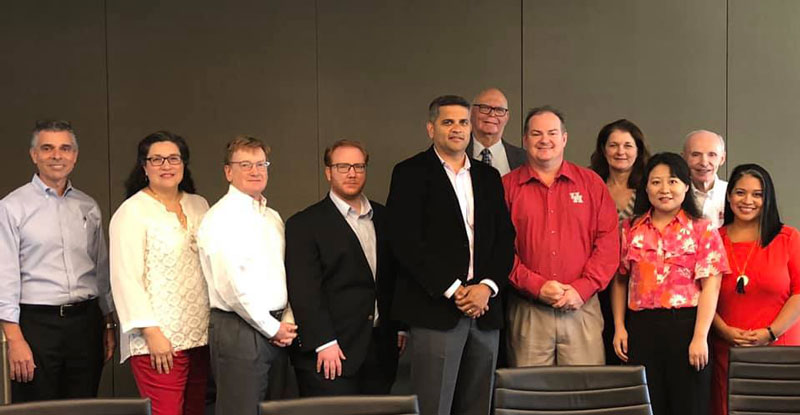 The C. T. Bauer College of Business is known for its diverse faculty, a dynamic mix of young scholars, deeply knowledgeable leaders in their research field, and industry veterans who bring practical knowledge to Bauer students. A new cohort for 2019 and existing adjunct faculty share expertise in a wide range of areas.
Accountancy & Taxation
William Newman
Adjunct Professor
William Newman worked for more than 25 years in public accounting, finance, auditing and consulting for various industries. He is retired senior vice president for URETEK USA, Inc. and has provided accounting, auditing and consulting services to the petroleum industry, as well as to the U.S. Justice Department, Environmental Protection Agency and Customs department.
Newman has an MBA from the UT San Antonio, with an undergraduate degree in accounting from St. Mary's University and undergraduate degrees in English and History from Baylor University. He serves on the Bauer College Accounting Advisory Board and as adjunct faculty.
Decision & Information Sciences
Angelika Dimoka
Professor
Professor Angelika Dimoka was Founder and Director of the Center for Neural Decision Making at Temple University, before joining Bauer this fall. Dimoka also was the Marvin Wachman Senior Research Fellow and Associate Professor of Marketing and Information Systems at Temple, with a joint appointment in the College of Engineering. She was Senior Fellow of the Wharton Neuroscience Institute at Wharton School of Business, University of Pennsylvania, for 2016-2017.
Dimoka's research focuses on decision neuroscience, with an emphasis on functional neuroimaging in marketing (neuromarketing), IS (NeuroIS) and electronic commerce. Her research has appeared in the Journal of Marketing Research, MIS Quarterly, Information Systems Research, NeuroImage, Neuroscience Methods, IEEE Transactions in Biomedical Engineering and Annals of Biomedical Engineering and in the proceedings of the International Conference on Information Systems, the Association of Consumer Research and the INFORMS Marketing Science conference. Dimoka's research has been cited more than 3,000 times by Google Scholar, and she was ranked second in publications in the two top Information Systems journals (MIS Quarterly and ISR) in 2010-2012.
She holds a Ph.D. in Biomedical Engineering with a business minor from the University of Southern California.
Lianlian (Dorthy) Jiang
Assistant Professor
Assistant Professor Lianlian (Dorothy) Jiang, earned a Ph.D. in management information systems at the Lally School of Management at Rensselaer Polytechnic Institute. Her research interests include strategies of digital platforms, with emphasis on user-generated content, E-commerce, business analytics and IT governance.
She has published work in Communications of the Association for Information Systems and 3D Research, as well as in proceedings from the Americas Conference on Information Systems, the International Conference on Information Systems and others.
She earned a master's in management information systems from Clemson University and master's in computer science from Peking University. She has a BA in computer science from the University of Science and Technology in Beijing.
Robert Burns
Adjunct Professor
Robert Burns, an independent consultant with a focus on process design using Microsoft stack technologies, joins Bauer as adjunct faculty. From 2015 to 2018, Burns worked for Accenture as a management consultant identifying process improvement points and implementing IT strategies for major energy companies and others. He earned a B.A. in management information systems from Bauer in 2014. Burns will teach Systems Analysis and Design.
Phillip Campbell
Summer Instruction Adjunct
Phillip Campbell is an Information Technology Business Relationship Manager at Chevron. He develops custom, business-specific software and manages infrastructure and support. Campbell served as summer adjunct professor at Bauer, teaching IT Project Management.
Campbell earned a B.S. in computer engineering technology from UH. He also holds an MBA in Business Modeling, Analytical Problem Solving, and Decision Analysis /Leadership from Bauer College.
Finance
Colleen Mukavitz
Adjunct Professor
Colleen Mukavitz is an independent consultant and senior strategist in the oil and gas industry and serves as adjunct faculty. She has been an adviser to industry-leading organizations such as BHP Billiton Petroleum, where she established and built key relationships in Mexico and provided thought leadership on industry issues. Mukavitz has an MBA from Rice University and B.S. in petroleum engineering from the Missouri University of Science and Technology. She is active on several non-profit boards, including the Advisory Board of the Bauer's Gutierrez Energy Management Institute.
Aditya Soman
Adjunct Professor
Energy executive Aditya Soman joins Bauer as adjunct faculty. He has worked for Motiva Enterprises, a subsidiary of Saudi Aramco, since 2014, and is currently leading Supply Operations. The company operates the largest refinery in the U.S., and Soman has been a leader in the Supply, Trading and Logistics, and Strategy and Business Development sectors there. He led Project Management Office (PMO) activities for a joint venture dissolution between Shell and Saudi Aramco, and also led a divestiture while at Valerus Field Solutions.
Soman earned an MBA and master's in mechanical engineering from the University of Texas Austin (UT) and has an undergraduate degree in mechanical engineering from the University of Pune, India.
James (Jim) Hughes, III
Adjunct Professor
James (Jim) Hughes III, of Hughes Mediation & Arbitration Services, LLC & Hughes Risk Management & Insurance Services, LLC, joins Bauer as adjunct faculty. Hughes is an experienced and credentialed mediator and arbitrator, as well as an expert witness and consultant. He is also a part-time Senior Vice President at Marsh Wortham, which provides risk management advice and places insurance to energy and power companies. Hughes also chairs Marsh's Energy University, which provides technical training courses for Marsh employees and clients in the U.S.
A frequent speaker and lecturer, Hughes has addressed Energy Risk Management classes at Bauer College since 2003 and has lectured at numerous other universities. He founded the Houston Energy Risk Manager Society and presided over its membership growth, culminating in more than 100 risk management professionals.
Hughes has served on and chaired boards of directors for several insurance companies. He has an A.B. Honors degree in government from Harvard University and the Chartered Property & Casualty Underwriter (CPCU) and Registered Professional Liability Underwriter (RPLU).
Nikolas Kapatos
Professor of Practice
Nikolas Kapatos has served as a risk manager in the areas of enterprise risk management, insurance, and strategic planning with banks in New York and Houston for more than 20 years. He currently provides consultative services on risk management and insurance to financial institutions. Kapatos previously was an adjunct professor at the City University of New York and has been a lecturer at Bauer since 2013. Kapatos will teach at Bauer as a professor of practice.
He holds a BA and an MBA in finance and corporate accounting from the University of Rochester and is a Texas licensed insurance agent. He has served previously as president of the Risk & Insurance Management Society, Houston and New York chapters.
Maria Honey
Assistant Director, Real Estate Program
Maria L. Honey, Assistant Director of the Real Estate Program at Bauer, served as an instruction adjunct this summer at Bauer.
Honey oversees the daily operations, supervision of staff, and program processes for the Real Estate office and the Stanford Alexander Center of Excellence at Bauer. She joined Bauer in September of 2018, with more than 18 years' experience in event and project management, customer service, marketing and financial services. Before her position at Bauer, she led marketing, communication and sustainability initiatives for the division of Administration and Finance at the University of Houston.
Honey earned a BS in occupational technology with a minor in industrial studies, as well as a master's degree in higher education administration from UH.
Kenneth Hogan
Summer Instruction Adjunct
Kenneth Hogan is employed by Cadence Bank, where he established and leads the Foreign Exchange Division. The past president of the MBA Council of Houston, he is the founder of Amazonas, LLC., and served as summer instruction adjunct, teaching a graduate level course in financial risk management at Bauer.
Hogan earned a BS at Texas A&M University and an MBA from Tulane University. He is a frequent guest lecturer at universities and trade associations on macroeconomics, finance and global risk management.
Danny Harvey
Summer Instruction Adjunct
Danny Harvey, an instructor of accounting, finance and management information systems at Prairie View A&M University and a financial adviser, is serving as adjunct instructor at Bauer. Harvey is program director and developer of a Financial Planning minor at Prairie View. He earned an MBA from Bauer College and a BS from Texas A&M University.
Emilia Barreto Carvalho
Adjunct Professor
Emilia Barreto Carvalho, a Ph.D. candidate in political science at UH and former marketing analyst, is joining Bauer College as adjunct faculty.

Carvalho is expected to earn her Ph.D. in political science this fall. Her dissertation discusses environmental political economy. She has previously taught at UH and at Lone Star College.
After initially working to in brand management for Vale, the second largest mining company in the world, and Sensoria, a natural cosmetics company in Brazil, Carvalho earned a master's in international studies from Chapman University in 2012, and a master's degree in political science from UH in 2017. She also holds a B.A. in international relations from Pontifical Catholic University of Goias (Brazil). She was awarded a Presidential Scholarship from 2013-15 and a doctoral student tuition fellowship for 2019 at UH. Carvalho presented her research at the Southern Political Science Association and the Midwest Political Science Association annual meetings this year. She will teach Business Principles in a Global Economy.
Joseph Thompson
Adjunct Professor
Historian and author Joseph Thompson has been named as adjunct faculty at Bauer College. Thompson earned a Ph.D. in history at UH in 2018. He previously earned a master's in history in 2013 and BA in history in 2007, also at UH.
Thompson has taught at UH as an adjunct lecturer since 2013. His book, "Mexican-American Baseball in Houston and Southeast Texas," was published in 2017. He is co-author of several books on baseball and local Houston history and is currently working on a book about the history of drug use in baseball.
Thompson, a U.S. Air Force veteran who served during Operation Desert Storm, will teach Business Principles in a Global Economy.
Management & Leadership
Ashley Salaiz
Summer Instruction Adjunct
Ashley Salaiz served as a summer instruction adjunct at Bauer. She is an assistant professor of management at the University of Tampa, and her primary research concerns and her primary research concerns organizational changes to address sustainability. She also studies corporate governance and how organizations are impacted by their leaders. Salaiz received her Ph.D. at Bauer, with an emphasis on strategic management.
Salaiz earned her BA from Southern Methodist University and an MBA from Schiller International University. She also spent several years working as an internal auditor for KPMG, Dresser, Inc., and General Electric in the Dallas/Ft. Worth metroplex.
Marketing & Entrepreneurship
Daniel Garbarino
Adjunct Professor
Daniel Garbarino, CLU® is a territory sales leader for State Farm Insurance in the Houston region, serving as the company conduit between independent contract agents and State Farm. He manages a business group with more than $200 million in premiums, and his territory has been ranked in the top five of 543 in the U.S. Prior to this position, he has developed and led State Farm teams in San Antonio/Austin, Dallas, Lubbock, Beaumont and elsewhere in Texas.
Garbarino will serve as adjunct faculty this fall at Bauer.
Garbarino earned a BS in wildlife biology at New Mexico State University. He has also earned his Chartered Life Underwriter® designation through the American College.
Dalia Pineda
Development Officer
Dalia Pineda has served the University of Houston community since 2002 and has been with Bauer College since 2006. As a development officer, she is responsible for supporting the college in fundraising and external relations while creating and nurturing relationships with donors, alumni and corporate partners.
Prior to this role, she was director of admissions and marketing for the graduate and professional programs office at Bauer, where she was responsible for admissions management, recruitment and marketing, financial aid services, and new program development for the MBA and Master of Science programs. Pineda has worked with Bauer faculty in specific programs and curriculum development related to communication, diversity and cross-cultural communication. She is a certified mediator and facilitator in various assessment tools for students.

Pineda formerly worked in student affairs with the UH College of Optometry and at UH-Clear Lake. She holds a BA in sociology and Hispanic studies from UT and a master's in cross cultural studies from UH-Clear Lake.
She will teach a section of the MBA communications course this semester, using curriculum she supported faculty in developing through her years in graduate business school management.
Grace Moceri
Adjunct Professor
Grace Moceri, a sales enablement manager for Medallia, has served as an adjunct professor at Bauer's Stephen Stagner Sales Excellence Institute since 2014. Moceri teaches the digital sales course, and previously taught sales for social impact. She has also coached student teams from Bauer that routinely excel in the world's largest sales competition. Bauer consistently places in the top 10 among more than 70 schools.
Moceri is responsible for foundational and continuous learning programs for sales development representatives and mid-market sellers at Medellia, a customer experience software company.
She previously worked as an associate solutions marketing manager for BMC Software; as a sales director for Seven Lakes Technologies; and as an account executive for LiquidFrameworks. Moceri graduated with a BA in marketing from Bauer College in 2012.