Bauer College Remembers Entrepreneurship Icon William "Bill" Sherrill
Published on October 2, 2019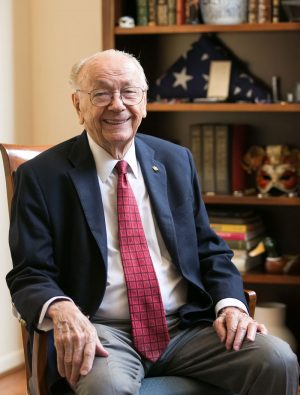 At 93 years of age, William "Bill" Sherrill, founder of the acclaimed entrepreneurship program at the C. T. Bauer College of Business, could have taken a step back from activities at the Cyvia and Melvyn Wolff Center for Entrepreneurship (WCE), secure in the knowledge that the center had become one of the most highly ranked entrepreneurship programs in the country.
But Sherrill, an entrepreneurial icon who launched start-ups and led turnarounds in fields as diverse as real estate development, electronics, manufacturing, banking and finance, never stopped mentoring, or attending classes, retreats and sponsorship events related to top-ranked WCE.
His considerable wisdom and extensive business expertise influenced countless students and imbued the program with some of the intangible qualities he embodied ― perseverance, excellence, generosity and humility.
"By any measure, Bill was an American hero and he is irreplaceable in the lives of our students and stakeholders," said WCE Director Dave Cook. "His intelligence, wit, kindness and judgement are built into our entrepreneurship program, and his many contributions benefitted our city and our nation. He will be missed greatly."
Sherrill died Sept. 19. He was born August 23, 1926, in Houston. At age 15, he joined the U.S. Marine Corps to serve in World War II, and was awarded a Purple Heart for injuries sustained at Iwo Jima. He earned an undergraduate degree at the University of Houston and later received an MBA from Harvard University.
Sherrill's professional career included serving as chief administrative officer of the city, and working with Judge Roy Hofheinz in the years when the Astrodome was conceived and developed as "The Eighth Wonder of the World." He served as president of a local bank before launching his own financial consulting firm. At the invitation of President Lyndon B. Johnson, Sherrill twice served on the Board of Governors of the Federal Reserve System. Sherill also served as Director of the U.S. Federal Deposit Insurance Corporation (FDIC), President of Associates Corporation of North America, and Director of Gulf and Western Industries, Inc.
His passion for entrepreneurship and UH led Sherrill to return to campus to establish what was then called the Center for Entrepreneurship & Innovation in 1993.
"Contrary to popular opinion, entrepreneurship can be learned," Sherrill once said. "It's sort of like playing tennis. Not everybody has the ability to go to Wimbledon, but everyone can be taught to play it."
Sherrill was named the Ernst & Young National Entrepreneur of the Year (Educator) in recognition of the excellence of the center's model in 1994. WCE has since grown to serve more than 2,500 students across campus and 36 students competitively selected as entrepreneurship majors each year. The Princeton Review and Entrepreneur magazine have ranked the program among the top six undergraduate programs in the U.S. since 2007, usually 1st or 2nd.
Over the years, Sherrill held numerous offices with the UH Alumni Association, and he was a member of the Bauer College Advisory Council under five Deans.
He had a special connection with students such as Wolff Center graduate Alejandro Dolores (BBA '18), now a technology analyst at Accenture. Dolores, who was a first-generation college student while at WCE, will always remember Sherrill as a powerful presence.
"Bill Sherrill was an example of many things, including heroism, philanthropy, entrepreneurship and leadership," he said. "But for me, Bill was an example of being present. Bill was and is always present. I can't think of a time when Bill was not there. Despite being 93 years young, he showed up."
Ed Blair, Department Chair for Marketing & Entrepreneurship, echoed this comment.
"Bill was always there for our students, always helping them, always encouraging them to be positive and do their best. For all his achievements, the things I will most remember about Bill are his humility, his loyalty to his students, his school and his country, his unflagging positivity, and his belief that if you do your best, you will have nothing to regret. We will miss him terribly, but with no regrets; he did his best, and we are better off for it. We are lucky we knew him."