Bauer College Celebrates Homerun Event With Duane Morris Houston
Dean Paul A. Pavlou Provides Keynote Remarks for Law Firm Celebration
Published on October 10, 2019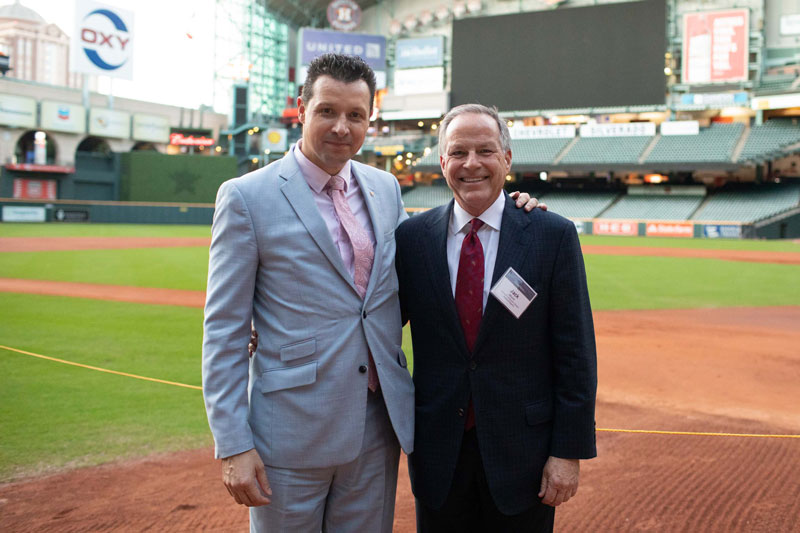 In September, the C. T. Bauer College of Business helped the Houston office of Duane Morris celebrate their 20th anniversary, with Dean Paul A. Pavlou providing keynote remarks.
The event, held in the Diamond Club of Minute Maid Park, hosted associates from the law firm in Houston, Austin and Philadelphia, and included presentations from University of Houston System Board of Regents member Jack Moore ('77), who introduced Dean Paul A. Pavlou.
"Paul had a passion for education and basketball. He focused on education, and that journey has done him well," Moore said. "Instead of getting drafted by the Rockets, he was drafted by USC."
He added: "He's not an NBA star, but he is an all-star of data analytics. I think we have a world champion in Paul to make UH and the city proud."
Pavlou, who officially joined Bauer College as Dean on July 1, is a respected researcher, with work spanning several disciplines focusing on data science, business analytics and digital business strategy. His research has been cited about 40,000 times by Google Scholar, and he was recognized among the "World's Most Influential Scientific Minds" by Thomson Reuters based on an analysis of "Highly Cited" authors in Economics & Business for 2002-2012.
Pavlou was named No. 1 in the world for publications in the top two information sciences journals (MIS Quarterly and Information Systems Research) in 2010-2016. He earned a Ph.D. in Business Administration and a Masters in Electrical Engineering from the University of Southern California and a Bachelors in Electrical Engineering from Rice University.
"Coming back to Houston after more than 20 years has been great. It feels like home," Pavlou said.
Pavlou discussed with attendees the importance of building strong partnerships across academia, industry and public policy as well as providing ample opportunities for students to pursue higher education.
He said: "I'm passionate about giving our students opportunities. My life was changed by education, and I want to give the same."