'A Good Year for Houston'
Bauer Institute for Regional Forecasting Director Bill Gilmer Offers Houston Economic Perspective
Published on May 9, 2019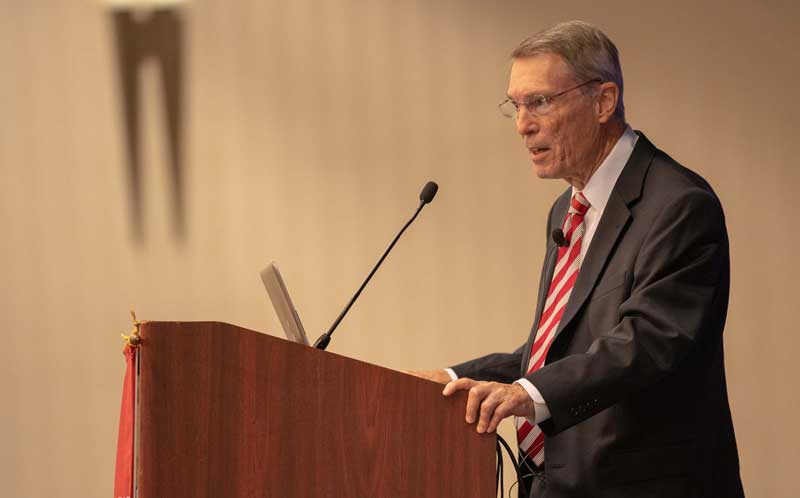 The Houston region's economy seems to be on stable ground, economist Robert "Bill" Gilmer told a crowded room of business leaders assembled for his latest symposium May 2.
"We have gone back to the basics; fundamentally, it's about oil and the national economy," said Gilmer, director of the Bauer College Institute for Regional Forecasting.
An estimated 2 percent job growth for 2018, or approximately 60,000 to 70,000 jobs added according to initial data from the Texas Workforce Commission, indicates the area is "back to the kind of growth pattern that's been standard for the last 25 years," Gilmer said.
Coming on the heels of three years of weak to no growth, the numbers indicate Houston has returned to moderate growth similar to the rest of the country following its latest energy-related downturn.
"It's been a very good year for Houston," he said.
Houston's unemployment rate fell steadily in 2018, tracking the trajectory of the U.S. rate. Gilmer declined to predict or dismiss persistent rumors of an impending national recession.
"It is widely expected that by July the U.S. economy will have entered the longest economic expansion in its history, but I always say that expansions don't die of old age," he said. "There has to be a trigger. We're missing the catalyst for a recession."
Houston's last oil industry setback from 2014 to 2016, may have exceeded the 1980's, Gilmer said. Approximately one-third of the 75,000 oil-related jobs lost in 2015 and 2016 have come back. Technological advances have dropped the active rig count, but the number of jobs needed to engineer and manufacture each rig continue to grow, he added.
OPEC, which after steering prices up, and then down, now appears to be attempting to keep oil prices in a moderate range in order to slow the U.S. fracking boom, Gilmer said.
A former senior economist and vice president of the Federal Reserve Bank of Dallas, Gilmer holds a masters and Ph.D. in economics from the University of Texas at Austin. As director of Bauer College's Institute for Regional Forecasting, he is charged with leading the institute's twice-a-year symposia on the state of the regional economy.