Bauer Supply Chain Students Wow Corporate Judges in Case Competition
Undergraduate Teams Apply Problem-Solving Skills to Develop Solutions for Industry Issues
Published on October 24, 2018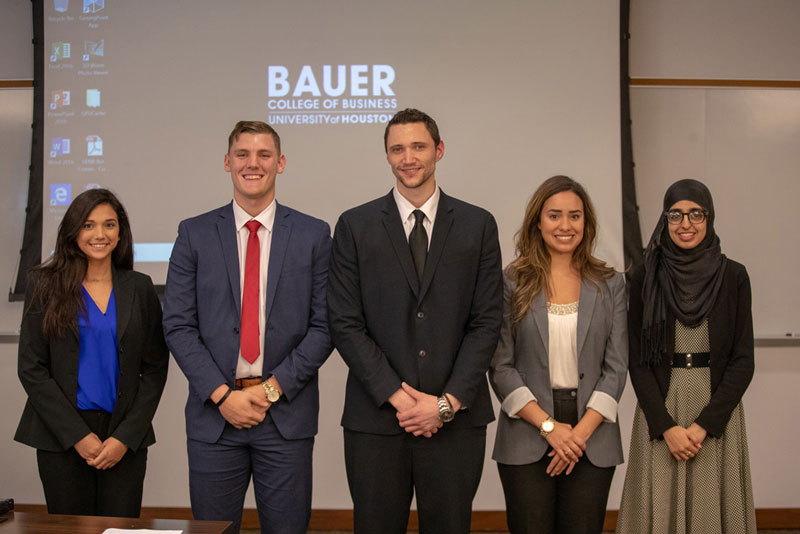 Undergraduate supply chain students presented real-world solutions to industry professionals during the annual Bauer Supply Chain Forum Case Competition. The winning team (from left) included Janely Toledo, Jordon Powell, Eric Clark, Victoria Martinez and Sundus Sheraz.
Undergraduate students from the C. T. Bauer College of Business put their skills to practice recently during the Bauer Supply Chain Forum Case Competition. Four teams of supply chain management students participated in the event, with Sundus Sheraz, Eric Clark, Janely Toledo, Victoria Martinez and Jordon Powell earning the final prize of $2,000. Besting 15 teams in a preliminary round, the students were presented with a supply chain problem by PortCo., a port management and startup company based in Basra, Iraq. Students had one week to prepare their solutions, with an additional week to make adjustments for the final round.
"There was a lot of research involved in this case competition, so we had to make sure we used the right resources to attain the most accurate information," Sheraz said. "This competition taught us how to understand each other's strengths and weaknesses, and collaborate to leverage all our strengths to devise a solution to a critical problem."
The teams presented their solutions to a panel of judges from more than a dozen different companies that participated in the preliminary and finals judging rounds.
"Competitions like these helps our students further develop their critical thinking, presentation and communication skills by solving real world problems, and presenting their solutions to corporate judges," Decision & Information Sciences Clinical Assistant Professor Dale Tibodeau said.
He added: "Employers, who serve as our competition judges, get to see our students perform and many of these employers use the competition as a way of recruiting our students into internships and full-time positions within their companies.
The judges provided feedback and scores, and all participants learned the solution that was implemented by PortCo.
First Place: Sundus Sheraz, Eric Clark, Janely Toledy, Victoria Martinez, Jordon Powell.
Second Place: Deone Tiffany Nel, Sarah Jones, Ajla Palic, Robert Houtmann, Swosti Upadhyay
Third Place: Amanda Hart, Erum Kader, Salvador Torres, Carla Luna, Isahi Lara Lopez
Fourth Place: William Doan, Sandra Gonzalez, Jason Perez, Isela Delgado, Salma El-Toukhy
Connecting the Classroom to Industry
Supply chain management students had the opportunity to pitch their solutions to different company representatives from the following companies:

Bechtel
Chevron
ConocoPhillips
Enbridge
Halliburton
KBR
LyondellBasell
Oasis Petroleum
SeimensDresserRand
Shell
Technip-FMC
TransCanada