Pres. Khator Celebrates Fall 2009 Graduates
President Khator Shares High Hopes for Graduates at Fall 2009 Commencement
Published on December 18, 2009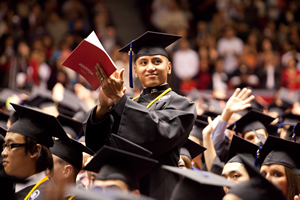 Marketing major and Program for Excellence in Selling graduate Dale Dumo acknowledges family and friends who have supported him at Bauer.
In a joint ceremony celebrating both undergraduate and graduate students Dec. 18 at Hofheinz Pavilion, University of Houston President Renu Khator imparted her high expectations for fall 2009 graduates.
Addressing graduates of the Bauer College of Business and Cullen College of Engineering, President Khator said students should be proud to be a part of such a fine institution during one of the most dynamic periods in its history.
"You are graduating during a tremendous time for the University of Houston. Our enrollment is at an all-time high . . . our research is at an all-time high . . . and we have just received, from great state of Texas, an approval to become a tier one university. And let's not forget, we have a nationally ranked football team," Khator said.
She compared the transformation of the University to the growth of the graduates during their time as students.
"Just as the University of Houston is transforming itself, you too have transformed yourself in the last few years."
Khator also commended the character of the former students, describing what it meant to be a University of Houston graduate going forward.
"You are Cougars. And just because you are Cougars, you will pursue your dreams against all odds, and you will succeed in achieving them. Just because you are Cougars, you will continue to learn from your own mistakes and those of others."
"You will be kind, caring and forgiving; yet, you will be decisive, firm and supportive."
"Because you are Cougars, you will make your neighborhood, your community and your global village a better place."
Bauer College Dean Arthur Warga congratulated the graduates of Bauer College, presenting them to the President for conferral of their degrees.
Additionally, Bauer College selected four students for their extraordinary achievements and leadership as Bauer students:
Outstanding MBA Student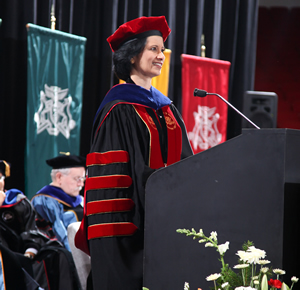 President Renu Khator prepares to address the graduates at fall 2009 commencement.
After two brief attempts in 1991 and 1995, Maggie Newell made a fresh start at the Bauer College of Business in January 2005. With the support of her husband, she threw herself not only into her studies, but also into student life. During her time as an MBA student, she served as webmaster and ad interim president of the Bauer MBA Society, was a founding member of the Bauer Chapter of the National Association of Women MBAs and volunteered as a presenter during recruiting events. Newell also earned the Texas Business Hall of Fame Scholarship Award and was inducted into Beta Gamma Sigma, the international business honor society. She graduated in August 2009 with graduate certificates in Marketing Analysis and Product Management and received the Dean's Academic Achievement Award.
Since graduating from the Bauer MBA Program, the mother of two received a promotion from her place of work, The University of Texas M. D. Anderson Cancer Center, was nominated and accepted to the M. D. Anderson Diversity Council, was elected co-chair of communications for the M. D. Anderson Gay, Lesbian, Bisexual, and Transgender Network and became a board-certified Editor in the Life Sciences. She hopes that other working parents may be inspired by her achievements. "Returning to Bauer to earn my MBA was one of the smartest decisions I've ever made for myself and my family," she says. "Especially for my daughter, I've shown that there's nothing you can't accomplish if you set your mind to it--no matter how old you are."
Outstanding MS Finance Student
Samuel Pinzon is graduating with an MS in Finance and a certificate in Financial Services Management. During his time at Bauer College, Pinzon participated in the Cougar Investment Fund and most recently served as the senior portfolio manager. Prior to joining the MS Finance program, he received a BS in industrial engineering from the Universidad de las Americas Puebla where he graduated with honors. Pinzon also earned a master's degree in economics from the University of British Columbia where he specialized in international economics, resource economics, and business performance and public policy. He has received many academic honors and scholarships during his academic career. His professional experience includes positions at Volkswagen, Petroleos Mexicanos, Seglo, Fischer Mexicana, Copal Mueble, and Chris & Phil's Body Shop. He currently works as an analyst at Integrated Trade Systems, Inc. and as a financial consultant for CP Body Shop, Inc. Pinzon is currently a candidate of the Chartered Financial Analyst Program.
Outstanding MS Accountancy
As a PPA student, Farah Rashid earned her BBA in Accounting with a minor in economics from the University of Houston in fall 2008. While working on her undergraduate degree, she participated in several prestigious accounting internships and received the Department of Accountancy and Taxation's Academic Excellence Award for undergraduates in spring 2007. Rashid began the MS in Accountancy Program at the Bauer College of Business in spring 2009. As a full-time student, Rashid balanced a part-time job and volunteered weekly at a local non-profit basis all while maintaining a 4.0 GPA. Rashid is currently pursuing her CPA certification. She has completed two parts and hopes to finish the other two in early 2010 while working full-time.
Outstanding Undergraduate
Nuria Seijas was named the Outstanding Undergraduate Student for Fall 2009. Seijas is a graduate of the Bauer Business Honors Program and will receive a BBA with a double major in accounting and finance. She earned a spot on both the UH and Bauer College Dean's List every semester while enrolled.  Seijas has received several academic honors including honor society induction into Phi Kappa Phi, National Society of Collegiate Scholars, and Alpha Lambda Delta. She is also the recipient of three merit scholarships: Coastal Corporation Merit Scholarship, David A. Hart Merit Scholarship and Lynette Autrey Endowed Merit Scholarship.
During her time at Bauer, Seijas was an analyst for the Cougar Investment Research Group, served in the Finance Association and was a founding officer of the Houston Undergraduate Research Network. Seijas also worked as an undergraduate assistant in the UH Office of Undergraduate Research. Seijas applied and was accepted into the Sponsors for Educational Opportunity - Global Corporate Leadership Program in New York, NY, during the spring 2009 semester. As a part of this prestigious program, she received the opportunity to intern at the Xerox world headquarters in Norwalk, Conn., over the summer.
Seijas plans to continue her accounting studies at Bauer College and will join the MS Accountancy program in spring 2010. She hopes her accounting education will provide a solid business foundation that opens doors for her in a variety of fields. Her goal is to be the CFO of a company.