Interdisciplinary Symposium on Decision Neuroscience
June 10-11, 2021
Welcome
The Interdisciplinary Symposium on Decision Neuroscience brings together a range of constituencies involved in the use of neuroscience techniques to understand decision making: world-renowned academics, neuroscience research companies, marketing research executives, and industry leaders. It offers an opportunity to learn, present and discuss the latest breakthroughs in using neuroscientific and physiological measures to inform decision making in individuals, groups, societies, organizations, and markets.
ISDN 2021
On June 10-11, 2021, the C. T. Bauer College of Business at the University of Houston will host the Eleventh Annual Interdisciplinary Symposium on Decision Neuroscience (ISDN). The event will be virtual. Registration is required but is free of charge.
Conference Committee
Invited Speakers
Panel Session
Join us for the panel on Thursday, June 10th at 2 p.m.
Decision Neuroscience: Humble Beginnings, Current State, Future Endeavors
Moderator: Angelika Dimoka
Panelists:
Colin F. Camerer, CALTECH
Paul W. Glimcher, NYU
Elizabeth A. Phelps, HARVARD
Michael L. Platt, WHARTON
In this panel session, we bring together experts in the field of decision neuroscience, who were among the first to experience the humble beginnings of this interdisciplinary area. We will discuss the past successes, the current state, emerging challenges, and a look forward toward the next decade of research in this burgeoning field. Panelists will be asked to give their informed opinions about the future of decision neuroscience and the major areas that the field should pursue to remain relevant and leading edge.
Registration
Register now for the virtual event June 10-11, 2021.
Program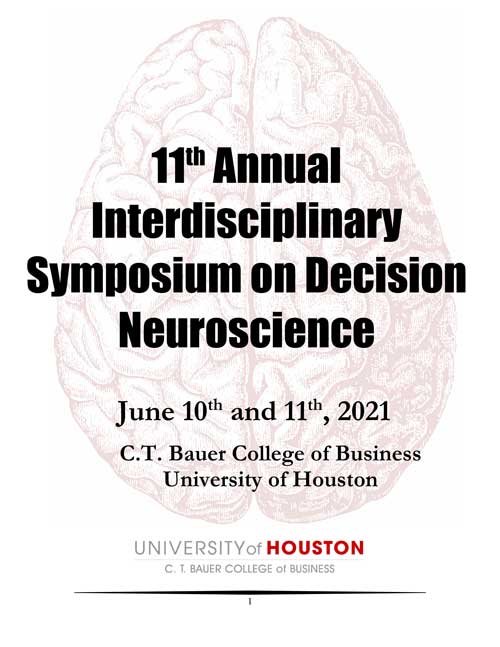 See the 11th Annual ISDN Program
View PDF
Location
ISDN 2021 is a virtual event. The link to participate will be emailed to all registrants two days before the event.