Graduate and Professional Programs
Master of Science in Finance
To request an MS Finance
appointment, please contact:
Emily Clark
Graduate Advising Assistant 2
Phone: (713) 743-4883
Email: eclark@bauer.uh.edu
The goals of the Masters of Science in Finance program are to provide graduates with skills associated with:
Firm Valuation
Portfolio Analysis
Valuation of Derivatives
Security Analysis and Financial Innovation
Over the last decade, finance professionals have faced an increasingly complex and technical world with the advent of a tremendous number of new "exotic" securities, the explosion in the options and futures markets, the increase in financial globalization, and the increased volatility in equity and currency markets. This has generated a demand for a focused, intensive course of study in the technical aspects of security valuation, trading strategies, hedging, and corporate reorganization. This demand has given rise to the Master of Science in Finance Program at the C. T. Bauer College of Business.
The program provides students with a focused, technical concentration in the finance area to help graduates deal with the increasingly complex world of finance. The Master's of Science in Finance is a fully accredited graduate program in the UH Bauer College of Business. The program's objective is to provide participants with a focused course of study that will enhance their understanding of the principles and practice of finance. This will enable participants to deal more readily with the increasingly complex concepts and body of knowledge faced by finance professionals. The program would be particularly relevant to those working in, or planning to work in the following areas:
Commercial and retail banking
Investment banking
Security analysis and brokerage
Corporate finance, venture capital and corporate restructuring
Security trading and risk management
Financial consulting
The program consists of 36 hours of graduate study in the areas of finance, accounting, statistics and economics. Students are required to take 4 foundation courses, 4 required advanced courses and 4 advanced elective courses.
In order to better service the educational needs of the Houston community, the Bauer College of Business has assembled a nationally renowned faculty in finance. The current members of the faculty have over forty years of full-time experience as faculty at the top 10 finance departments. Indeed, recent rankings place the UH finance faculty sixteenth in the nation and second in the State of Texas.
Our knowledge of what "works" at the top business schools in this country is being brought to bear on the task of providing the Houston community with the opportunity for training and advanced certification in finance commensurate with the fourth largest city in the United States.
---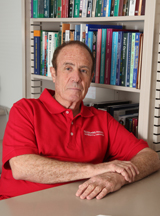 Director of Masters of Science in Finance program
Professor Rabinovitch joined the faculty in 1980, after having taught at the University of Rochester, New York, and the University of Haifa, Israel. He is a UH recipient of the 1998-1999 Fulbright Teaching and Research Award in Argentina and the 1992/3 and 1993/4 recipient of the Excellence in Teaching Award from the Madrid Business School.
RSVP NOW FOR INFORMATION SESSION
Graduate Commencement Ceremony
Saturday, May 10, 2014
9 a.m.
Hofheinz Pavilion
Deadline to file: February 21, 2014
RSVP for Ceremony: May 5, 2014

See Also: