Office of the Dean
Dr. Latha Ramchand, Dean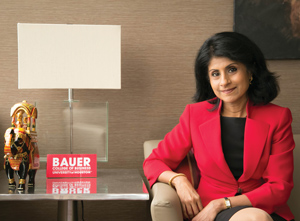 Greetings,
Welcome to the C. T. Bauer College of Business at the University of Houston. Here, our students are fond of saying that this is a place "Where Awesome Happens," and I hope know that if you spend time with us, either on our website or in person, you will agree.
So, what defines "Awesome" at Bauer College?
Our Students
In my role as dean and professor of finance, I am fortunate to interact with our students on a daily basis inside the classroom, where I teach, or in the hallways, as they walk between classes, and at graduation, where I have the privilege of shaking hands with every one of our graduating students. Because of this, I come to know our students during their time in the college. While it is true that Bauer College transforms students, it is perhaps even more accurate that our students transform the college with their energy, ideas, enthusiasm and passion. They make awesome happen.
Globally, Bauer students are proving that they are among the best. Our MBA students participate each year in the Google Online Marketing Challenge, with nine teams competing in the last five years, often bringing home top honors, including recognition as Global Champions in 2011, an Americas Region win in 2013, and one second place and two third place Global Nonprofit category wins. In 2015, our students made history in the competition as one of only two schools in the world to have two team winners by placing second and third in the competition's AdWords Social Impact Awards.
Teams from Bauer's Wolff Center for Entrepreneurship compete each spring in business plan competitions, detailing their strategies for commercializing technology developed by university researchers —in 2014, our students had a landmark competition season, with one team earning the "triple crown" at a Department of Energy competition and all teams bringing home a combined $274,000 in prize money. Over the last 11 years, WCE students have won 19 awards in national business plan competitions, with more 1st, 2nd or 3rd place awards than any other undergraduate program in the United States and Canada.
Our students engage with the college and the community through their involvement in special programs and nearly three dozen Bauer student organizations, both graduate and undergraduate. In fact, on average, about 1,700 Bauer students participate in student organizations each year. These groups prepare our students for their careers through professional development activities and networking events with leading corporations, and they also show them the importance of giving back — Bauer student volunteers lend their time and services to about 50 Houston non-profits a year.
Bauer student organization Enactus UH's focus is entirely on improving the world through entrepreneurial action, and in 2015, they were rewarded by their national chapter for their work in the Houston area benefitting Meals on Wheels Houston and the Houston Furniture Bank. 
Bauer Honors student Vu Nguyen, also part of Bauer's Wolff Center for Entrepreneurship, is also putting his business acumen to use to benefit others. His work within the UH Honors College's DASH (Data Analysis in Student Hands) organization is helping to create smartphone apps that can be used by nonprofit organizations to better track volunteer efforts.
Another group of students, led by finance senior Alyna Fehmer, wanted to help their fellow classmates. The Bauer Honors Student Advisory Board worked together to raise funds that will be used to award a scholarship to a future Bauer Honors student with financial need.
And when two of our Bauer MBA students were given an assignment in a leadership class to "make a difference," they took that direction seriously. Raiya Al Salmi and Lara Machemehl made a difference for one local family and the entire Bauer College when they organized a faculty vs. students kickball game to raise money for Teague Cox, a nine-year-old boy with brain cancer. They helped to fund a trip for Teague and his family to go deep sea fishing in Hawaii, made possible by Make-A-Wish America.
Our Faculty
As part of a Carnegie-designated Tier One research university, Bauer College leverages the expertise of the business community alongside academic research to create a learning environment that incorporates current best practice while challenging students to build better models for the future. Given our home in Houston, we are uniquely suited to offer experiential learning opportunities by bringing business leaders into the classroom to share their knowledge with students.
It is no wonder that our faculty are sought after by the government, businesses, and the community both nationally and internationally. Click here to view a list of research produced in recent years by our faculty, along with those who serve as editors or on boards for leading academic journals. The media also frequently looks to our faculty to serve as expert sources for stories on business and higher education issues. You can see the growing list of Bauer media mentions from the last year by clicking here.
And, for a list of highlights of faculty achievements in the last year from each of our academic departments, click here. We also have a video series called "Faculty Focus" that highlights the contributions and stories of individual faculty members, including Melanie Rudd, an assistant professor of marketing who studies consumer psychology and behavior, and Wayne Winston, a clinical assistant professor who teaches courses on sports analytics and statistics and is in demand by professional sports organizations for his "Mathletics" expertise.
You can also read faculty stories in the pages of Inside Bauer magazine, including Professor Powell Robinson's recognition from the Decision Sciences Institute's Hall of Fame and Associate Professor Elizabeth Anderson Fletcher's work to improve the experience of first-responders as both a researcher and a volunteer firefighter.
Our Alumni
Our alumni base is 50,000 strong and growing each year, representing business professionals, entrepreneurs and c-level executives across sectors and industries. Our Bauer College Alumni Association keeps this network connected and engaged with the college through its monthly breakfast series, annual meeting, Ted Bauer Golf Classic and other events.
The value of a Bauer College education can be seen in the work of our alumni. Whether it is 1992 Bauer MBA alumnus David Williams, who serves as president and chief executive officer of Make-A-Wish America, or Natara Holloway, who received her BBA in accounting from Bauer College and is now vice president of retail development in the consumer products department of the NFL, our alumni are leading organizations nationally and internationally.
And, they're making an impact on the world around them, too. Take Bauer MBA alumnus Daniel Pinto, who works as an accountant for a law firm in downtown Houston by day, and on the side, his family is building an orphanage in northeast India that gives both a home and hope to 60 children in the economically depressed region of the East Garo Hills. Another recent Bauer graduate, Casey McNeil, is using what he learned in the classroom to impact the world. Forbes named him to its 2015 list of "30 Under 30" in energy for his work with REEcycle, a business started in Bauer's Wolff Center for Entrepreneurship that commercializes a technology developed by UH researcher Allan Jacobson that addresses reclaiming rare earth elements (REEs) used in computer memory, rechargeable batteries, cell phones, catalytic converters, fluorescent lighting and more, solving the national issue of REE supply shortage.
Our alumni are also strongly embedded in the Houston community — thousands of Bauer alumni live and work in the area, and many are actively involved with Bauer College, be it through the Bauer College Alumni Association, or serving as a mentor, volunteer or guest speaker with the college.
Our Programs
The program portfolio at Bauer College is designed with the business community in mind. We work with advisory board members, recruiters and partners to determine where we can improve or change curriculum to address industry need, and in doing so, we give our students an experiential learning opportunity that is unmatched.
Bauer College is Houston's most comprehensive business school, offering degree programs at the undergraduate, graduate and doctoral levels, as well as tailored executive education opportunities.
At each level, we allow to customize their learning with specialty programs. Undergraduate students can apply for the nationally recognized Wolff Center for Entrepreneurship and Program for Excellence in Selling as well as a range of leadership training, including the Ted Bauer Leadership Certificate Program.  Graduate students can pursue a number of programs designed to be flexible, including our Full-Time MBA, Professional MBA and Executive MBA, as well as master of science programs in finance, accountancy, global energy management, marketing, supply chain management and management information systems. MBA and MS Finance students can also earn elective certificates in the areas of energy, finance, marketing, supply chain management, entrepreneurship, leadership and more.
Our programs in entrepreneurship, internal audit and sales, among others, continue to be ranked among the top in the country. Click here to see a list of our programs' current rankings and accolades.
Bauer College serves as a venue for conversation about business issues — here, we bring together research faculty with industry leaders to discuss new best practices, what is working and what isn't, and how we can solve challenges we're facing. Because we are an institute of higher learning, students have an open door for these conversations and can ask questions, weigh in and help to shape the future. Our Inspiring Minds lecture series gives students and the community the opportunity to hear personal stories from executives who have navigated both failure and success, while our Distinguished Leaders Series, presented by AGL Resources and its Houston-based companies, serves as a forum to connect students with energy professionals. You can click here to see more of the speakers we've hosted at Bauer College in the last year.
Our Support
In 2000, Charles T. "Ted" Bauer made a gift of $40 million that resulted in the naming of the college. The gift was unusual in many ways — it was a gift given all at the same time, not a pledge, and it was given to a business school by an individual who was not an alumnus.
To say this gift was transformational is to put it mildly. Mr. Bauer made possible a paradigm shift in the way we serve our students and the community. Thanks to his support, what started as a college that graduated students has grown into an institution where we change lives, one successful student at a time.
Although Mr. Bauer graduated from Harvard University, he realized the significant impact that students from the University of Houston had on the city and the value our graduates brought to the Houston workplace. While his investment in the college was an investment in students and faculty, it was also an investment in and commitment to grow the city of Houston.
Since Mr. Bauer's gift, we have seen many similar stories unfold. Top organizations and business leaders have recognized the value that Bauer students and alumni bring to the city's economy and have offered their support to what we are doing in the form of scholarships, recruitment, mentorships and engagement with our students in classroom discussions and site visits.
In fact, you may have seen advertisements that declare "We are Bauer. We are Houston." or "Our City, Our College. Houston's Business Connection." An investment in Bauer College is one with big return; here, we bridge academia and industry through partnerships and collaboration with the business community, and our partners benefit from the opportunity to connect with our students, faculty, programming and resources, including a portfolio of centers and institutes that address industry need.
In the last three years, the Bauer College Board has expanded its roster by 38 percent. This board includes some of the leading minds in business today, and I am proud to say that this group is not just an advisory board on paper — they are counselors and supporters in action, connecting Bauer to the community and keeping our college's ear to the ground so that we know when things are changing and can incorporate business need into the curriculum as that happens.
The Bauer College story is an exciting one, and one that continues to unfold. I invite you to learn more about us — read the latest issue of Inside Bauer magazine, take a look at the 2014 Dean's Report, read my blogs about what Bauer students, faculty and alumni make happen, or reach out to provide your feedback at suggestions@bauer.uh.edu. And, by all means, please visit us on campus, where you can feel the excitement for yourself.
Sincerely and with warm regards,
Latha Ramchand
Dean, C. T. Bauer College of Business
Professor of Finance
---
Contact Us
C. T. Bauer College of Business
Melcher Hall
The University of Houston
Houston, TX 77204-6021
Phone: 713-743-4600
Fax: 713-743-4622
---
See also
---
Latest News