Bauer Celebrates Sixth Cohort of Ted Bauer Undergraduate Business Scholars
Graduating Students Recognized for Hard-Work, Dedication
Published on May 19, 2022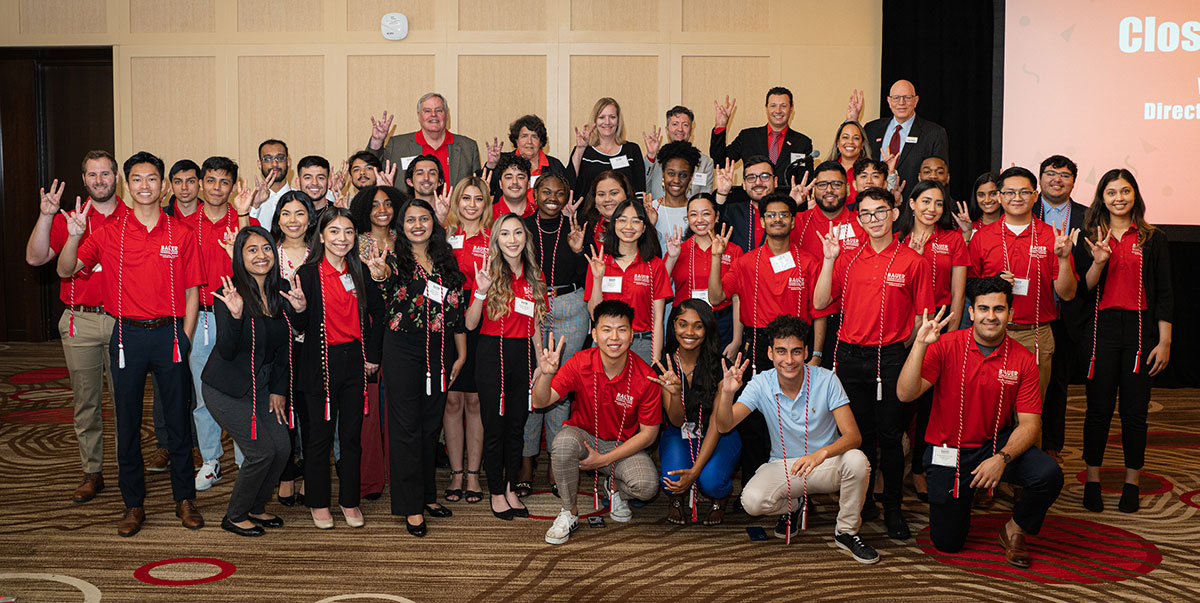 This spring, graduating seniors of the sixth cohort of the Ted Bauer Undergraduate Business Scholarship Program were celebrated during a special event at the C. T. Bauer College of Business at the University of Houston.
These graduating students were corded with a red and white cord by the seventh cohort of scholars who graduate next year to wear during the Bauer Commencement Ceremonies, marking the end of their time at Bauer College.
"As the graduating seniors went around sharing what was next for them, all of them either had full-time job offers or were pursuing a graduate degree after graduation. None of them were still looking," Bauer Director of Student Success Whitney Johnson said. "This is a testament to our wonderful faculty and staff that provide support and opportunities, but also this scholarship."
She added: "The scholarship eliminates a financial burden that then allows students to pursue additional internship opportunities, study abroad opportunities, and focus more on their coursework to maintain a high GPA. All important factors that allow our Bauer students to walk across the stage at graduation having already signed their full-time job offer."
The C. T. Bauer Foundation has continued with another gift of $1,825,000 for 65 more scholars and one Financial Executives International (FEI) Scholar to become the eighth cohort for the 2022-2023 academic year.
This scholarship, funded by the C. T. Bauer Foundation, has received more than $13 million to date, for a total of 478 students, enabling them to attend school full-time and graduate within two years. Scholars are encouraged to be involved in leadership and student organization activities through volunteer activities or through leadership in a work environment.
"Timely graduation, low or no student loan debt, and the opportunity to devote more time to academics and engagement with college activities and resources are what make this a successful program, especially given the high percentage of students who are the first in their family to earn a college degree," Undergraduate Business Programs Associate Dean Frank Kelley said.
For more information about the Ted Bauer Undergraduate Business Scholarship Program, click here.