The Gift of Knowledge
Make-A-Wish Kids Receive Tuition Assistance to Attend Bauer College
Published on August 31, 2021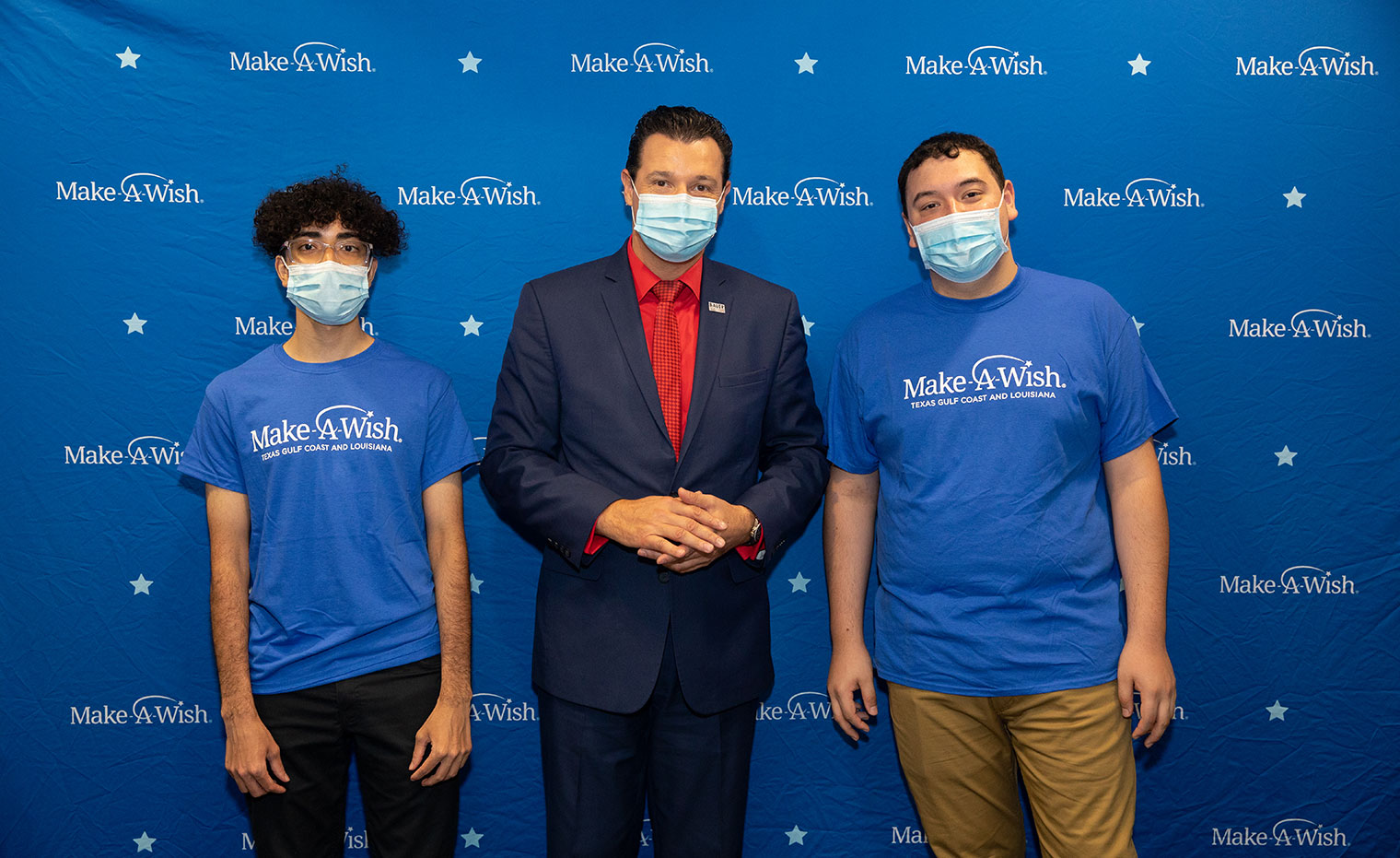 The C. T. Bauer College of Business at the University of Houston capped off the first week of the fall semester by celebrating special wishes coming true for two incoming students, thanks to support from Make-A-Wish Texas Gulf Coast & Louisiana.
The on-campus event recognized Wish Kids Vineet Rao and Brandon Cantu, who will receive $5,000 tuition assistance, respectively, through the local Make-A-Wish chapter.
"Today, we are here to celebrate the bright future of two very motivated, outstanding young men," said Yara Elsayed Guest, the President and CEO of Make-A-Wish Texas Gulf Coast and Louisiana. "When I learned about your wishes for tuition assistance, I was so thrilled. To hear that not one but two of our wish recipients wanted to further their education with a business major right here in our backyard at the University of Houston is outstanding."
University of Houston President and Bauer College Dean Paul A. Pavlou were both on hand to welcome the students.
"I want to thank you for choosing the University of Houston," Khator said. "You asked for the gift of education, which is life-changing and will impact you well down the road. It's magical to see dreams arise and to see them happen."
Rao is a Bauer College transfer student who plans to pursue a BBA in Finance and a career in investment banking. Cantu is transferring to UH from Texas Tech University and aims to explore the opportunities that Bauer presents.
"When I first heard from Make-A-Wish that they wanted to have this event at the Bauer College, I said 'absolutely.' This is what makes our jobs so rewarding," Pavlou said. "Our vision is to transform the lives of our students through a world-class education, and we are delighted that these two courageous young men chose Bauer to be their College."
Make-A-Wish Texas Gulf Coast and Louisiana is one of 59 chapters throughout the United States and its territories. Since the chapter's inception in 1984, they have granted over 9,000 wishes, and during fiscal year 2020, they granted more than 500 wishes.