Cougar Investment Fund Program Recognized by University of Houston Faculty Awards
Bauer Faculty Recognized for Strong Commitment to Teaching, Student Success
Published on April 30, 2021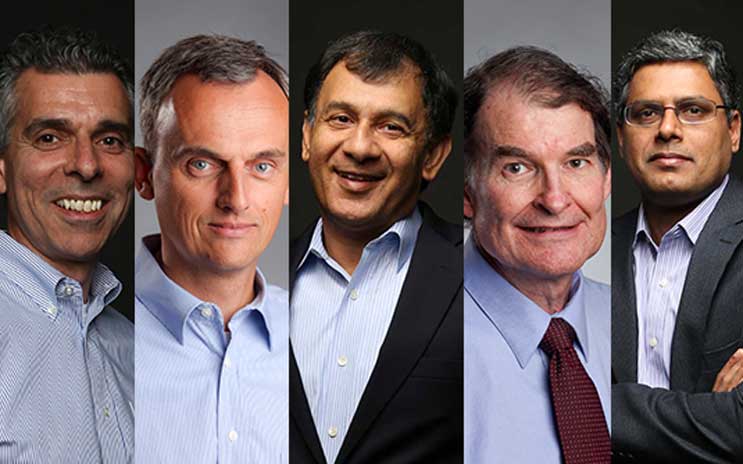 This spring, the University of Houston recognized the Cougar Investment Fund Program from the C. T. Bauer College of Business for excellence in group teaching during the 2020-2021 academic year.
The honorees include Bauer Professor of Finance Thomas George, Senior Associate Dean of Faculty Affairs and Cullen Distinguished Chair and Professor of Finance Praveen Kumar, Instructional Assistant Professor Michael Murray, Finance Professor Paul Povel and Associate Professor Vijay Yerramilli.
"We are extremely proud of this recognition that highlights the dedication and success of our Cougar Investment Fund faculty," Dean Paul A. Pavlou said. "Experiential learning is a cornerstone of the Bauer College, and the Cougar Fund exemplifies our innovative and unique approach to business education while preparing our students for successful careers in the most demanding areas of finance and business."
This award recognizes groups of faculty in both formal and informal programs who demonstrate a strong commitment to teaching and student success, and who have worked together collaboratively to improve student outcomes.
"The Cougar Investment Fund truly is a team effort. My faculty colleagues and I are grateful for the support of the Fund's board and investors, and the engagement of our accomplished alumni," George said. "This award also recognizes their contributions to the success of the Cougar Investment Fund program."
The Cougar Investment Fund program is an experiential learning opportunity for select Bauer graduate students in the MBA and MS Finance degree programs. Students commit 12 months to managing a $14 million private investment fund. The Fund's operations are housed in the Bauer College's AIM Center for Investment Management.
Notably, three other Bauer groups have won this award in previous years, including faculty teams from the Program for Excellence in Selling, the Wolff Center for Entrepreneurship, and the Study Abroad Program.
To see the full list of faculty recipients from across campus, click here.