Building a Culture of Mentorship
Bauer MBA Students Mentored by College Board Members in New Executive Mentoring Program
Published on July 2, 2021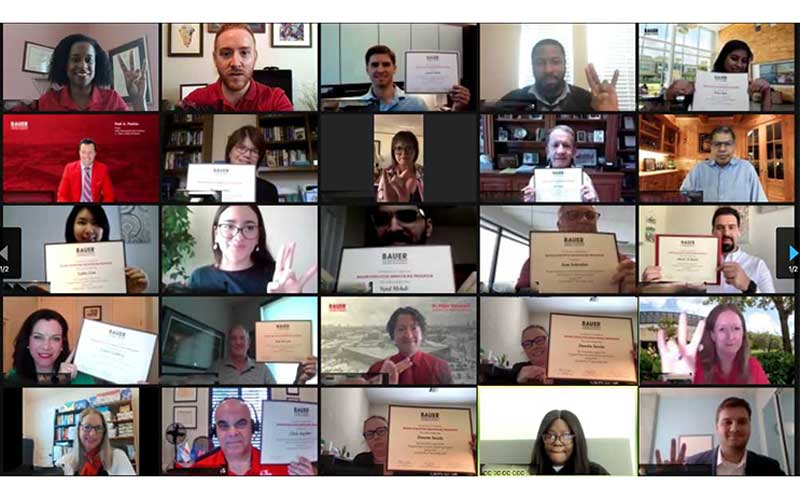 The C. T. Bauer College of Business has launched a new executive mentoring program that pairs select graduate students with senior business leaders and executives from a range of industries.
College leadership launched the Executive Mentoring Program this spring, creating 20 mentor-mentee pairs of students from the Bauer MBA and MS programs with members of the Bauer College Board, to implement the program, which originated through the Bauer College Board's Alumni Engagement Subcommittee in the early stages of the COVID-19 pandemic to establish a culture of mentorship at Bauer.
"One important aspect that differentiates the Bauer College from any other business school is our deep connection to the business community through our alumni and partners," Dean Paul A. Pavlou said. "By connecting our students to business leaders of this caliber to serve as mentors, we are adding unmatched value to our rigorous academic programs, and we are developing a strong culture of mentorship for all of our students to benefit from business leaders."
The goal for the program, as it heads into its next year, will be to grow the number of mentors and mentees to serve more of the population of graduate and undergraduate students at the Bauer College.
"The Bauer College Board's Alumni Engagement Subcommittee successfully piloted a mentoring program in Spring 2021. Initially, we thought a goal of matching five or six graduate-level students with a board member mentor one-to-one would be a great beginning," Bauer College Board member and Chair of the Alumni Engagement Subcommittee Sam Schreiber said. "The enthusiasm was overwhelming, and we had 20 students along with an equal number of mentors. The pilot was a huge success and demonstrated the need for this kind of programming. We are planning our second year of the Executive Mentoring Program for Spring 2022 and expect to continue expanding the number of participants."
For more information about the program, contact Bauer Director of Alumni Relations, Giovanni Rosselli at gcrosselli@bauer.uh.edu.