Bauer Students Earn Prestigious Scholarships from Houston Organization
FEI Houston Awards Scholarships, Mentoring Access to Two Bauer Students
Published on March 11, 2021
The foundation of a major organization of Houston area senior-level accounting and financial executives, Financial Executives International Houston, has recognized two undergraduate students from the C. T. Bauer College of Business with scholarships.
The FEI Houston Scholarship Foundation has awarded finance sophomore Cesar Macedo and finance and accounting junior Keerti Rao with the FEI Houston Scholarship that includes access to mentoring by top-level finance and accounting executives in their organization.
"Bauer College is grateful to the FEI Houston Scholarship Foundation for providing this scholarship through a partnership with the C.T. Bauer Foundation that covers full tuition for these students for their final two years in school, along with invaluable mentoring to accelerate their careers," Associate Dean for Undergraduate Business Programs Frank Kelley said.
---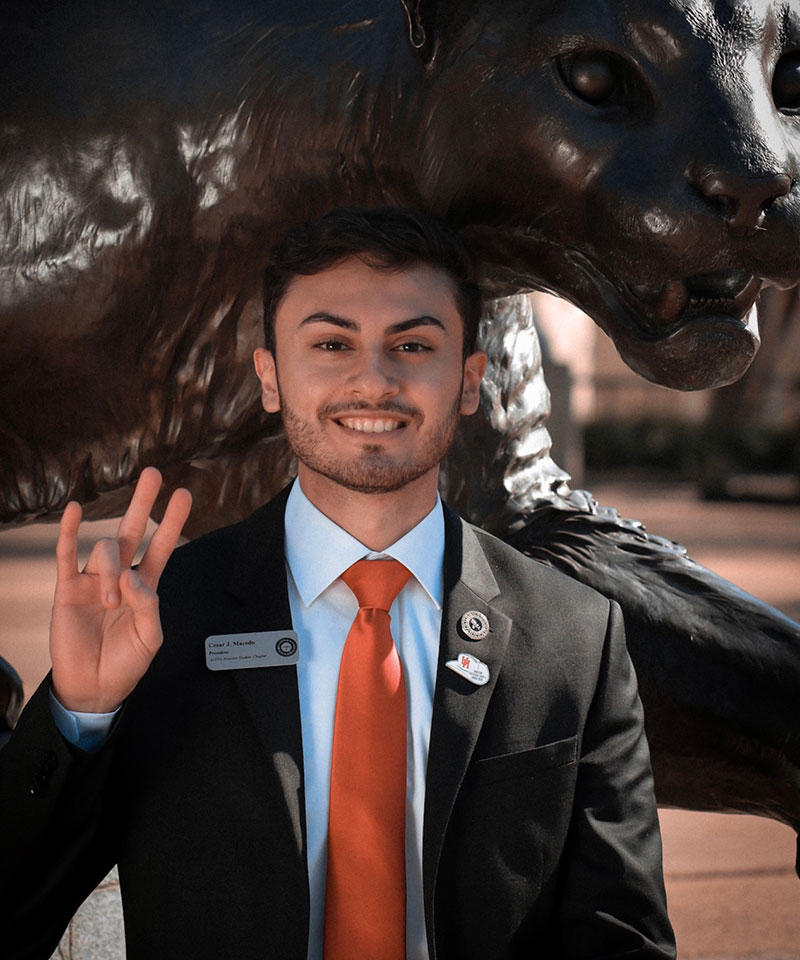 Cesar J. Macedo
Finance Sophomore
Tell us more about yourself.
I was born and raised in Houston and feel extremely lucky to attend a university in my hometown. I am also a proud LGBTQ+, Mexican-American, and first-generation student!
I went to high school in Katy and graduated from Mayde Creek High School. Coming to Bauer, I was unsure of what career path I wanted to take but within months I decided that I wanted to major in finance and find a career in the banking or financial analytics path.
Here at UH, I am the President of the Hispanic Business Student Association (HBSA) for the Spring 2021 semester and have been involved since Fall 2019. I was also in the Emerging Leaders Academic Success Program and I am currently in the Ted Bauer Leadership Certificate Program! I am also an Incoming Summer Global Compliance Analyst for Goldman Sachs!
How has the FEI Houston – TBUBS Scholarship helped you?
This scholarship will not only help me finish my college degree and allow me to continue my studies, but the mentoring aspect will help me immensely in being able to understand the finance industry and the potential that it has! As a first-generation student, this is extremely important to me in being able to help future generations be set up for success!
What organizations are you involved in?
I am currently involved in the Hispanic Business Student Association as the President for the spring 2021 semester! I was previously the Administrative Director for the fall 2020 semester. HBSA has helped me in preparing for interviews, public speaking, and gaining the skills to become a leader within my community.
Apart from HBSA, I am also a member of the Association of Latino Professionals for America and have served as a Chapter Leader for the UH Chapter since May 2020. ALPFA allows me to develop my network and know more about a variety of finance companies!
I have also been a cohort member for both the Emerging Leaders Academic Success Program and I am a cohort member for the Ted Bauer Leadership Certificate Program.
Previously, I have been a Counselor for the university's Cub Camp, a camp for incoming freshmen to get a better understanding of everything the university has to offer! I was also in the American Marketing Association during the fall 2019 semester and served as the communications intern!
What do you hope to gain from the mentoring aspect of the scholarship?
I would really love to be able to know more professionals within the finance industry and learn from their experiences to expand my knowledge to new horizons! As a first-generation student, it can be difficult at times to understand a certain path or career when you do not know anyone personally in the immediate field. FEI Houston's mentoring aspect of the program will finally give me the opportunity to speak to and learn from the individuals whose career path I aspire to follow.
What are your plans after graduation?
I would love to find a position as either a financial analyst or in banking to further use the skills I learned here at the C.T. Bauer College of Business and apply them to my future career. I also plan to stay involved with the university as an alumnus and contribute to its historical and continuous success!
I would like to thank everyone that has crossed my path throughout the years, none of this could have been without them and I appreciate every lesson learned. I would like to thank my parents, Rosa and Jose, for believing in me, the Hispanic Business Student Association for giving me the opportunity to shine as well as the C.T. Bauer Foundation and the FEI Houston Scholarship Foundation for giving me the amazing opportunity to represent this scholarship.
---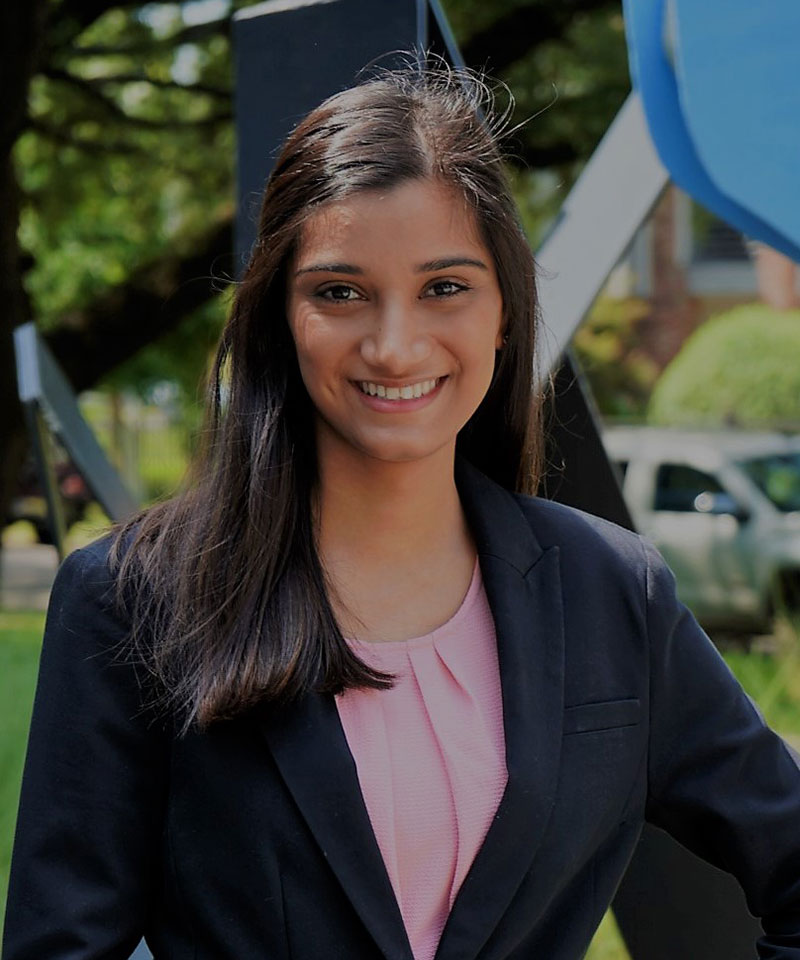 Keerti Rao
Finance and Accounting Junior
Tell us more about yourself.
My story starts in the outskirts of Delhi, India, where I was born on July 7, 2000. In 2002, my immediate family immigrated to the United States in hopes of a better life for me and my older brother. Since then, Sugar Land, Texas has become our home, and the friends we've made our second family. Being the daughter of two teachers, the value of education was never forgotten in our household. Grades, along with extracurricular activities (soccer, theater, piano, ballet, and flute to name a few) were at the center of my parent's attention.
I first became interested in pursuing a business degree after being a part of DECA (Distributive Education Clubs of America) throughout all four years of high school. As a member of this organization, I competed in business-related scenarios advancing to the district, state, and international competitions. I was introduced to a new world, and into various sectors such as budgeting, the stock market, hospitality services, human resources, marketing, advertising, etc. Through being a part of the Bauer Honors program, I was able to expand upon this knowledge and apply it to my future career path. I am now majoring in accounting and finance, with a commercial banking track within finance.
I have had the opportunity to intern at Carr, Riggs and Ingram CPAs and Advisors and at the Osgood Center for International Studies, and be involved in several student organizations as well. I've loved my time at Bauer, and I look forward to what this next year and a half will avail.
How has the FEI Houston Scholarship helped you?
The financial assistance provided through this scholarship has been very beneficial to my college experience, even more so during the current coronavirus pandemic. I have been privileged in not having to worry about how I will pay for tuition or my studies. I am hoping that once life is back to normal, I will be able to use these funds to live on campus or participate in a learning abroad program.
What organizations are you involved in?
During the past two and a half years, I have been a part of the Bauer Honors Student Advisory Board, Finance Association, and the Metropolitan Volunteer Program. This semester, I have joined the Honors Ambassadors team for the University of Houston Honors College. As an ambassador, I am excited to represent the Honors College at events including college fairs and open houses, and spread greater awareness of an Honors education.
What do you hope to gain from the mentoring aspect of the scholarship?
During the past year, I have already begun to experience the benefits of the mentoring aspect of this scholarship. Although I had decided to major in finance and accounting by my sophomore year, I was still in the process of evaluating my potential career paths. I found the FEI network very warm and welcoming, and I appreciated the insight they provided regarding their respective career paths and guidance for the time I have left in my undergraduate degree. They have continued to be helpful in recent conversations about the CPA certification and graduate school. As I am the first to enter the financial industry from my family, it has been extremely advantageous to have a group of FEI members that I can go to with any questions or concerns.
What are your plans after graduation?
I plan on working in corporate banking and am hoping my internship this upcoming summer with Bank of America will give me exposure to that field. In terms of education, I plan on getting my CPA and eventually returning to school for an MBA.