Bauer Professor Recognized by Information Systems Society
Nina Huang Honored with Sandra A. Slaughter Early Career Award
Published on December 8, 2021
Nina Huang, Associate Professor and Bauer Fellow in the Department of Decision & Information Sciences at the C. T. Bauer College of Business, was recently honored with a prestigious award from the Information Systems Society (ISS).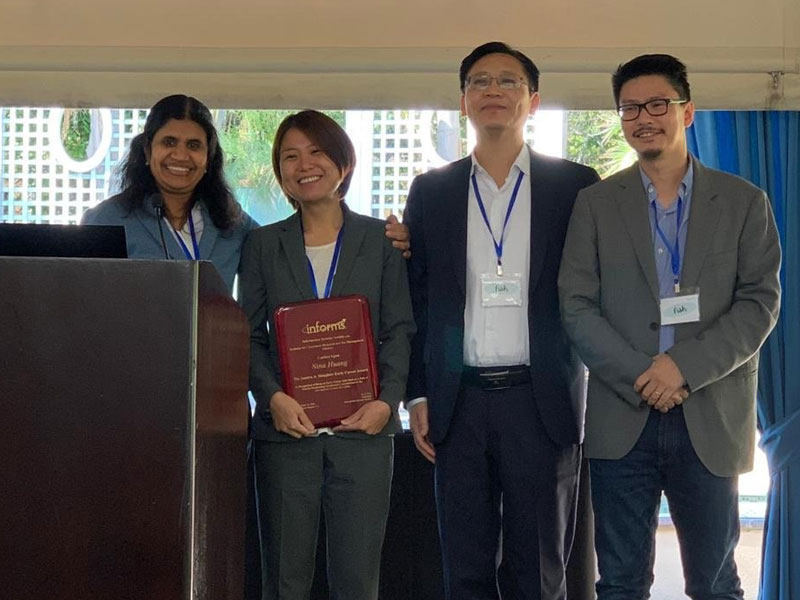 Huang received the ISS Sandra A. Slaughter Early Career Award during the 2021 ISS Conference on Information Technologies earlier this year. The award recognizes and honors individuals in the early stages of their career who are on a path towards making outstanding intellectual contributions to the information systems discipline.
Huang's research focuses on understanding the use of information technology (IT) and digital artifacts and how to optimally design those IT and digital artifacts in various contexts, such as digital learning, online knowledge exchange, online healthcare, mobile applications, and digital commerce. More specifically, her research tries to answer questions on how information technologies affect user behavior, how the insights on user behavior can be used to inform the design of information technology and systems, and the economic implications of user behavior-technology interplay.
"It's truly an honor to be nominated and to receive this award," Huang said. "This award is very meaningful, as all the prior winners have built amazing careers before and after receiving it. I feel proud to be part of such a wonderful community of information systems scholars."
Huang has twice before won important Early Career Awards. She was honored with the Association for Information Systems (AIS) Early Career Award earlier this year. She received the Dean's Early Career Research Award in the W. P. Carey School of Business at Arizona State University, where she was a faculty member prior to joining the Bauer College in 2020.
Huang is an Associate Editor at MIS Quarterly and also was an Associate Editor for the MISQ special issue on Digital Resilience. Her global top researcher ranking was 11th worldwide in 2019, according to AIS Research Rankings that are based on publications in Information Systems Research and Journal of Management Information Systems. Her research has been published in top academic journals and has been featured by leading mainstream media outlets such as ScienceDaily, EurekAlert!, Business Standard and others.
She received her Ph.D. from Fox School of Business at Temple University in 2017 and holds master's degrees in both business research and advertising from Michigan State University. Huang is the third Department of Decision & Information Sciences researcher at the Bauer College to receive ISS awards in recent years. Dean and Cullen Distinguished Chair Professor Paul A. Pavlou was awarded the ISS Distinguished Fellow Award in 2020. Yili (Kevin) Hong, the C. T. Bauer Professor of Artificial Intelligence & Digital Society and Director of the Bauer College Doctoral Programs, received the Early Career Award in 2019.