Bauer Department of Accountancy & Taxation Celebrates Successful Year
Accountancy & Taxation Advisory Board Celebrates Student, Alumni, Faculty & Staff During Annual Awards Event
Published on April 26, 2021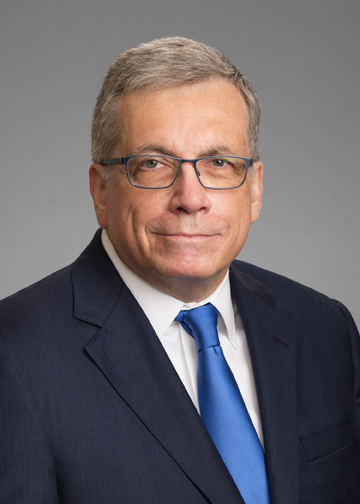 Fayez Sarofim & Co. Vice President & CFO Dan Crumrine (MSACCY '86)
Students, faculty, staff, alumni and corporate partners of the C. T. Bauer College of Business Department of Accountancy & Taxation celebrated a year of success recently during the annual Accountancy Advisory Board Awards Event, held virtually in April.
The event recognized the achievements and contributions of many associated with the department, including Fayez Sarofim & Co. Vice President & CFO Dan Crumrine (MSACCY '86), who received the Outstanding Alumni Award.
"Our vision at the Bauer College is to be a world-class business school that transforms lives, organizations and society, and the Department of Accountancy & Taxation plays a vital role in implementing our vision," Dean Paul A. Pavlou said.
He added: "Bauer College accounting students are the most highly recruited of any Texas business school by all the large public accounting firms and companies in Houston. Additionally, the Department of Accountancy & Taxation brings a number of successes to the college, including our impressive Accounting Data Analytics Program as well as recognition as a Center of Excellence in Internal Audit, besides a top-rated Oil & Gas Accounting Program."
"Even in a challenging year for the entire world, our faculty and staff adapted to provide our students with remote learning and virtual advising and engagement opportunities, and our industry partners have stepped up as well, showing support for the entire Bauer community during this time," Pavlou said.
During the awards event, students, faculty and staff from the department were recognized for their dedication, research, service and outstanding academic achievements over the last year.
"Working with our students, staff, faculty, volunteers and business partners has been one of the greatest joys in my life," said Clinical Professor Michael Newman, accounting programs director. "During the last twenty years, I have seen our students not only take their educations seriously but make continuous sacrifices to pay for and complete their education. Almost all worked, or are working, outside jobs while attending school and being involved in student and community activities, a great number were and continue to be first generation graduates, and all have great attitudes."
He added: "We have the greatest staff and faculty in the country as far as I am concerned because of their student-oriented approach to teaching and their continuous efforts to build an outstanding Accounting Program, and our business partners, many of whom are UH alumni, have consistently helped us improve our Accounting Program, have hired our students and have supported our students with scholarships, mentorship and moral support."
2020 and 2021 TXCPA Accounting Excellence Award:
Samuel Cooper - 2019-2020
Ekaterina Lyubomirova - 2020-2021
Leadership Excellence Award:
Saida Adaya
Hamzah Ansari
Melissa Bransford
Ajay Cheney
Samuel Harper
Rochel May Ibanez
Liam Kahney
Noah Kopesky
Christine Nguyen
Nini Nguyen
Yuexing Qian
Romelia Sanchez
Nadine Talje
Bingjie Wu
Academic Excellence Award:
Jose Aguilera
Fanny Cao
Krumer Cheung
Gloria Chow
Emily Chung
Luca Coletta
Connor Colorado
Safeer Dhuka
Jennifer Fox
Nikkita Gamez
Andres Garcia
Christina Gooch
Natalia Grecu
Lada Heng
Quynh Ho
Emily Huang
Jiali Huang
Andrew Jaimes
Jessica Johnson
William Kahney
Noah Kopesky
Minhua Kuang
Van Lam
Xiuying LI
Ashley Lindemann
Man Lu
Anh Luu
Maxwell McCaskill
Paul McNelly
Edgar Mercado
Zill Momin
Usman Nadeem
Anh Nguyen
Christine Nguyen
Mai Anh Nguyen
Nancy Nguyen
Nini Nguyen
Rizna Noorani
Sofia Peredo
Quinn Pham
Yuexing Qian
Romelia Sanchez
Erin Sappington
SHanzeh Shah
Keying Shen
Nadine Talie
Ahmed Tawsif
Angelica Valdes
Luis Vasquez
Kayla Vo
Anmol Walia
Michael Winters
Andrea Wu
Bingjie Wu
Wilson Wu
Hongfeng Zhu
Outstanding MS Accountancy Students for 2019-2021:
JXiuying Li - Fall 2019
Romelia Sanchez - Spring 2020
Natalia Grecu - Fall 2020
Christine Nguyen - Spring 2021
Outstanding Staff Award:
JHannah Shimer, MS Accountancy Academic Advisor
Tiffany Woods, PPA Advisor
Outstanding Accounting Faculty Awards:
JNovia (Xi) Chen, Assistant Professor
Outstanding Teaching Award
Saleha Khumawala, Robert Grinaker Professor of Accounting and Founding Director, SURE™ Program
Outstanding Service Award
Haijin Lin, Associate Professor
Outstanding Research Award