Bauer College Co-Hosts Climate-Focused Hackathon
Wolff Center and 4 Day Founder Launch Event Featuring BIPOC Entrepreneurs
Published on April 12, 2021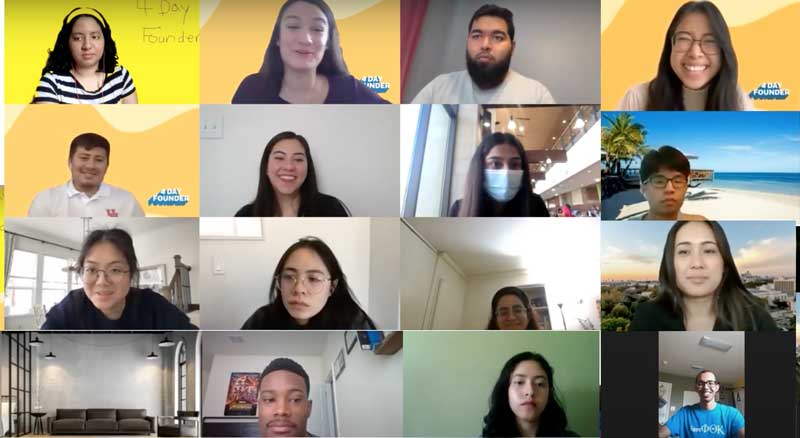 In March, the C. T. Bauer College of Business partnered with a startup hackathon to virtually host an event that challenged college students from across the United States to create a sustainability startup in just a few days.
Bauer College's nationally ranked Cyvia and Melvyn Wolff Center for Entrepreneurship partnered with 4 Day Founder (4DF) for the inaugural event, which was open to any college student identifying as Black, Indigenous or People of Color (BIPOC), designed to build a safe community for future founders of color to innovate.
Over the four-day virtual hackathon, 11 teams developed startup ideas promoting sustainability. The randomized teams each brainstormed an idea, created a logo, presented an elevator pitch, researched the market, drafted a one-pager and competed in a pitch competition. The hackathon was supplemented by panel discussions with BIPOC entrepreneurs on "Being an Effective Leader," "Financing Your Million Dollar Idea," and "Diversity in Business." Students attended sessions about the business model canvas, public speaking, and how to make a startup pitch deck.
The event culminated with the live pitch competition, where student team Eco-Quest won first place. The grand prize of $5,000 in cash sponsored by BillTrim, as well as a fellowship into a Founder Institute Texas virtual accelerator program, went to the members of the winning team with members hailing from Delaware, California and Texas. The final teams presented a seven-minute pitch to four finals judges during the livestreamed Final Pitch in front of a virtual audience of over 100 participants, mentors, panelists, volunteers, and friends and family.
The four-day hackathon attracted over 120 applicants from three countries across the world. Ultimately, the official 2021 cohort consisted of 50 students from 15 different states. Three-fifths of the students were non-business majors, and over 70 percent of students identified as women.
The breakdown of racial/ethnic identity included:
41 percent South, Southeast, or East Asian
29 percent Black, African, or African American
16 percent Hispanic or Latinx
10 percent Biracial/Multiracial
2 percent Middle Eastern or West Asian
2 percent Native American or Indigenous
The community of 4 Day Founder was cultivated with help from over 40 majority-BIPOC volunteers who acted as student mentors, business mentors, guest panelists, and competition judges to help the teams go from an idea to a startup in just a weekend.
UH senior Paola Romero said: "I learned that in a country where BIPOC are a minority, we are all just as equally powerful, blessed with amazing strengths and ideas that can change the world."
"I think the most valuable lessons I took away from this experience is that you can go really far if you're not afraid to ask for help, trust your team, and have the willingness to learn," UH sophomore Luan Nguyen said.
Saint Leo University freshman Safia Mendez said, "The sense of community and just the drive and willingness that everyone had to succeed and to help others succeed was unmatched, and so this is an experience that I will take with me wherever I go."
"I can't wait to implement all I've learned into my own business and practices. Sí se puede, y sí se pudo!" said California State University – Bakersfield junior Citlalli Luna.
With the mission to promote racial equity in entrepreneurship and share resources with future BIPOC entrepreneurs, 4 Day Founder partnered with the Wolff Center for Entrepreneurship to connect Wolff Center mentors and curriculum to the students.
"The University of Houston has a rich history of promoting diversity and welcoming students and ideas from all backgrounds. This event was a perfect example of the Wolff Center's commitment to cultivate partnerships with value-aligned organizations to promote inclusivity in entrepreneurship," Director of the Wolff Center for Entrepreneurship Dave Cook said. "Viviane Nguyen, a Wolff Center alum and Director of 4 Day Founder, brought to life the dream of creating an event for women and the BIPOC community that married innovation and entrepreneurship."
The Wolff Center for Entrepreneurship is currently the No. 1 undergrad entrepreneurship program in the nation, according to The Princeton Review and Entrepreneur magazine. While the exclusive program is usually only accessible to the 35 UH students who are accepted into the program every year, 4 Day Founder was able to make those same resources available for the 50 hackathon participants tuning in from five different time zones.
4 Day Founder 2021 was organized by a team of current and former Wolff Center students including Viviane Nguyen, Martin Salinas, Solida Chem and Wolff Center for Entrepreneurship program manager Amanda Moya. The inaugural hackathon was sponsored by Billtrim, Expressworks International, Founder Institute Texas and StickerGiant.
A representative from Expressworks International said, "There is promise in new ideas and an energy to the budding entrepreneur that is inspiring to be around. It's an honor to witness and mentor that energy within this community knowing that each candidate's success has the power to not only shape the business landscape, but the narrative around BIPOC talent as well."
"If this first attempt is any indication of future achievement to be had, we are sure to see big things from 4 Day Founder's partnership with Wolff Center in the years to come," Cook said. "Congratulations to the team of 4 Day Founder for a highly successful four-day hackathon. They crushed it."
Upon completion of the hackathon, all 50 students were each awarded a Startup Entrepreneurship Certificate from the Wolff Center for Entrepreneurship for gaining the knowledge needed to be an innovative thinker and a future entrepreneur.
"Getting to develop their entrepreneurial mindset in a collaborative setting will give these students the tools that they need to problem solve. Especially in this pandemic, which has kept us isolated, the chance to innovate and connect is just what we all need," Viviane Nguyen said.
The four finalist teams were:
First Place: Eco-Quest
Eco-Quest strives to educate children and young adults about the importance of building good sustainability habits. By using a rewards system through partnerships with businesses, Eco Quest aims to reward users who actively practice sustainable living. Team members included Paola Romero and Luan Nguyen from the University of Houston, Safia Mendez from Saint Leo University, and Citlalli Luna from California State University - Bakersfield.
Finalist: Misfit Misfit was created to help combat the problem of food waste and unsustainability in the food industry. Misfit is a refrigeration unit provided in grocery stores, where consumers can access discounted produce that would otherwise be thrown away for being labeled as "ugly produce" or approaching its expiration date. Team members included Benjamin Chau and McKinley Calhoun III from the University of Houston, Jareth Lopez from Austin Community College, and Kamika Patel from University of Wisconsin - Madison.
Finalist: Nextile Nextile uses a technology that recycles textile waste by extracting fibers, optimizing the existing waste, and reducing the byproduct of textile processing. Nextile strives to create a world free of textile waste by maximizing the amount of recycled material that can be harvested from thrown away clothing and landfills. Team members included Akrem Berhanu and Van Tran from the University of Houston, Precious Isidahomen from Morgan State University, Kamana Adhikari from Washburn University, and Anita Bhujel from McMurry University.
Finalist: EnviroMed
EnviroMed is an eco-friendly medical supply and shipping company that creates alternative products made of seaweed that are more environmentally friendly, designed to be biodegradable and produced, shipped, and packaged sustainably. EnviroMed strives to reduce unnecessary waste from personal protective equipment in the medical field. Team members included Sameer Huda and Abdullah Ghafoor from the University of Houston, Nancy Nguyen from Arizona State University, and Arieanna Rucker from East Carolina University.