Staying Connected
Bauer Programs Stay Social with Students Through Remote Possibilities
Published on April 24, 2020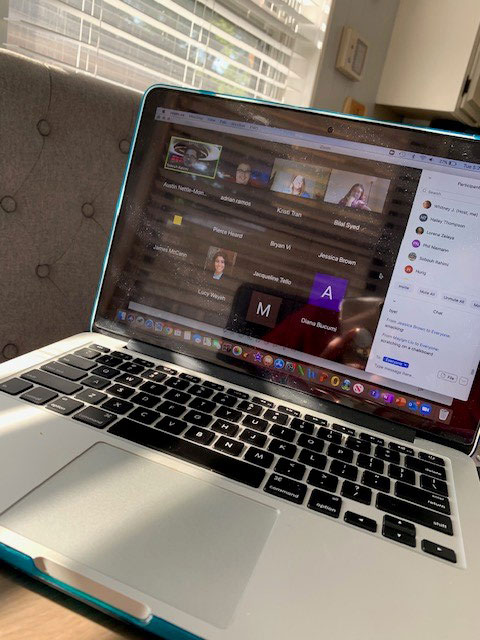 The shift to online classrooms to enact social distancing has transformed higher education, and the University of Houston is no exception.
Absent the sound of C. T. Bauer College of Business students milling around Melcher Hall and other classroom buildings, the palpable energy and underlying buzz of a mashup of languages and cultures from around the globe has temporarily gone quiet. The challenge for faculty, administrators and other essential Bauer College employees is making sure students remain engaged, passionate about earning a degree and making their mark on the world.
Bauer program managers in charge of student success and leadership initiatives are among those on the frontlines of Bauer outreach designed to keep students on track and optimistic in the age of coronavirus.
Allison Keithly, Program Advisor for Leadership Initiatives, and Whitney Johnson (M.Ed. '10), Program Manager for Student Success, have developed vital online programs that include social hours, movie-watching groups and fitness events students say link them to Bauer, despite what is happening in the world at large.
"There's so much out of the norm for our Bauer students," said Johnson, who directs the Emerging Leaders Academic Success Program.
"Some are still working and stressed about that. Some aren't working, so they are stressed about that. Just having someone to talk with, I think, helps put their minds at ease."
Keithly, who directs the Ted Bauer Leadership Certification Program, developed online activities for students in that program, then decided to expand the outreach to include every student she's ever worked with.
She launched "Bauer Connections – Remote Engagement Opportunities," which includes "Leadership Coffee Chat Live," a weekly roundtable, with occasional special guests available to field questions about their path to success. She is also leading weekly fitness and movie-watching groups.
Students taking part in these online programs have been enthusiastic and grateful, and say such programs have fueled academic momentum:
Elizabeth Mejia, a senior studying marketing and management
"Allison has done such a great job at making sure we all stay connected! We have weekly coffee chats on Zoom to talk about what we are doing, how we are doing, our leadership skills, and recently we had a guest join us for questions. I've also participated in the weekly Netflix parties where we've watched some awesome movies. Watching them while chatting with friends is 10 times more fun! She has some other awesome virtual events that she is encouraging as well, like an online fitness support group, virtual mock interviews, and even just one-on-ones to talk about our leadership strengths in more depth. It is people like Allison who take the initiative that make times like these easier."
Afrah Bashir, a junior majoring in management information systems
"During this unfortunate time, and with a big load of online assignments, it was getting stressful for me to maintain a balanced lifestyle. With the weekly events that you have been hosting, it has helped me take a break from my studies, relax by either attending Netflix parties, interacting with people, and working out."
Kinsey Oliver, a sophomore studying accounting
"I've really enjoyed the events because they give us the opportunity to continue working on personal growth and development during the quarantine. We're still talking about our strengths, our professional aspirations and accomplishments, and how we can improve, despite the uncertainty of the times. It also gives us the chance to talk to other like-minded people who are all motivated and determined to continue to grow and succeed despite the circumstances, which keeps me motivated and determined as well."