Bauer Doctoral Program Launches Working Paper Showcase
Published on March 25, 2020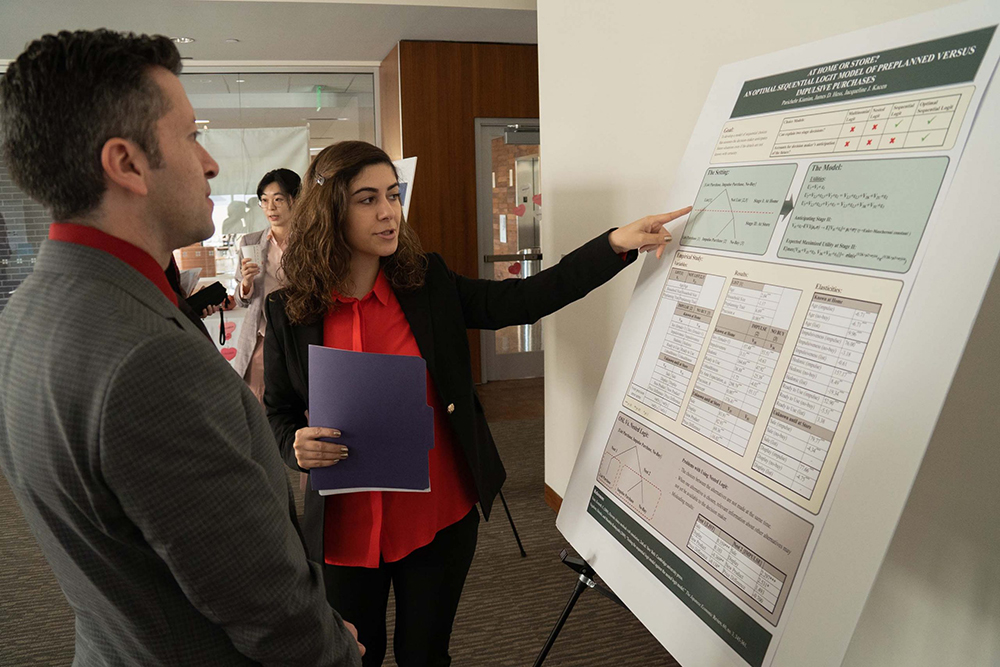 Each year, doctoral students at the C. T. Bauer College of Business conduct fascinating research that has the potential to change business practices while expanding knowledge. This year, the Bauer College launched an Inaugural Bauer Doctoral Program Working Paper Showcase to highlight student work. Bauer faculty awarded each of the three top presenters with $500 for research support.
One of the top three is Cassie Collier of the Department of Decision & Information Sciences, who designed a study that seeks to narrow the broad field of consumer behavior psychology known as "Nudge Theory," especially as it applies to some of the most influential decision-makers of our age: Information Systems (IS) designers.
The former IT analyst explains the study's practical implications: "Whether or not intended, information systems designers exert a surprising amount of influence over the users of information systems. Managers can use our work to better harness or subvert that influence depending on their goals," she said.
One powerful example of how design can influence behavior draws from a medical study looking at opioid abuse, Collier said. A popular type of software that doctors use to treat patients in pain was set up with a default setting: Order a 30-day prescription for painkillers. But after adjusting the default setting to order a 10-day prescription, fewer people requested refills for the potentially addictive medication.
"The default probably was set up randomly," Collier said. "It seems likely that some of those kinds of things exist in the business world; we just haven't uncovered them," she said.
One of the key contributions of the paper Collier developed with co-authors DISC Department Chair and Professor Norm Johnson and Professor Randy Cooper includes a typology of nudges.
"So far, researchers have only talked about nudges as one big idea," Collier said. But in this paper, we show that the reason nudges have an impact on behavior is for different theoretical reasons."
Collier graduated from Missouri State University with dual degrees in Computer Information Systems and IT Service Management. After graduation, she worked for ConocoPhillips as an IT analyst, interacting with a number of different areas of the company. She also served on a team to recruit new IT employees from universities, which spurred an interest in working in higher education.
She left ConocoPhillips to pursue a Ph.D. in Management Information Systems at the University of Houston in the fall of 2016. Her primary research interests are in online decision-making and human-computer interaction and she has taught introductory programming courses and co-taught a master's level data visualization course.