Faculty Profile: Vanessa Patrick
Bauer Associate Dean of Research and Professor Recognized with UH Teaching Excellence Award
Published on May 13, 2020
Teaching is a cornerstone of student success at the C. T. Bauer College of Business, and four Bauer College faculty were recently awarded one of the highest honors bestowed by the University of Houston (UH).
The UH Teaching Excellence Award, which is presented in several categories with a cash prize for each, was presented to Instructional Assistant Professor of Management & Leadership Ksenia Krylova Mohebbi; Associate Dean of Research and Marketing Professor Vanessa Patrick; Marketing doctoral student Mohsen Pourmasoudi and Senior Professor of Practice of Marketing Randy Webb.
In a series of articles we will be highlighting the underlying teaching philosophies that motivate each faculty member and sharing comments from their former students in order to capture what makes each individual exceptional in the classroom.
Vanessa Patrick
Associate Dean of Research and Marketing Professor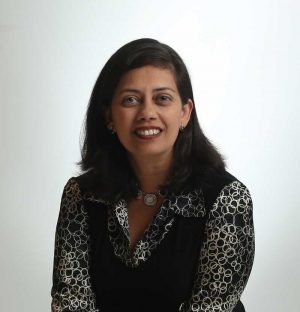 Vanessa Patrick received the UH Teaching Excellence Award in the tenured/tenure-track faculty category. She has been previously recognized for excellence with a college-wide teaching award at Bauer, is Lead Faculty for the Bauer Executive Women in Leadership Program and is also a Fulbright Specialist for 2019-2023. A consumer psychologist who has published numerous papers in leading marketing, management and psychology journals, she is an Associate Editor for the Journal of Consumer Psychology and the Journal of Retailing and serves on the editorial boards of the Journal of Consumer Research, Journal of Marketing Research and the Journal of Marketing and on the policy board of the Journal of the Association for Consumer Research.
Patrick has a Ph.D. in Business from the University of Southern California, Los Angeles, an MBA in Marketing and a BS degree in Microbiology and Biochemistry from Bombay University in India.
At Bauer she has taught all levels of student: Undergraduates, Masters, Doctoral and Executives.
In her words: "My formula for effective teaching is: Know your subject, let your passion for it show, and care deeply that students learn and are able to use what they learn in their personal and professional lives. In my view, a purposeful and meaningful academic life involves three interlocking components – to generate new knowledge with my research, to share knowledge through my teaching and mentorship, and to learn by reading, reviewing and reflecting on new ideas every day."
She outlines four key elements that characterize her teaching approach: (1) Storytelling to teach concepts, help students develop new mental models and to understand divergent theoretical perspectives, (2) Experiential Learning to  give students actionable research-based managerial insightsso that they have the knowledge they need to hit the ground running in their jobs/careers, (3) Whole Person Approach: Dr. Patrick does notbelieve that when students enter her classroom they check the rest of their lives at the door. She educates the whole person to succeed in both their personal and professional lives, (4) Being a Continuous Learning Resource (via Social Media): Inspired by the Gurukul system of ancient India, she has used social media to share resources with her students in closed groups on Facebook and LinkedIn that give them access to her long after they have completed her class.
It is no wonder her students love and respect her. Here are some sentiments from Dr. Patrick's students:
Kevin Klingaman (MBA '18), Vice President – Energy Lending, Fifth Third Bank took her study-abroad to Paris. He reflected "Dr. Patrick led our class through a wide variety of business strategies and challenges, and her knowledgeable and inquisitive perspective consistently led to interesting and informative group discussions. This can be seen in the closed Facebook discussion group that she created, and still maintains, for past and current students. Even though our class ended in 2018, many of us have continued to interact and post articles in the group. This unique group has led to all kinds of interesting discussions, and has greatly enriched my appreciation for marketing."
Henrik Hagtvedt, Associate Professor of Marketing at Boston College (Patrick's first doctoral student) said "She taught me everything from theory development and hypothesis formulation to experimental design to details about how to use statistical software……My whole career is testament to her ability as a teacher. She is the teacher I aspire to be someday, although I may never reach that lofty goal."
Undergraduate student, Maddy Tuttle, concludes "She takes her passion for her field, her research, and puts it into each class she teaches. With that passion, she is able to shape and grow each student who takes her class."