Committed to a Better Place
Bauer Students Emphasize Global Community At Humanitarian Leadership Development Program
Published on February 6, 2020
Last summer was anything but ordinary for Amanda Boyd, Jailene Hernandez, Obaid Moton and Zaman Jasani.
The student group from the C. T. Bauer College of Business at the University of Houston traveled to Kuala Lampur, Malaysia, for a week, representing the college during the 10th University Scholars Leadership Symposium (USLS), an annual global humanitarian leadership development conference.
Together, the Bauer students networked with student leaders from more than 80 countries, participated in sustainable development projects and led volunteers on humanitarian initiatives in the area, sharpening their perspectives as global citizens.
This was the second time for a Bauer student group to attend the symposium, where they were part of a select group of emerging young leaders, looking to change their local community. During their time in Malaysia, the students heard from world leaders and put those lessons into practice through service.
Here, each student reflects on their experience, sharing insights from the travel, symposium and service.
Amanda Boyd
Management Information Senior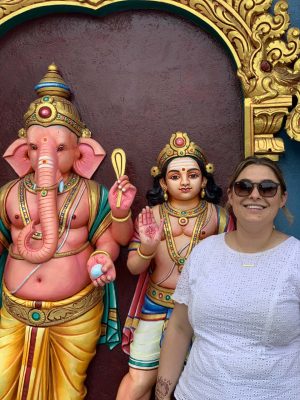 What first caught my eye about USLS was in the application email: "The Program has been designed for young persons who are committed to making this world a much better place for the human race." It was at that moment I desperately wanted to be selected as one for Bauer's delegates, plus I had never been to Malaysia, and I'll go to any place I've never been to before. I had never participated in a program with other international students in another country before, so it was an amazing opportunity that Bauer provided for us. Not only we were able to experience an entirely new culture but we were able to learn and grow with others of many different cultures.

Having an altruistic mindset has always been important to me as a person with a disability because I have personally had to rely on others at one time or another to get by. That general theme can be applied to anything to make an impact where you are most capable. Although this conference had a global focus, the impact of the talks and the one-on-one conversations I had easily carried over into my personal life back in Houston. You can always make an impact, just start.

Besides all the great moments getting to know my fellow Bauer students, my favorite moment actually had nothing directly to do with the conference, but still connects back to making an impact where you can. I have worked as a nanny for over 10 years, so I am very comfortable with new babies. On our flight Malaysia to Dubai I realized the same woman and her small child were sitting in the same seat off to my right (yes, I am the kind of person that likes to sit in the same seat on airplanes). Although this was our "short flight", it was still seven hours. If you don't have experience with babies, that is an exceptionally long time. I saw that she was juggling a lot, so I introduced myself and let her know that I was a nanny and didn't mind helping her out if she needed it at any time to eat or go to the bathroom ― it wouldn't bother me at all. I ended up taking her quite a few times throughout the flight. It made my time go quicker, and her mom was very grateful after. We've kept in touch and exchange text messages still. It was a wonderful feeling to be able to use what comes naturally to me to make someone's day a little easier.
Jailene Hernandez
Finance & Human Resources Management Senior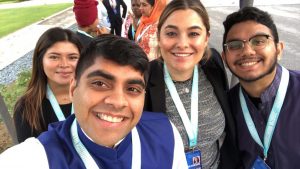 For me, attending the University Scholars Leadership Symposium in Malaysia was an eye-opening experience. The symposium allowed me to gain new perspectives and reflect on many social issues that I didn't typically think about. The issues discussed during the conference ranged from the refugee crisis, poverty, sustainable development goals, and inequality, among many other topics. It was always interesting to hear from speakers who had personally been affected by these social issues and their viewpoints on the situations. Further, hearing from these speakers allowed me to better understand the situation and think of ways to help and give back. Overall, I would say that attending the symposium was an amazing and humbling experience.
While I enjoyed my entire time at the symposium, I would say that one of my favorite parts was being able to meet and make new friends with students from all over the world. It's always so interesting to talk with other college students from other countries and learn about their experiences and their culture. For some of the people I met, it was their first time meeting an American, so it was fun to answer some of their questions about our country, culture, and even politics. Another fun aspect of the symposium was learning all about and being exposed to the diverse Malaysian culture through food, music, dance, language, and customs.
Attending the University Scholars Leadership Symposium in Malaysia will definitely be something that I will never forget! I am so thankful to Bauer for allowing me to further expand my leadership skills and giving me the opportunity to attend this great symposium.
Obaidullah (Obaid) Moton
Accounting and Management Information Systems Senior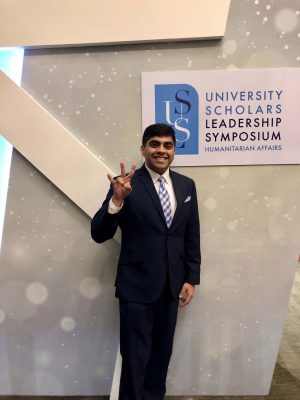 Bauer gave me the wonderful opportunity to attend the University Scholars Leadership Symposium this past summer. It was truly a wonderful, and eye-opening trip. I was able to learn about how to change doesn't have to start at a huge organization level, but with a single person.
The symposium gave me the opportunity to be able to hear speakers from all around the world and everything they have done. It was nice to get reassurance that even a single individual, like myself, was able to make a huge impact in the world. Along with listening to the speakers, we were able to meet other students from all around the world. It was interesting to meet others and hear about why they chose to come, and how they plan on making a difference in their community.
My favorite part of the whole conference was the Service-Learning Day. I chose to play with refugee children. It was such fun being able to play with the kids who were from around the world. Most of these kids were so happy to play with us and wanted to hear all about our lives. The kids just brought a certain type of joy with them.
I learned that even if you think you aren't really doing much to help others, you really are. It's the small things that you do that can add up and create a huge difference. One of the speakers spoke about how there are so many people around the world who are starving, and most people take food for granted and throw it away if they don't finish it instead of saving it for later. She talked about how many restaurants will donate the food that is left over from their buffets at the end of the night. Instead of us throwing it away, it could be donated to those who need it. Even though we are not directly donating it, we are still helping by not throwing away perfectly good food. We may not be helping directly, but indirectly our actions are helping others less fortunate.
Through this trip, Bauer was able to help me attend this conference and learn about how to help others, but also make new friends from around the world. We were able to learn the United Nations' Development goals and how we could implement those in our daily lives. Bauer also gave me the opportunity to travel internationally after nearly 12 years and experience a new culture. Most importantly, Bauer gave me such a wonderful memorable experience, and a couple of new lifelong, Coog friends.
Zaman Jasani
Supply Chain Management Senior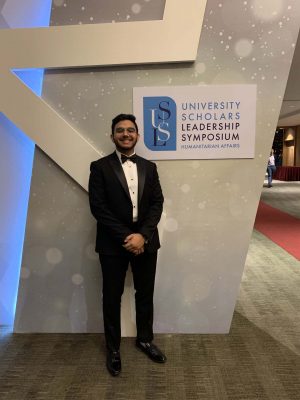 "We are the generation of responsibility and the generation of opportunity." The University Scholars Leadership Symposium served as a great reminder of the goal we should all have, to help others and to make this world a better place for us all. The lectures had speakers from all around the world who had already begun their journey in sustainably helping the world. It was powerful to see previous attendees of the conference stand behind the podium and share what steps they took during and after the conference, to take the strong sense of obligation we were feeling during the conference and turn that into meaningful impact. This started with the service day incorporated into the conference.
In the time we spent outside of the lectures, this conference connected us to students from over 80 countries. This not only expanded our learnings on how to get started with projects that held more value to us, but also gave us a base of followers to get help get those projects running. I am proud to say that I still see our friends from this conference continue to achieve the goals they had set for themselves.
I am appreciative of the commitment Bauer makes to impact global matters and support such experience for students like myself. Being exposed to the different cultures abroad greatly enforced the global mindset we need to truly contribute to the United Nation's 17 Sustainable Development Goals. Spending our days in this conference and nights exploring Malaysia was an experience I continue to recommend to other students, and I hope this inspires others to make an effort to continue to give back.