Bauer Management & Leadership Professor Awarded Grant for UH Alternative Textbook Incentive Program
Program Reduces Cost of Textbooks for Students
Published on June 29, 2020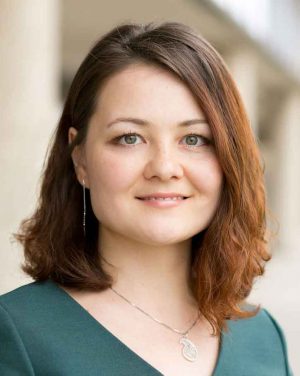 The cost of textbooks has soared, rising four times faster than the cost of inflation over 10 years. The expense can be prohibitive for C. T. Bauer College of Business students, one-third of whom work full-time while pursuing an undergraduate degree.
But some Bauer College faculty are taking advantage of a University of Houston (UH) Libraries Alternative Textbook Incentive Program (ATIP) that can make school more affordable.
Department of Management & Leadership Assistant Professor Ksenia Krylova is the latest Bauer faculty member to be awarded an ATIP grant, enabling her to offer a low-cost textbook to students taking her Introduction to Management and Organizational Behavior class this summer.
Krylova explains that the textbook for the required business course was expensive. More affordable older copies didn't include supportive materials.
"The textbook for the class is a custom edition that is made by the publisher specifically for this course at Bauer, so the students absolutely need to buy the textbook to succeed in the course," Krylova said. "For the undergrad students it is a burden to buy a textbook for each required business course, especially if the textbook edition is custom to each specific class/semester."
Because what's taught in the introductory level class is fairly standard, Krylova was able to create an alternative at a much lower cost using open educational resources (OER), teaching and learning resources in the public domain. OER resources have been licensed in such a way that anyone can freely use and re-purpose them.
The ATIP grant program, offered by UH Libraries in collaboration with the Office of the Provost, contributes to the college's goal of making education accessible and affordable.
"I am teaching a summer session of the class and half-way through the session, I have already received feedback from several students how grateful they are to not have to pay a lot of money for the textbook that they won't be able to use after the course is over, especially in the current situation of financial instability and uncertainty," Krylova said.
Estimates are that UH students have saved an estimated $2.3 million in textbook fees since the program began in 2018.