Bauer Alumnae Win First Place At International Supply Chain Competition
Lois Ann Suter (BBA '19) and Kaitlyn Dahlstrom (BBA '19) Provide Solution to Supply Chain Problem
Published on October 29, 2020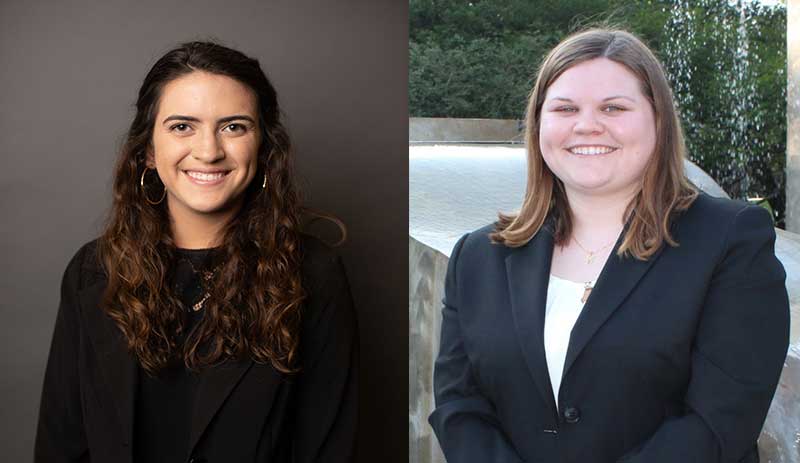 Two Bauer alumnae won the first place prize during the Association for Supply Chain Management (ASCM) Deloitte International Case Competition, a global competition allowing competitors to test their supply chain knowledge.
Recent Bauer College graduates Lois Ann Suter (BBA '19) and Kaitlyn Dahlstrom (BBA '19) competed against others from Rutgers University, Singapore University of Technology and Design, Jade University and more top global schools to find a solution to a supply chain problem.
Suter and Dahlstrom, the only all-female team to compete, addressed the problem of a fictional California-based juice manufacturer facing issues in tracking shipments, ensuring on-time delivery and optimizing shipping routes due to increased market demands.
"To capture more accurate and current fleet performance data, we recommended implementing fleet management trackers that provide updates to vehicle activity, vehicle health and cargo temperature," Suter said. "In an effort to prevent shipping delays, we recommended a software that automatically generates routes based on the imported orders and functions as a live GPS for the driver to react to current road conditions."
Not only did Suter and Dahlstrom have just eight hours to address the case study, they also had to work together virtually due to COVID-19.
"The cases are provided the morning of the presentation, so there is little we can do to prepare. We had to deliver an eight-minute presentation to Deloitte and ASCM representatives," Suter added. "Because of COVID, the entire competition was virtual. Not only did we have to present to the judges on a Zoom call, but Kaitlyn and I also had to work for the eight hours together on call."
Now as Suter and Dahlstrom pursue their careers as a Rotational Supply Chain Specialist for TechnipFMC and as Commercial Strategy Specialist for Occidental Petroleum, respectively, the opportunity to compete internationally has given them insight into their current roles.
"The opportunity to branch out and challenge ourselves to compete on an international level was rewarding and helped validate all we learned throughout our time at university," Suter added. "Now working for international companies, any opportunity to interact with professionals around the world continues to expand our perspective of the industry."