Bauer Accounting Undergraduates Win Deloitte Tax Competition
Students Address Business Problem During Deloitte FanTAXtic Competition
Published on November 23, 2020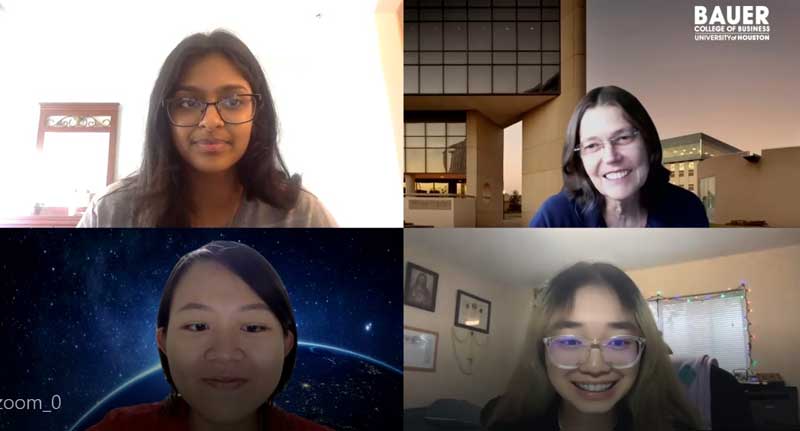 Four Bauer College undergraduate accounting students have been named one of nine regional winners of the Deloitte FanTAXtic, an annual case competition designed to familiarize students with the tax profession early in their academic careers.
Accounting students Jeline Jabbour, Smriti Korampally, Trang Than and Nhu Le competed against 55 teams from more than 40 colleges, gaining real-world business experience from a case simulation.
"We worked together to provide a tax strategy for a client. We conducted in-depth research on business structures, corporation formation, relevant tax codes and non-tax issues as well as calculated the tax effects (depreciation, qualified business income deduction, individual tax liability, corporate tax liability, accumulated earnings tax, etc.) on different scenarios," Le said.
Sponsored by Deloitte Tax LLP and supported by the Deloitte Foundation, Deloitte FanTAXtic offers experiential learning that complements the classroom to help prepare the next generation of tax talent for a career in business and tax. The interactive program includes case simulation, role playing and presentations which provide students with insights and perspectives on challenges facing the profession today, future trends, and the overall changing business tax marketplace.
Students worked together, virtually, to prepare for the competition under the guidance of Accounting Associate Professor Janet Meade.
"Students participate in case competitions on their own unpaid time. This means that they are motivated not for grades, but for the learning experience," Meade said. "Working with students who are committed to learning is intrinsically rewarding to me. The Deloitte FanTAXtic case competition allows students to see that a tax career is not just filling out tax returns. Instead, it is also about arranging transactions in a tax efficient manner. It is creative. Helping students see this is one of best parts of my job."
In January, the students will compete for nearly $50,000 in scholarships and institutional awards at the national competition.