A Special Proclamation
City of Houston Proclaims March 3, 2020, as Bauer College of Business Entrepreneurship Day
Published on March 4, 2020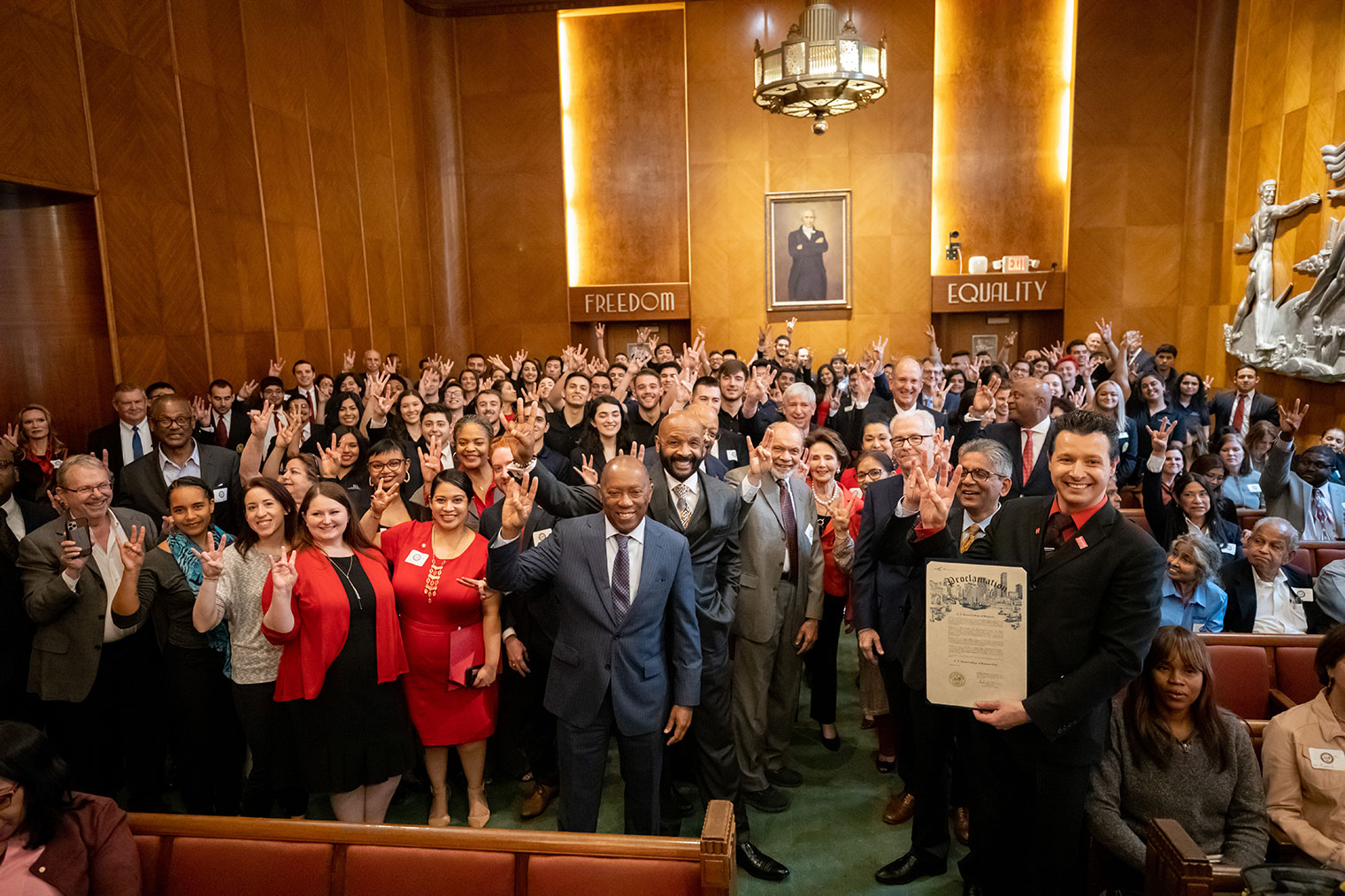 Houston has set its sights on being recognized as one of the world's top cities for innovation, and on Tuesday, Houston Mayor Sylvester Turner proclaimed "Bauer College of Business Day" in recognition of Bauer's entrepreneurship programs, including the Cyvia and Melvyn Wolff Center for Entrepreneurship that was named the top undergraduate program in the United States in annual rankings compiled by The Princeton Review.
Administrators, Bauer College Board members, faculty and staff, mentors, and students of the University of Houston C. T. Bauer College of Business crowded City Hall as Turner recognized the Cyvia and Melvyn Wolff Center for Entrepreneurship as the country's best undergraduate academic training ground for next-generation innovators.
Turner praised the program for its "pioneering, student-focused," approach and called out its exceptionalism.
"Bauer has been called the number one undergraduate program for entrepreneurship in the nation. Not in the city, not in the state, but the nation," Turner said, after reading a proclamation recognizing the achievement.
The Wolff Center, named for Houston philanthropists Cyvia and Melvyn Wolff, consistently finishes at or near the top of the prestigious list and has been included in the Top 10 since 2007.
Dean and Cullen Distinguished Chair Professor Paul A. Pavlou noted that the program, which prepares students to assume leadership roles in the business world, deserves celebration and recognition, but he noted that Bauer has even more to contribute to its community going forward.
"There is still work to be done for Houston itself to become a top innovation city worldwide," Pavlou said. "Let's all work together ― all the industry, mentors, and universities in this great city, so we can create the City of Houston as the innovation ecosystem it deserves to be."
More than 1,200 businesses have been started over the past decade by Wolff Center students and graduates, with identified funding of more than $268 million.
Between 35 and 40 students each year are accepted into the program, which was launched in 1991. Far more students participate in Wolff Center classes: About 2,500 UH students take at least one entrepreneurship course every year.
Dave Cook, Executive Director of the Wolff Center, said the program's success starts with its students, who complete a rigorous application process.
"We are looking for students who are passionate about entrepreneurship, who want to grow personally and professionally," he said. "When it works, there's magic in the class. They learn not just from the professors, but from each other."
Key experiences for Wolff Center students include intense, personalized mentoring from more than 500 experienced entrepreneurs from the Houston business community; experiential learning that includes everything from starting an internet business to working with intellectual property to launch new ventures; and Wolffest, a three-day festival that allows students to run a pop-up restaurant while handling hiring, marketing, cooking and sales. (This year's festival runs April 7, 8 and 9 on the UH campus).
Though the Wolff Center serves as a powerful catalyst for entrepreneurship, the concept of innovation is embedded in several other Bauer College programs and initiatives.
RED Labs is UH's startup accelerator and technology entrepreneurship program, providing co-working space, mentorship and other resources to founders.
Bauer College is also home to the award-winning SURE (Stimulating Urban Renewal Through Entrepreneurship) Program. The overarching mission of the SURE Program is to energize the entrepreneurial ecosystem, facilitating a partnership between UH students, industry experts and entrepreneurs from under-resourced communities.
The University of Houston Texas Gulf Coast Small Business Development Center Network is also housed within Bauer College and provides business advising and access to training, tools and resources to help small businesses start, grow, expand and succeed.