Published on June 10, 2020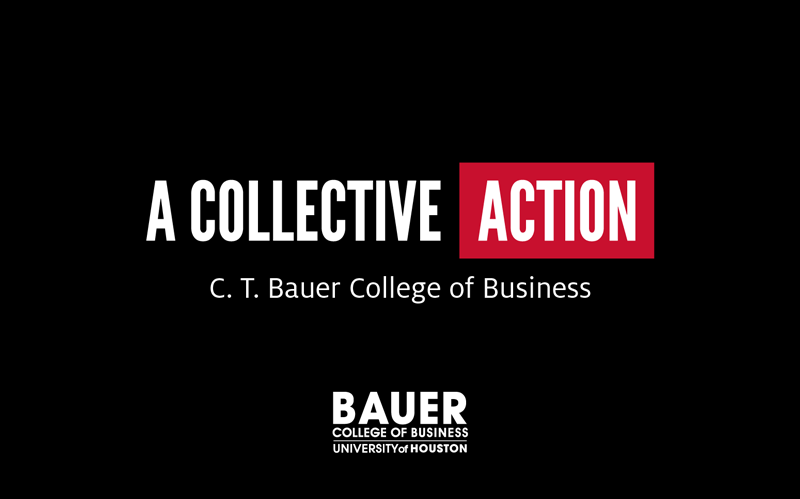 Dear Bauer family,
Over the past few weeks, we have witnessed tragic incidents that underscore the need for collective action that addresses racism, social injustice, and diversity and inclusion.
The death of George Floyd resonates louder because he was a member of our Third Ward community. His memory, and the memory of the many other Black men and women who have fought for equality, will serve as a constant reminder that there is significant work to be done. Together, we will do this work!
These incidents of racial violence have led us to collective reflection, which I encourage us to continue, but we must do more. The C. T. Bauer College of Business has a commitment to diversity, equity and inclusion in the values and key objectives articulated in our Strategic Plan, and a formal strategic goal to "set the standard for promoting diversity and inclusion."
In this commitment to take tangible action, we will work with the leadership team of the Bauer College and interested faculty, staff, students and alumni, to create a plan to ensure that we:
Address and understand implicit and explicit bias through programming for students, faculty, staff and alumni.
Provide the necessary forums for open and honest dialogue on issues of diversity, equity, and inclusion.
Cultivate and support efforts that serve traditionally-disadvantaged communities and the Third Ward.
Support and further expand the extant work and research of our Inclusive Leadership Initiative.
Collaborate with entities across all forums to progress our efforts to combat racism.
Continue our diversity and inclusion efforts as part of our 2020-25 Strategic Plan.
These steps are not exhaustive but initial steps of the hard work ahead of us. The challenges we are facing are many, but I know we can confront them, together.
A key Bauer value is Unity: We cherish diversity and we encourage inclusivity by treating all members of the Bauer community with respect and dignity. Please continue to stay safe, healthy, and, most importantly, hopeful.
Paul A. Pavlou, Ph.D.
Dean
Cullen Distinguished Chair
C. T. Bauer College of Business, University of Houston
713-743-4600 | pavlou@bauer.uh.edu