The Future of Retailing Insights
Bauer Researchers Detail What's Next for Retail
Published on October 28, 2019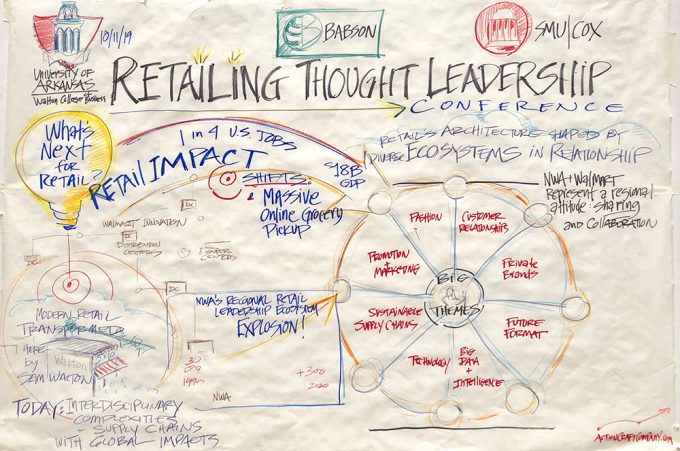 Making purchases is second nature to most U.S. consumers. The nation's retail sector accounts for one in four jobs and $2.6 trillion, or 16 percent, of the gross domestic product (GDP).
But the business of retail is experiencing a wave of transformation, with numerous store closings in many American cities, stock prices of large retailers in decline and numerous bankruptcies filed.
Two C. T. Bauer College of Business faculty members recently attended the invitation-only Retail Thought Leadership Conference, a gathering hosted by the University of Arkansas that highlighted the latest innovations and future trends in retailing.
Insights gleaned from the conference offer crucial strategy to retail managers as they navigate rapid technological change amid massive shifts in consumer composition – an influx of Millennials entering their prime spending years and an increasingly multicultural U.S. population.
Vanessa Patrick, Bauer College Associate Dean of Research, Bauer Professor of Marketing and Lead Faculty for the Bauer Executive Women in Leadership Program, attended the conference with Seshadri Tirunillai, Associate Professor of Marketing at Bauer.
Patrick's three key takeaways from the conference about the future of retailing follow. Further insights from other Bauer faculty whose research deals with different aspects of retailing will run in subsequent stories.
The Store is Not Dead (yet) but is Likely to Evolve: Ninety percent of sales still happen in physical stores, a fact easily confirmed by visiting HEB or Costco on the weekend. Even though prominent retailers are closing physical stores at increasing rates and pouring money into their online retail channels, there is still value in the established brand image and loyal customer base built via brick-and-mortar stores. Ignoring this plays directly into the hands of online-based companies like Amazon.

However, stores of the future are likely to adopt new formats, with offline and online retail formats that are integrated and complementary. The offline store might serve as a showroom to display products, rather than a place to buy. The online store might be where a consumer purchases a product, but the offline store is where he or she returns or repairs it.
Emergence of the Time-Sensitive Busy Customer: Sixty-one percent of consumers agree with the statement, "If a retailer could save me money, but it's too time consuming, it's not worth it." Saving time has become as important as saving money, as consumers try to simplify their lives. The goal for marketers and retailers is to remove the "time tax", and offer convenient (time-saving) or immersive and engaging (time-well-spent), customer experiences. The look and feel of stores and products are also becoming increasingly important. Even big box stores, like Sam's Club, have overhauled their entire packaging to make it look fresh and upmarket to convey both the value and quality of their brands.
Technology and Sustainability are Non-Negotiables: The discerning Millennial and Gen Z consumer are digital natives who expect technology to be used to make life more efficient and pleasurable. In fact, Millennials are more likely to hand over tasks to technology to free time for themselves. Consider the partnership between Chipotle and Sparkfly to develop a set of digital initiatives from the Chipotle Rewards Loyalty Program to Frictionless Online Ordering, as evidence that today's consumer expects an integrated experience with frictionless online and offline transactions. Similarly, the consumer today expects companies to be socially responsible. This new cohort of consumers cares about sustainability in the supply chain and is more likely to forge a relationship with a brand that is transparent and ethical in its operations. Advancing in technology and operating sustainably are no longer choices for companies and retailers, they are simply the way of doing business to ensure sustained loyalty from their customer base.