In Memoriam: Lance Livingston (BBA '66)
Bauer Alumnus Remembered for Support of Bauer, UH
Published on May 1, 2019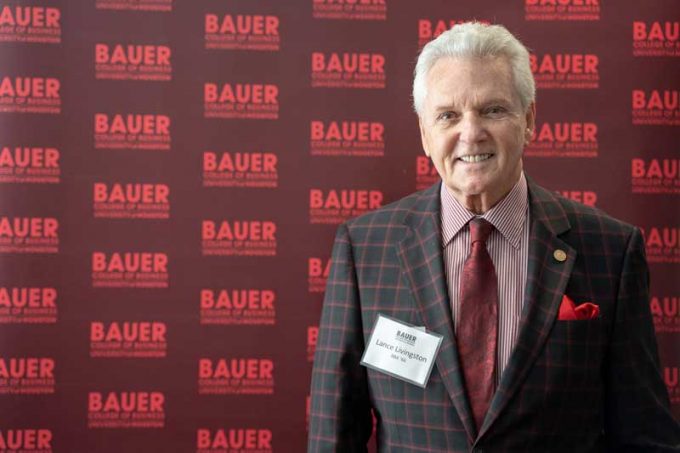 Lance "Hopper" Livingston (BBA '66) passed away on April 8, 2019, at the age of 77.
During his time at the University of Houston, Livingston played basketball and was a member of the Sigma Nu Fraternity. He received the UH Distinguished Service Award in 2014 and was inducted into the Sigma Nu Hall of Honor in 2017.
The notable alumnus opened Texas Western Events, an events company, in 1972. He was involved with the University of Houston Alumni Association, and was a fervent supporter of the Fertitta Center, attending many UH athletic events. During the last 20 years, Livingston generously gifted approximately $40,000 to the Bauer College. He also demonstrated his support for the school in many other ways. Most recently, Livingston organized Cougar Lunch Bunch gatherings, after attending the social gathering for many years.
Livingston was born in Alexandria, Louisiana. He attended Spring Branch High School in Houston and worked as director of services at the Fairmont Hotel in various cities early in his career. He eventually began his own corporate event planning company based in Houston, which he successfully ran with his late wife, Patricia Livingston.
A CanCare and Memorial Drive Presbyterian Church member since 1991, Hopper was a Lifetime Director of the Houston Livestock Show and Rodeo, Lifetime Board of Directors of the Greater Houston Convention and Visitors Bureau and ALS Association Chapter member since 2011.
Livingston is survived by his son, Link Livingston of Houston; daughter Lacy Joy Drissi and husband Tomy Drissi of Los Angeles; as well as two grandchildren and numerous other relatives.