Bauer Undergrad Recognized At NASDAQ Closing Bell Ceremony
Accounting and Finance Junior Zill Momin Earns TD Ameritrade NextGen Scholarship
Published on September 6, 2019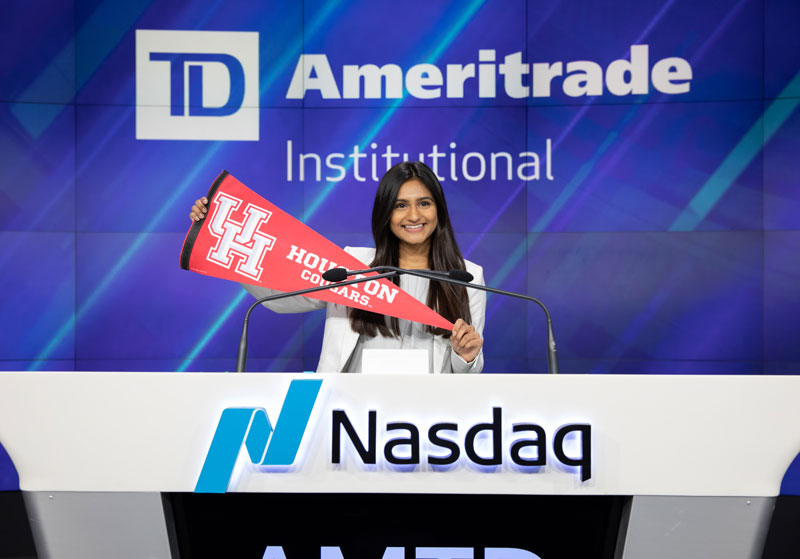 One of Wall Street's leading brokerage firms has recognized a student from the C. T. Bauer College of Business at the University of Houston as a future financial services leader.
Accounting and finance junior Zill Momin has been awarded $5,000 with the TD Ameritrade NextGen Scholarship, a program that helps promote careers in financial planning.
"When you come from a family of immigrant parents, knowledge and exposure on critical information regarding American financial literacy can be blurry," Momin said. "Because of their hard work and perseverance, I believe that the greatest achievement I can have in life is to be a guidance to families like mine, individuals, and business owners in helping them kick-start their lives. This is why I know a career as an independent financial advisor would allow me to stay motivated in what I do for years on. The passion I give to my family in financial literacy and planning for our future is the same level of passion I would feel inclined to give to my clients."
In addition to the scholarship, Momin traveled to NASDAQ to be part of the Closing Bell on July 23.
"Being a part of the Closing Bell ceremony was one of the most surreal experiences," she added. "Anyone who knows me knows how much I love my school and I was so proud to be able to represent the University of Houston and Bauer during the broadcasting of the ceremony."
Since 2013, TD Ameritrade Institutional has awarded 82 scholarships totaling nearly $410,000 and $500,000 in grants to universities. The program is part of a decade‐long, $5 million commitment to help attract a new generation of RIAs by raising awareness of the career opportunities within the financial services industry, as well as helping promising future advisors fund their studies.
"These students embody the future of financial planning. Through their studies, they have shown dedication to the profession," said Kate Healy, managing director of Generation Next at TD Ameritrade Institutional. "Our industry is facing a significant talent shortage. Through this program, we aim to help not only the students but also the colleges and universities that are preparing and training the young men and women who lead our industry into the future."