Bauer Staff Recognized With President's Excellence Award
Undergraduate Business Programs Staff Recognized for Dedication to Bauer Students
Published on August 30, 2019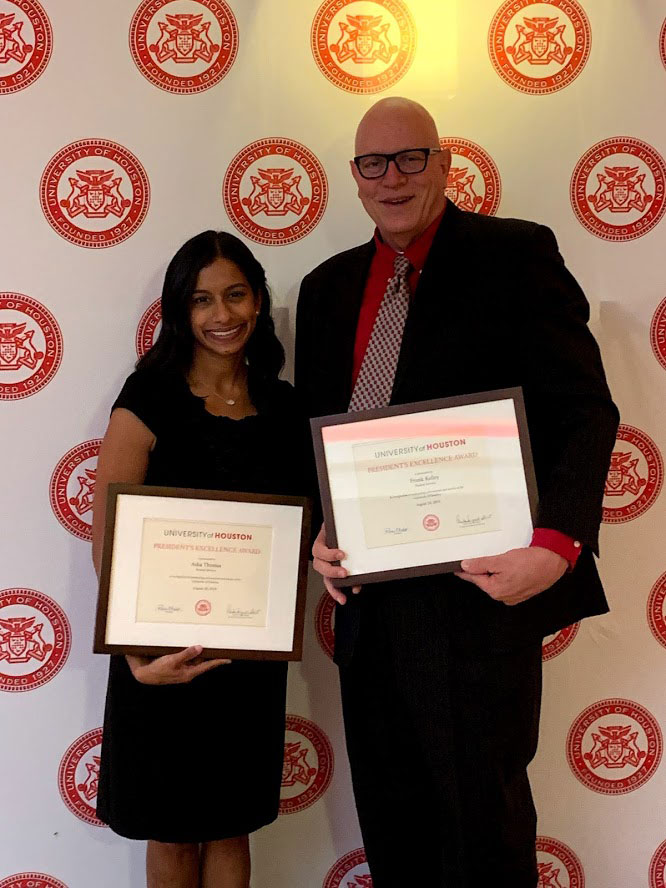 Two staff members at the C. T. Bauer College of Business have been recognized at the university-level with the President's Excellence Award.
Undergraduate Business Programs Associate Dean Frank Kelley and Major Advising Director and Entrepreneurship Academic Advisor Asha Thomas were recognized for their dedication to Bauer College students.
Frank Kelley
Associate Dean
Undergraduate Business Programs
Frank Kelley has been with the University of Houston since 1987 and the Bauer College since 1992. His office oversees advising and administrative affairs for over 5,000 undergraduate business majors and minors, and outreach programs such as the Program for Financial Literacy and college access programs.
Prior to working at Bauer, he taught college English for 10 years. He also served as chief operating officer for a translation company headquartered in Houston with an office in Azerbaijan.
He has received the Melcher Faculty Excellence Award, Magner Award, UH Staff Excellence Award, CBA Outstanding Staff Member Award, the Dean's Excellence Award and the Outstanding Staff Award. He has served on various university committees, most recently on the steering committee and advising implementation committee for Foundations of Excellence, and is a Fellow of The Honors College. He serves on the advisory boards for VN Teamwork, Sunflower Mission, and the Stimulating Urban Renewal through Entrepreneurship (SURE™) Program.
He has a Master of Theology degree, a Master of Arts in English literature and Master of Fine Arts in Creative Writing, and post-graduate work at the University of Houston in rhetoric and composition.
Asha Thomas
Director, Major Advising
Entrepreneurship Academic Advisor
Undergraduate Business Programs
Asha Thomas has been with the University of Houston since 2009, and has had the opportunity to serve as an advisor for pre-business, marketing, management, management information systems, finance and entrepreneurship majors.
While pursuing her education, she worked on campus and realized that she wanted to continue working in higher education. She began her career at Arizona State University as a coordinator for the Freshman Year Experience Program, and then as an Academic Advisor for Exploratory Studies.
Thomas graduated from Arizona State University with her Masters in Social Work.