Bauer Honors Celebrates Founding Director During Alumni Event
Professor Everette Gardner Honored During Alumni Celebration
Published on September 19, 2019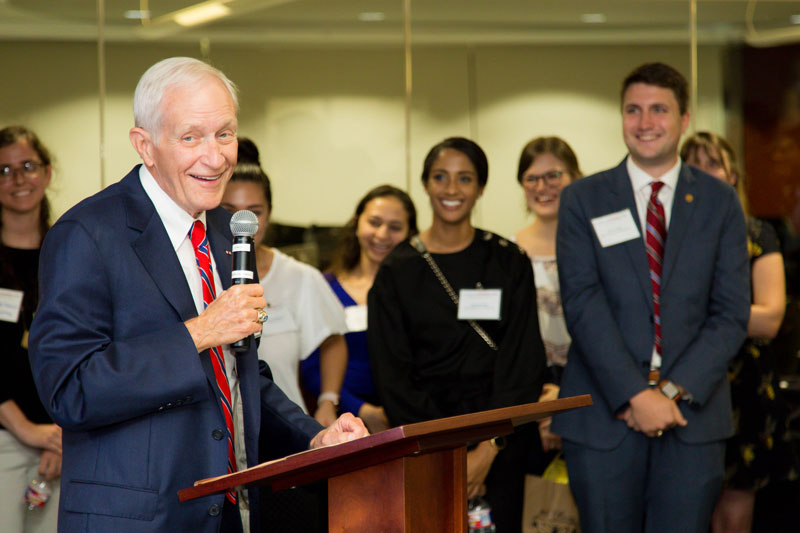 Tough. Caring. Dedicated.
Those were just three of the many words used to describe Everette Gardner, Professor and outgoing Bauer Honors Program faculty director, who announced his retirement earlier in the year from the C. T. Bauer College of Business.
Gardner was celebrated in September during the Bauer Honors Annual Alumni Mixer, which invites current students and alumni of the program to come together to network with one another. To pay tribute to Gardner, the program announced at the event the creation of the Dr. Gardner Mentorship Program Scholarship, which has already received considerable support from students, alumni and faculty.
"Although Dr. Gardner is retiring today, students will continue to know who he is," Bauer Honors Administrative Director Sarah Gnoseplius said. "Dr. Gardner understood students needing a home away from home ― that's why he built the Bauer Honors Commons. When students take classes and see 24 faces, they'll know Dr. Gardner. He understood the importance of interface. They will experience and understand his influence."
Gardner helped to launch Bauer Honors in 2001. The program is fully integrated with the university's Honors College, providing students smaller classes, a sense of scholarly community and the opportunity to do research alongside faculty.
"Gardner doesn't suffer lazy ignorance or fools, but at the same time, he celebrates achievements and excellence," Honors College Dean Bill Monroe said. "Those of us in Honors are honored to have work with him and continue his legacy."
Now in its 17th year, the program has grown to 350 students with a dedicated facility and student advisory board. The team has also added two additional staff positions (academic advisor Colleen Davies and program coordinator Meredith Walley).
"Although I didn't have a chance to work together with Ev, I hope you come back frequently," Bauer College Dean Paul A. Pavlou said at the event. "Thank you to Ev for nearly two decades of service to Bauer Honors as faculty director and playing an instrumental role in creating the program."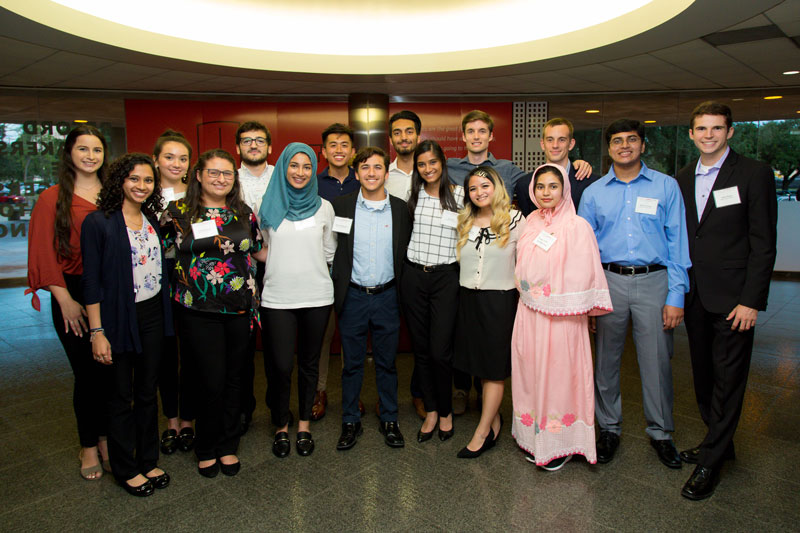 During the event, Pavlou announced Elizabeth Anderson-Fletcher as the incoming faculty director for Bauer Honors. Anderson-Fletcher is an associate professor of supply chain management at Bauer with a joint appointment in the Hobby School of Public Affairs. She is also a long-time faculty member within Bauer Honors and a Fellow of The UH Honors College. She is an accomplished researcher who focuses on the human capital side of supply chain, with a focus on emergency management and public health logistics.
"We would not have Bauer Honors without Dr. Gardner's unwavering vision. His visionary leadership took an idea into a reality," Anderson-Fletcher said. "He's been my mentor and my dissertation chair, and years later, he recruited me to Bauer. Teaching in Honors is my most rewarding experience."
Gardner, who is known for being succinct but powerful, closed out the event with his final remarks.
"I thought when I retired, I could sneak out the back door," Gardner said. "You're not really getting rid of me. It just means I have more time to come back."