Bauer College Appoints Inaugural Associate Dean of Research
Vanessa Patrick Will Lead Research Efforts for Bauer
Published on September 11, 2019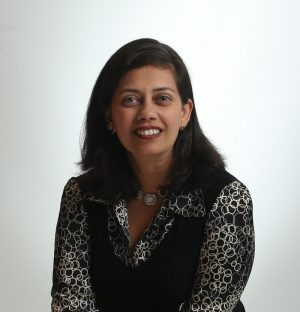 C. T. Bauer College of Business Marketing Professor Vanessa Patrick has been named the inaugural Associate Dean of Research at Bauer.
Patrick's prolific research, teaching excellence and commitment to service make her uniquely suited to lead an initiative designed to strengthen and amplify research excellence, said Bauer College Dean and Cullen Distinguished Chair Paul A. Pavlou.
"I place enormous importance on the broader impact of research across academia, the classroom, industry, public policy and society in general," Pavlou said. "Dr. Patrick will support Bauer faculty and doctoral students in order to enhance research productivity and dissemination. Additionally, she will be working to identify and promote college-wide areas of research excellence and facilitate cross-disciplinary collaborations with other colleges and industry partners."
Patrick is a consumer psychologist who has published numerous papers in leading marketing, management and psychology journals and her work is widely covered by the media. She is an Associate Editor for the Journal of Consumer Psychology and the Journal of Retailing and serves on the editorial boards of the Journal of Consumer Research, Journal of Marketing Research and the Journal of Marketing. She served as Director of Doctoral Programs for Bauer College from 2015-17.
"A core value of the Bauer College is thought leadership through innovative and cutting-edge faculty research. This can not only transform management thinking and inform organizational best practices, but importantly, as a college committed to student success, research can get successfully disseminated in our classrooms – from undergraduates to executives – to enhance the student learning experience and equip our students with the knowledge they need to succeed in their careers." Patrick said.
Patrick has a Ph.D. in Business from the University of Southern California, an MBA in Marketing and a BS degree in Microbiology and Biochemistry from Bombay University. She teaches intro-level Marketing classes to undergraduates, a consumer behavior seminar to doctoral students and is lead faculty for Bauer's Executive Education Women in Leadership program. She has been deeply involved in graduate education, moving from the Marketing department's Ph.D. coordinator to the Ph.D. Director for Bauer. She has collaborated with the UH Graduate school to launch the inaugural graduate research and scholarship program known as GRaSP, and, has served on the UH Faculty Senate.
She received all three LeRoy and Lucille Melcher Faculty Excellence awards from the Bauer College of Business: The Research Award (2011), Service Award (2016) and Teaching Award (2018). Patrick was awarded the prestigious Outstanding Reviewer award by the Journal of Consumer Research in 2018 and was named a Fulbright Specialist (2019-22) by the U.S. Department of State Bureau of Educational and Cultural Affairs.