Bauer Alumni Return to Campus For Annual Meeting
Alumni Receive Updates on Previous Year, Hear from Bauer College Dean on Upcoming Initiatives
Published on August 23, 2019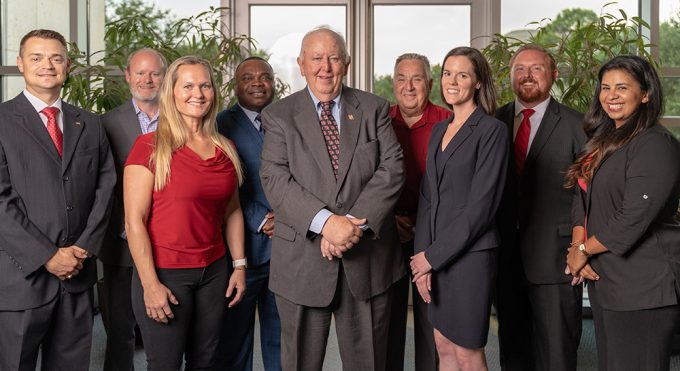 Bauer College graduates from across programs and class years returned to campus in August for the Bauer College Alumni Association (BCAA) Annual Meeting, where they celebrated the college and organization's successes from the previous year and heard an update on the upcoming academic year.
Outgoing BCAA President Jeremy Sturgill (BBA '06) shared an update on the Bauer College Alumni Association Endowed Scholarship, which will begin awarding scholarships to students in 2020.
BCAA also recognized the BCAA UH-Tier One Scholarship recipient, Spring resident Wassem Sarakbi, who has competed in DECA, formerly the Distributive Education Clubs of America, and volunteered for the Houston Food Bank. He will receive a full scholarship to Bauer.
"We had a big year of accomplishments for scholarships," Sturgill said. "Any money we put towards the fund, we can continue to give to more students."
Sturgill also passed the baton of the role of president to Gary Ballard (BBA '68), who will serve in the position for 2019-2020.
"Gary Ballard has served over the past year as the vice president of BCAA and is now stepping up to become president. This is his third time being on the BCAA board since the 1980s," Sturgill said. "He is a dedicated UH and Bauer alumnus that would put the entire school on his back to help if he could. We look forward to Gary leading the BCAA board as the president this upcoming year."
Bauer College Dean Paul A. Pavlou also gave remarks to alumni about major initiatives and priorities for the college, including a strategic planning process that kicked off this month, as well as expanded digital and online learning, and increasing student engagement.
"I'm here because I'm adamant about higher education. I want to make your degree a great value for you," Pavlou said. "I'm passionate about students and improving their lives. I was attracted to UH because we take students who are hard workers and help them succeed."
For more information about the Bauer College Alumni Association, click here.