Up for a "Grand Challenge"
Bauer Undergraduates Experience Scholarly Research Alongside Faculty
Published on October 1, 2018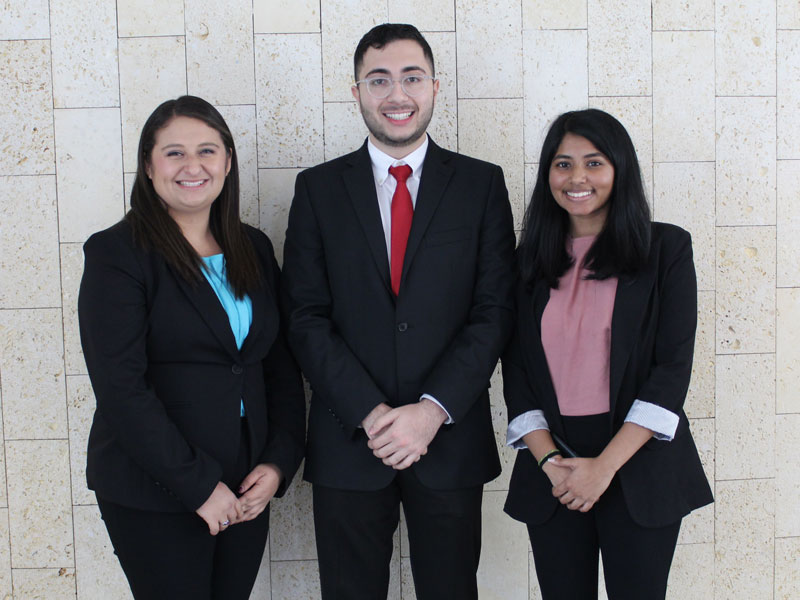 Bauer undergraduates Crystal Gamboa, Nima Nayeri and Sharan Sabu participated in The Honors College Houston Early Research Experience program, addressing a sustainable solution for the Houston area.
Undergraduate students from the C. T. Bauer College of Business had the opportunity this year to work alongside faculty to conduct academic research during the Houston Early Research Experience (HERE) Program, sponsored by The UH Honors College.
This year marks Bauer College's first time participating in HERE, a two-week workshop in May designed to give rising sophomore and junior students a closer look at the fundamentals of conducting research, with seminars led by UH faculty and instructors.  HERE students earn a $1,000 scholarship and an invitation to join the Houston Scholars program in the fall semester.
Supply chain management sophomore Crystal Gamboa, accounting and finance junior Nima Nayeri and management information systems sophomore Sharan Sabu represented Bauer at HERE, working together to address a sustainable solution to contribute to a carbon-neutral region in a 21st century city.
"Our group researched how the implementation of Pressure Swing Adsorption, a Carbon Capture System in oil refineries located in the Greater Houston Area, benefit the key stakeholders," Gamboa said. "We made sure to explain how the key stakeholders, the city, industry, environment and the people, can benefit from the Pressure Swing Adsorption Carbon Capture System. Much of our model focuses on taking advantage of the benefits of our great economy, while leading Houston in the path of sustainability."
During their preparation, Bauer Decision & Information Sciences Instructional Assistant Professor Emese Felvegi, who served as their mentor, guided them to be more effective and clear in their delivery.
"Our past projects in our Bauer classes have enabled us to know how to present in front of an audience," Gamboa added. "Researching more about the topic allowed our group to attain the knowledge required to answer any questions that may arise."
As a culmination to the HERE program, the Bauer group was invited to the Grand Challenges Forum (GCF). The forum, which partners with the University of Houston Alumni Association and Bauer College, allows students to present their research findings to a panel, and also have the opportunity to hear from scholars, authors and activists.
"I believe the experience of undergraduate research is so important in developing a well-rounded student, I have been seeking opportunities to grow my skills in research and develop a research portfolio since I started at the University of Houston," Nayeri said. "The skills gained from research can be beneficial to any career, both in industry and in academia. I would like to use the skills gained from my undergraduate research experience in a career as an accounting and finance professional."