Bauer Supply Chain Students Impress at Case Competition
Student Teams Collaborate, Present Solutions to Industry Judges
Published on February 22, 2018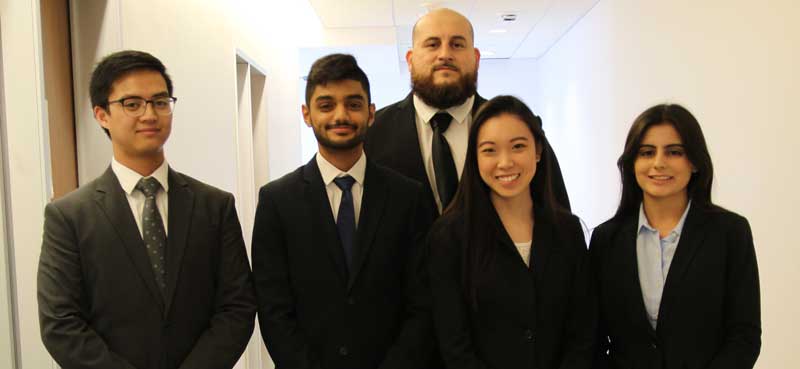 Supply chain management students (from left) Bao Hoang, Hani Jamil, Fernando Zambrano, Jennylee Quach and Victoria De Leon placed first during the Bauer Supply Chain Forum Case Competition this spring.
Undergraduate students from the C. T. Bauer College of Business recently put their skills to practice during the Bauer Supply Chain Forum Case Competition, sponsored by BHP and CB&I.
Four teams of supply chain management students participated in the event, with Jennylee Quach, Victoria De Leon, Bao Hoang, Hani Jamil and Fernando Zambrano earning the final prize of $2,000.
Besting 12 teams in a preliminary round, the students were presented with a supply chain problem by Wilson Perumel & Company, a strategy consulting firm, focusing on Motorola's BCS department. Students had one week to prepare their solutions, with an additional week to make adjustments for the final round.
"We approached the problem in potential supply chain strategies," said Jamil, a supply chain management and finance sophomore. "A lot of us had never participated in a case competition, but our solution was a streamlined, low-risk supply chain strategy that would increase our cash flow in the end."
The competition, which had over 100 applicants, combined the efforts of the Bauer Supply Chain Forum, along with Bauer student organizations Sourcing & Procurement Organization (SPO), Supply Chain Student Association (SCSA) and Supply Chain Organization (SCO).
The teams presented their solutions to a panel of judges from more than a dozen different companies that participated in the preliminary and finals judging rounds.
"We have over a dozen different companies supplying the judges," Decision & Information Sciences Clinical Assistant Professor Dale Tibodeau said. "This gives the students a wider exposure to more companies for a single event and engages with more of our industry partners simultaneously — a win for both our students and industry partners."
The judges provided teams feedback and scores, and all participants learned the solution that actually implemented by Motorola.
"I was really impressed overall with the presentations," said judge Nick Kunesh, a senior advisor for Wilson Perumel & Company. "Although (the participants) were all at the undergraduate level, their answers were that of a graduate level. I'm really impressed."
First Place: Jennylee Quach, Victoria De Leon, Bao Hoang, Hani Jamil and Fernando Zambrano
Second Place: Reynaldo Melesio, Guang Muntz, Isaac Camacho and Jessica Gonzalez
Third Place: Santiago Estupinan, Jocely Hernandez, Graciela Marquina, Muniza Maknojiya and Zainab Rashid
Fourth Place: Danielle Schumann, Ngoc Phan, Tiffany Nel, Nicholas Stessel
Connecting the Classroom to Industry
This year's Bauer Supply Chain Forum Case Competition marks the first opportunity for companies from different industries to participate in creating the case and judging the competition. Participating companies for the final round included:
Shell
Oasis Petroleum
KBR
Bechtel
Conoco Phillips
Enbridge
Sysco
BHP Billiton