Atwater to Join Nationally Recognized Department
Published on July 14, 2008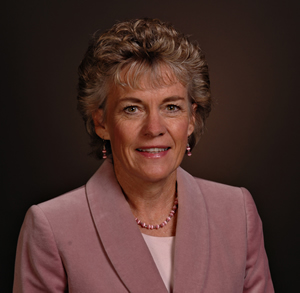 UH Bauer welcomes Leanne Atwater, who previously led the management department at Arizona State University's School of Global Management and Leadership, as its new management department chair.
HOUSTON, TX, July 14, 2008 – The C. T. Bauer College of Business at the University of Houston will welcome a new faculty member this week as Leanne Atwater becomes the chair of the college's Management Department on July 15.
Atwater, who previously led the Management Department at Arizona State University's School of Global Management and Leadership, said she is eager to join Bauer College's management department.
"I'm really looking forward to it," she said, adding that she wants to hire more faculty members and encourage strong leadership within the department. "The conversations I had with the faculty made it sound really appealing," she said. "The Bauer College has an excellent reputation."
Atwater will apply her experience from Arizona State along with extensive background in the field to the position. "Leanne comes to us with an exceptional background that combines professional and administrative experience," Bauer College Dean Arthur D. Warga said.
Atwater earned her bachelor's and master's psychology degrees from San Diego State University. She then worked as a personnel research psychologist at the Navy Personnel and Development Center in San Diego before teaching at the U.S. Naval Academy. She earned a Ph.D. in social/organizational psychology from Claremont Graduate School in 1985.
"I was working as a personnel research psychologist, organizational issues, mostly civilians, and I changed my profession," she said.
Atwater was offered a teaching position by the Naval Academy and decided that she preferred it over psychology. "I never taught before," she said. "(But) two days into the job, I said, 'This is what I want to do.'"
A management degree can give students preparing for a business career insight into getting along with co-workers, working in teams and resolving conflict, Atwater said, adding that all of these qualities are important for any job.
"I think management prepares you for a lot of areas," she said. "Once you supervise people, managing skills are critical. Most people will tell you the most difficult part of the job is the people."
Aside from the Naval Academy, Atwater has also taught at Binghamton University and Syracuse University. In addition to being a professor, Atwater was also the interim dean of the School of Global Management at ASU from 2004 to 2006.
This year, she published a book, "Leadership, Feedback and Open Communication Gap," co-written with ASU management professor David Waldman.
Atwater will replace Jim Phillips, who has been department chair since 1998. Phillips will continue as a full-time professor as Bauer College. "His leadership has been outstanding," Warga said.
About the University of Houston
The University of Houston, Texas' premier metropolitan research and teaching institution, is home to more than 40 research centers and institutes and sponsors more than 300 partnerships with corporate, civic and governmental entities. UH, the most diverse research university in the country, stands at the forefront of education, research and service with more than 35,000 students.
About the Bauer College of Business
The C.T. Bauer College of Business has been in operation for more than 60 years at the University of Houston main campus. Through its five academic departments, the college offers a full-range of undergraduate, masters and doctoral degrees in business. The Bauer College is fully accredited by the AACSB International - the Association to Advance Collegiate Schools of Business. In August 2000, Houston business leader and philanthropist Charles T. (Ted) Bauer endowed the College of Business with a $40 million gift. In recognition of his generosity, the college was renamed the C.T. Bauer College of Business.