Faculty
Sealing the Deal
Bauer Researcher Sheds Light on Sales Education Best Practices Worldwide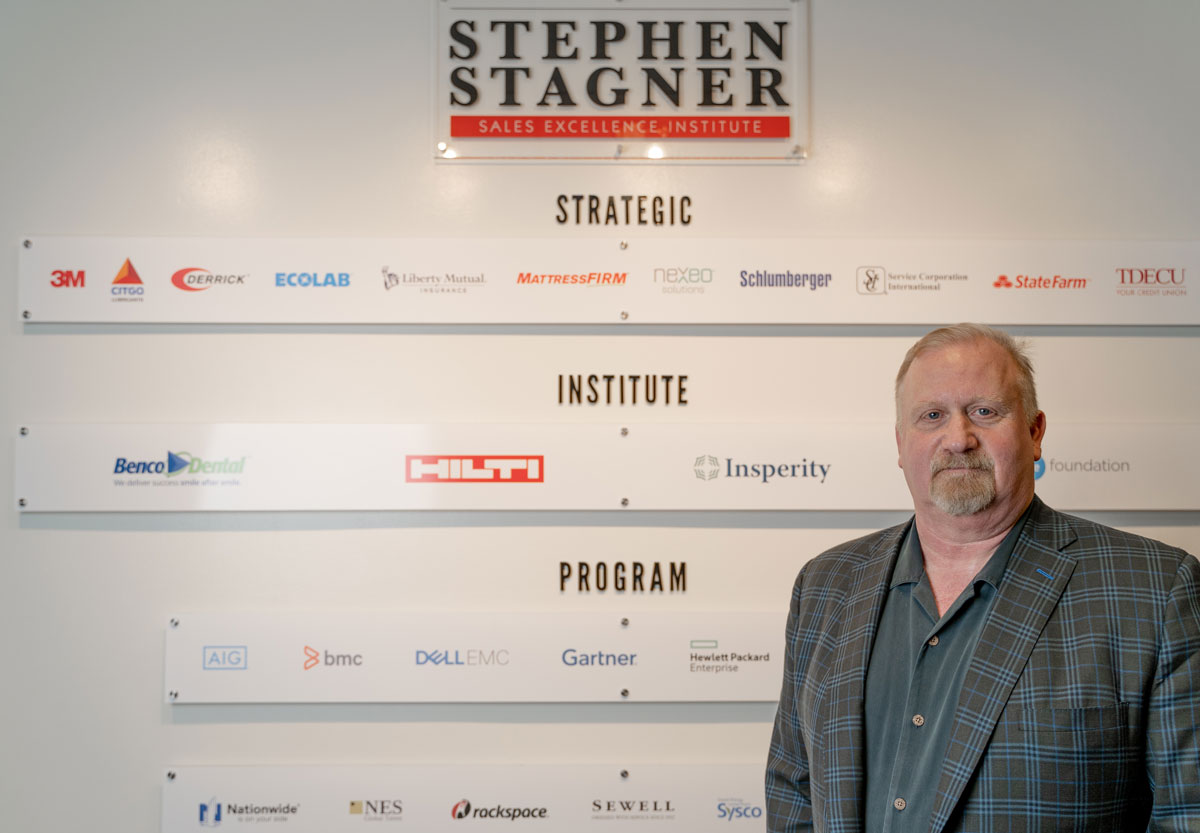 IN A RECENT CO-AUTHORED PAPER FOR THE HARVARD BUSINESS REVIEW, C. T. BAUER CHAIR IN MARKETING MICHAEL AHEARNE EXAMINES SOME OF THE MOST COMMON BARRIERS TO SUCCESS WHEN SALESPEOPLE ATTEMPT TO BRING INNOVATIVE PRODUCTS INTO THE MARKETPLACE.
LEARN MORE: Stephen Stagner Sales Excellence Institute →
---
When it comes to selling, Bauer College's preeminence in developing sales as an academic and professional discipline is well-known.
Not only is Bauer's professional selling program the standard bearer and model for more than 200 other selling programs at universities in the United States and abroad, many are headed by doctoral graduates of Bauer College's Stephen Stagner Sales Excellence Institute (SEI).
One of the people most responsible for Bauer's influence in sales education across the world is professor and C. T. Bauer Chair in Marketing Michael Ahearne, research director of SEI.
Ahearne wrote "Selling Today: Partnering to Create Customer Value," the highest-grossing professional sales textbook in the world, with copies distributed in 40-plus countries.
He co-founded an invitation-only conference, "Thought Leadership on the Sales Profession," which brings leading academics and senior sales leaders from around the world together to discuss cutting-edge practices in sales.
Ahearne has also been recognized as one of the most productive (top 10) researchers in his field and was the inaugural winner of the Sales Education Foundation Research Dissemination Award for the impact of his research on business practice.
Given his résumé, it is perhaps a little surprising that sales as a profession wasn't Ahearne's first career choice. He was signed to pitch for the Montreal Expos at 18, before shifting to the study of health care marketing and sales after an injury. Ahearne eventually earned a master's degree and Ph.D. in marketing, as well as an MBA and undergraduate degree in mathematics.
Ahearne's sales research findings are regularly reported in top academic journals and leading business publications such as the Harvard Business Review, The Wall Street Journal, Forbes and others.
His research excels in breaking down assumptions about what makes a good, great or poor salesperson and applied empirical data to ascertain how organizations can improve their sales segment.
It's really understanding the foundations of selling that drives a person to be able to rise up in the economy.
Michael Ahearne
Research Director,
Stephen Stagner Sales
Excellence Institute
A paper in the November/December 2018 Harvard Business Review co-authored by Ahearne explores some of the most common barriers to success when salespeople attempt to bring innovative products into the marketplace — and what organizations can do to help them succeed, instead.
Most companies today are focused on organic growth from within the organization that relies on new innovations, rather than through mergers and acquisitions or efficiency strategies, Ahearne said.
"The biggest block is not that they don't come up with good ideas for new products, it's in the last stage of commercialization," Ahearne said. Frequently, "the salesforce fails to get traction," he said.
A typical salesperson is well-versed in product details and features, but hasn't been trained in how to handle the inevitable questions that arise after an initial idea or product has been given a green light, Ahearne said.
"What are all those hurdles, all those questions, you need to address? The best companies train and arm their salespeople, and it changes their ability to execute."
Ahearne is on the advisory board for an upcoming special issue of the Journal of Marketing focused on the topic of marketing for good, yet another example of his influence on global best practices.
Sales has always battled a bit of an image problem, he acknowledged, but the future issue will highlight its role as a foundation for positive change.
"When any nation is in its early years of development, sales is just a foundational thing that people need to learn how to do to grow that economy," Ahearne said.
One of the research projects scheduled to be profiled in the upcoming Journal of Marketing issue involves using direct sales to help establish financial security for families in India.
"Women who have never worked before obtain jobs direct selling products and services to customers, to earn a living for their kids and increase quality of life for their entire family. It's really understanding the foundations of selling that drives a person to be able to rise up in the economy."