Community
Global Game Changer
From Kenya to Microsoft, Bauer Alumna Reflects on International Journey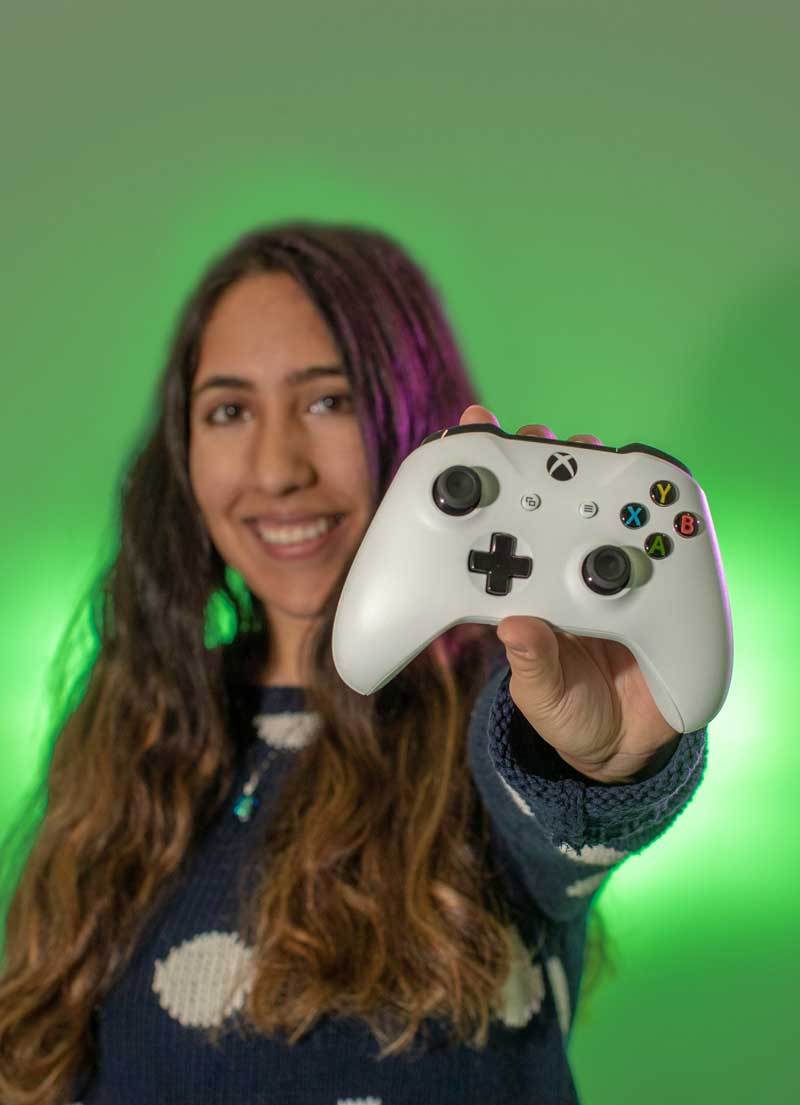 AFTER GRADUATING FROM BAUER COLLEGE IN MAY, MAHEK HOODA TOOK A JOB WITH MICROSOFT AS A GLOBAL SUPPLY CHAIN PLANNER FOR THE COMPANY'S XBOX LINE.
For Mahek Hooda, growing up in the United States was a bit like winning the lottery — literally.
Hooda, who graduated from Bauer College in May and is now working as a global supply chain planner for Microsoft's Xbox line, was born in Nairobi, the capital city of Kenya, Africa. When she was 8, her family immigrated to the United States through the Diversity Visa program, commonly known as the green card lottery.
"When people ask me what motivated me in college, why I was so involved and how I figured out what I was so passionate about, it all goes back to my childhood in a developing country," Hooda said.
She added: "Seeing the problems going on in the world firsthand, walking on the roads of Africa as a child to go to school and seeing people who didn't have food to eat, I knew how lucky I was to be in the United States and to be educated here. I just wanted to take advantage of all the opportunities and also how to insert myself into solving some of these problems, even in a small way."
As a Bauer student, Hooda balanced a double major in management information systems and supply chain management with extracurricular activities, all in an effort to learn and absorb as much knowledge and experience as possible. In addition to leadership roles with Bauer student organizations Bauer SPO and MISSO, Hooda participated in a range of groups in the college and made connections with her classmates regardless of ethnicity, background or major.
"I was part of all the different student organizations — the National Association of Black Accountants, the Hispanic Business Student Association, the Asian Business Student Association ... you just go to a couple meetings, a few of their events and see what it feels like," she said. "It became way more welcoming and empowering to be the person who can bring people from different backgrounds together to take advantage of being a student in an international city."
In addition to establishing herself as a leader on campus, Hooda participated in philanthropic and service activities off campus, including volunteer abroad experiences in Kenya and Guatemala, and helped to create and lead a Young Women Leaders Series at the Houston Turkish Center. She and a friend also spent one winter break organizing a meal drive for the city's homeless population.
"I've always been passionate about helping out the community and being really plugged in, especially to what's happening in your own backyard," Hooda said. "I was able to leverage my supply chain skills to logistically figure out how to procure all the materials to make the meals and get the meals out to people, and we designed a website to get the word out, so I used everything I learned in my Bauer classes to go out and create this change."
Hooda also complemented her Bauer education as a participant in the prestigious Harvard Business School Summer Venture in Management Program and consulted for the college's SURE™ Program, where she worked to develop business plans and strategic business decisions for minority and under-resourced entrepreneurs in the Houston area. She also held a range of internships, working with companies including Schlumberger and Amazon.
Seeing the problems of the world firsthand, I knew how lucky I was to be educated in the United States.
Mahek Hooda
(BBA '18)
Hooda describes one undergraduate experience — representing the Houston Supply chain student body at the 2017 APICS Conference — as the most global experience she's ever had, meeting supply chain professionals from across the world.
"I went to dinner and had discussions with people from Italy, China, Taiwan and Canada. My understanding of diversity and inclusion grew exponentially through this experience. There was not a single time where I approached someone and they were not welcoming."
Those experiences no doubt proved valuable as Hooda took her first job out of college, working in supply chain for Microsoft.
"In my role, about 50 percent of my communication is with people outside the United States," she said. "China is a huge, huge partner of ours, so being able to work with people across the world and understand how to communicate is essential."
Hooda added: "You need to know about the customs and holidays in other countries, the political environment and what's important to them. All of those things factor in when you're creating a supply plan, and you have to be plugged in."
Now based near Seattle to work at Microsoft's corporate headquarters, Hooda is an integral part of bringing to market some of the world's most popular gaming systems and accessories.
"The plan that you create, and how you analyze supply and demand, really has this huge ripple effect," she said. "Our contract manufacturer in China takes the plan that I build to actually execute and drive materials to build the products, which go to wholesale and logistics, and then ultimately, these products are on the shelves of some of the biggest retailers in the world, like Best Buy, Amazon and GameStop, and Microsoft stores themselves. It's super empowering."