Community
Open Doors
Bauer Executive MBA Alumni Share Unforgettable International Business Residency Memories
Making the decision to pursue a graduate degree can open the door to new personal and professional opportunities. And for students in Bauer College's Executive MBA program, the decision also comes with the chance to add a few stamps in their passports.
Through the Bauer EMBA, students participate in the International Business Residency (IBR) Program, where each class travels abroad with an instructor for a week to gain a greater awareness of business and culture around the world. During the trip, students visit global companies, meet with political figures and come together for sightseeing excursions and traditional dining experiences.
"Traveling is learning," said Executive MBA Director Ramona Taylor, who leads the planning of each IBR trip and accompanies the groups to their destinations. She added: "The students are forced to get out of their comfort zones and explore the country on their own.
Traveling abroad has brought the EMBA students, faculty and staff closer together as a team. We all have gained a better appreciation of cultural difference and gained intimate knowledge of business practices across the world."
Here, we share stories, anecdotes and photos from Bauer EMBA IBR trips over the last several years.
---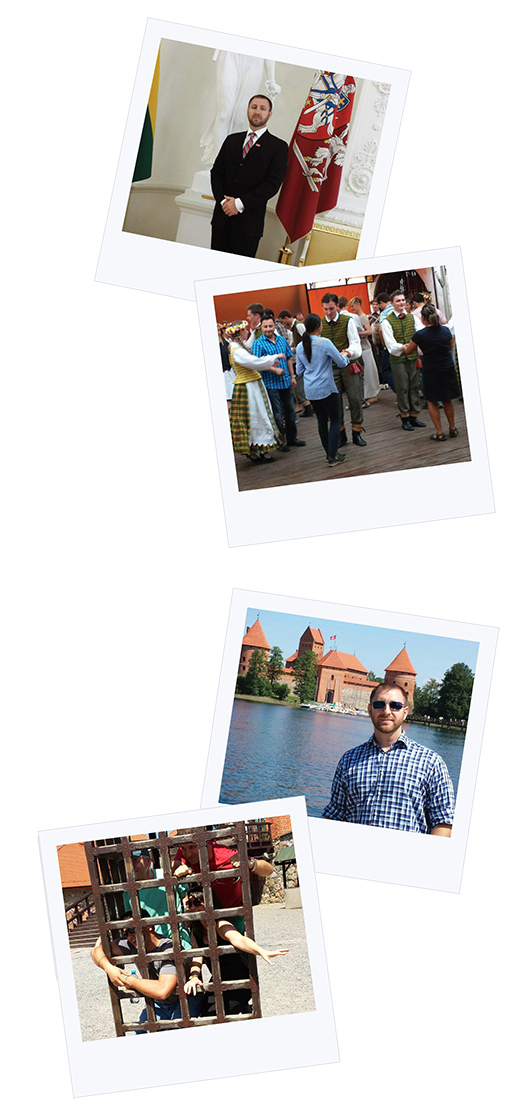 Lithuania & Denmark (2014)
COLBY YOUNGBLOOD (EMBA '15)
OPERATIONS MANAGER,
FIRE SAFE PROTECTION SERVICES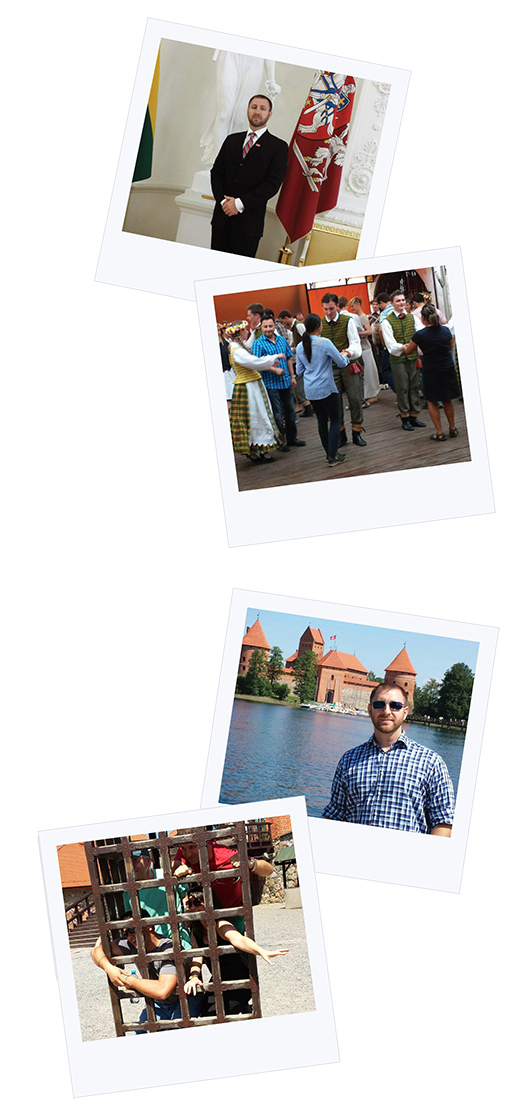 Planning & Preparation
As a 20-year Air Force veteran, I am an experienced world traveler. I had not yet been to either Lithuania or Denmark, so I researched the histories, cultures and geopolitical climates of the three cities we planned to visit in the two countries.
Standout Memory
One of the things I remember most is our trip to the Presidential Palace in Vilnius. Speaking with several of the government officials was as exciting as it was interesting, and the tour of the palace was amazing. I was also selected to speak to a group of students at the university in Vilnius about the Bauer EMBA leadership program. That was awesome.
Advice for Travelers
Do your research. Know and have a basic understanding of the customs and cultures of the places you are going. Have an understanding of their business culture and how their government works.
Benefits of the Bauer EMBA
I joined the Air Force when I was 18 years old, and that's all I knew for 20 years. The military does a good job professionally developing its people in leadership and management, but because the military is not a revenue generator, there is a lack of business skills that I knew I needed to develop. The Bauer EMBA really developed my business and analytical acumen and also honed my leadership and management skills. The program has developed me into a more well-rounded business leader.
---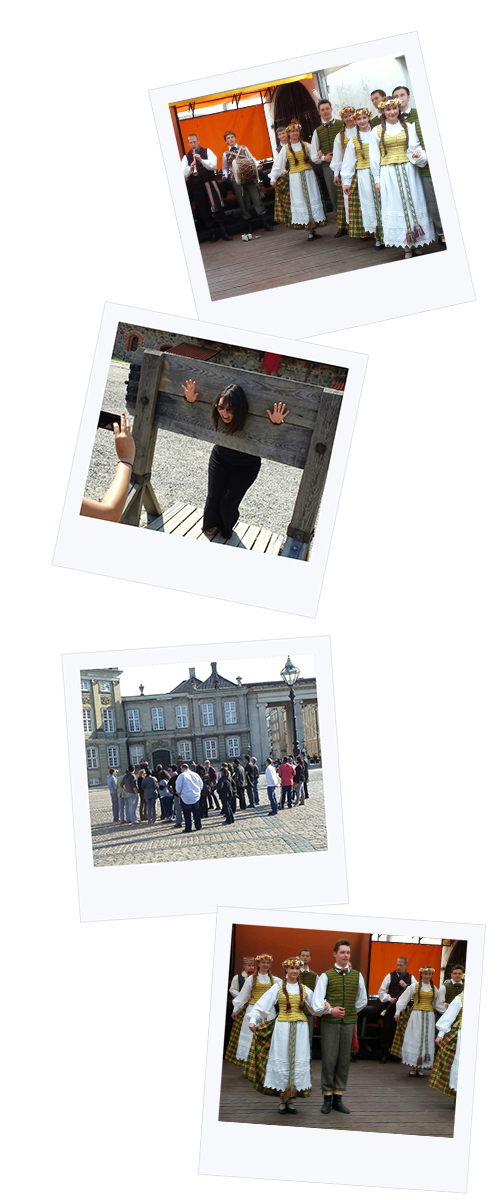 Lithuania & Denmark (2014)
DELOME MCCALISTER (EMBA '15)
BENEFITS MANAGER, BUREAU
VERITAS HOLDINGS, INC.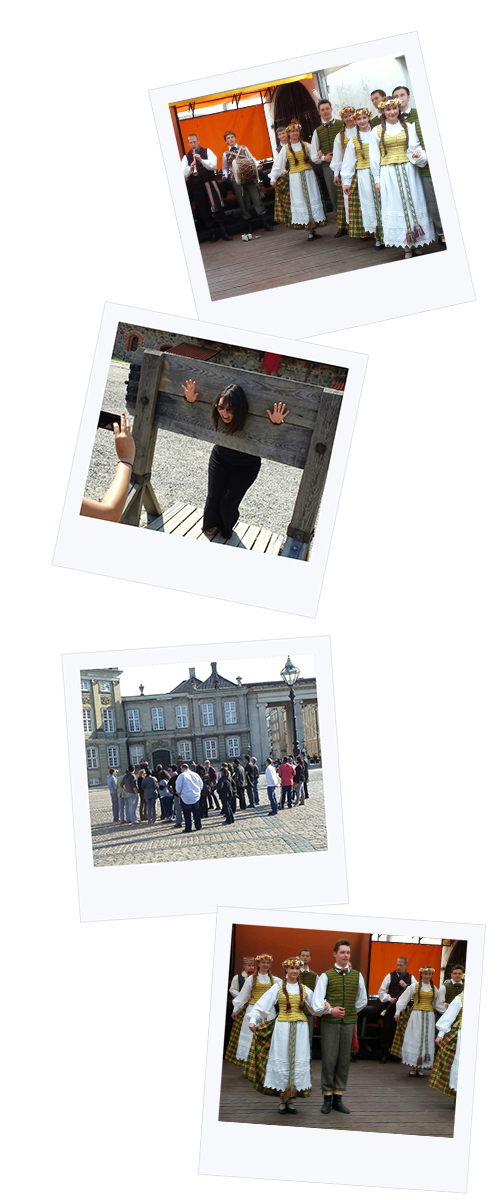 Planning & Preparation
I was very excited about my first trip to Europe. I looked forward to great walks, meeting interesting people and tasting new food and beer. I prepared by reading what was going on in politics, economics, music and events. I wanted to know what was happening in the places we were going to visit.
Standout Memory
During our first night in Vilnius, Lithuania, there was an outside bar where a lot people were gathering to watch the UEFA Champions League Final. I love soccer and went to meet new people and see what happens. I met a person there who had a Ph.D. in economics and went to school in Vilnius and Copenhagen. The conversation began, and we talked for four hours about our countries, economics, politics and what we did for a living. Fun night, and it was great learning experience.
Lessons Learned
I talked to so many people around the world. I met this man in Klaipeda, Lithuania, who was from Hamburg, Germany. Each summer, he gets into his boat and travels to different ports in the Baltic Sea. What I took from the IBR is to network, listen and keep in touch with the people you meet. Connect people to other people to generate opportunities, growth and adventure.
Advice for Travelers
Let your curiosity get the best of you, and explore the people and places you will discover. Ask why people do what they do, work, eat, drink, dance, celebrate and live. How can you contribute?
---
Germany & Prague (2013)
KEITHTRIK KNIGHTEN (EMBA '15)
GLOBAL DIRECTOR OF CAPITAL PROJECTS,
STOLTHAVEN
Initial Concerns
I lived in Europe as a child, so I didn't have too many worries. I was mostly concerned with adjusting to the time difference so that I would be alert during the meetings.
Standout Memory
Our trip to Europe in 2014 coincided with the World Cup, and we had the great fortune to be in Munich during the championship weekend. My entire class spent the evening of the championship game surrounded by hundreds of proud fans watching the German club win the world cup. It was truly a once-in-a-lifetime experience.
In a Word
Unforgettable — the chance to travel the world and strengthen bonds with your classmates is invaluable. The opportunity to hear firsthand from international business leaders about their successes and challenges will open your mind to the endless possibilities the Bauer EMBA education will afford you.
Benefits of the Bauer EMBA
Going to Bauer taught me how to think globally and outside of my comfort zone. Being surrounded by very experienced professionals helped me to learn to build my network. This is a key to success in life and has certainly helped me.
---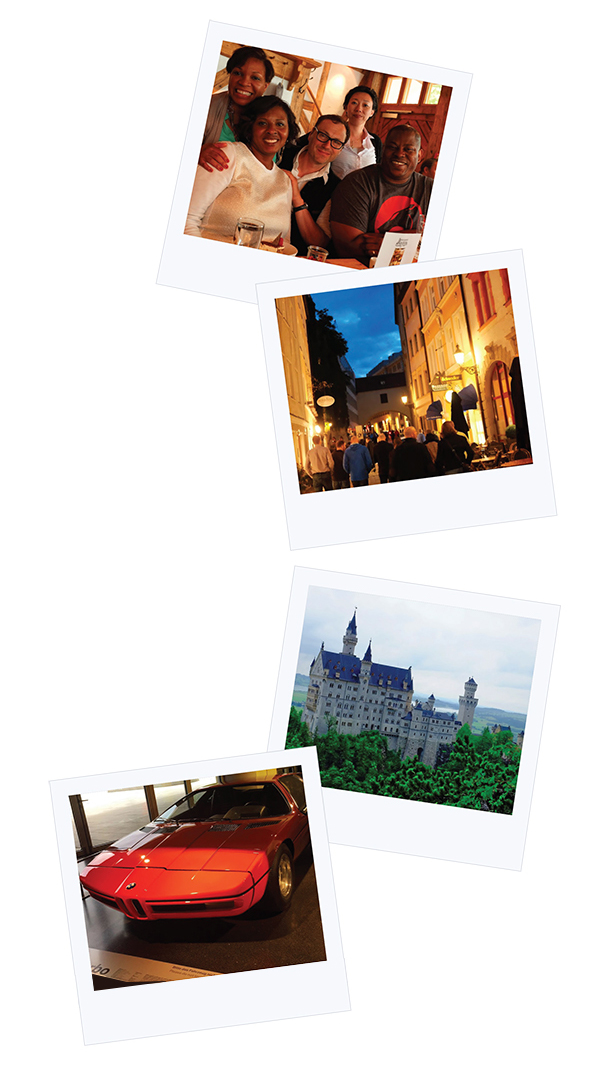 Germany & Prague (2015)
AARAJ THYAGARAJ (EMBA '16)
DIRECTOR OF TECHNOLOGY AND MEDIA SERVICES SOLUTIONS,
MINDTREE LTD.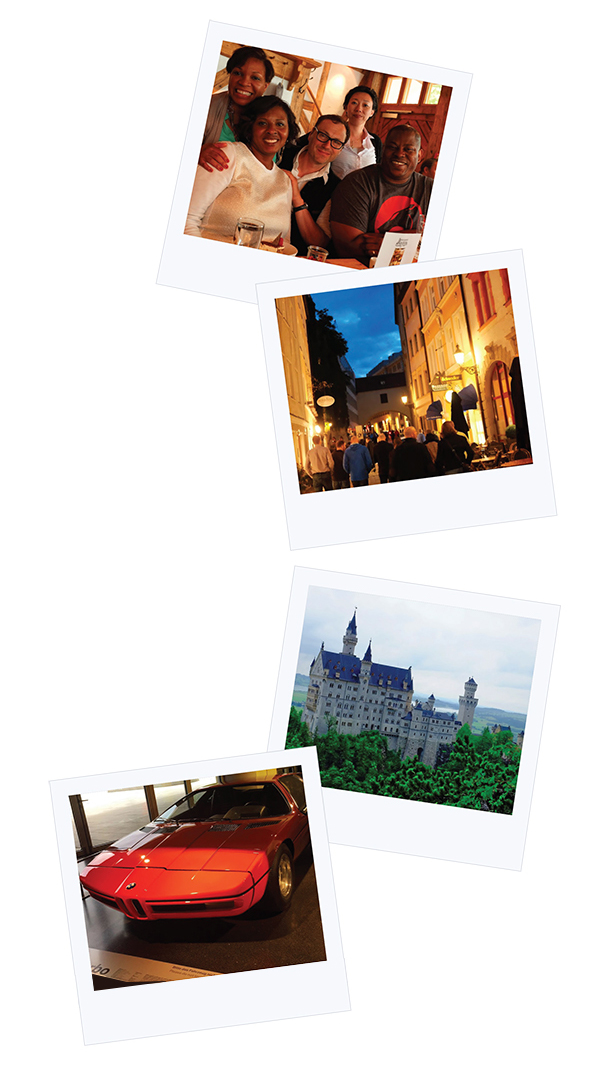 Standout Memory
From the entire trip, it was a standout to see how a large group of diverse business students who are also professionals conducted decision making outside formal environments.
In A Word
Transformational — there are two types of educations. Most educations are informational, but the Bauer EMBA was both informational and transformational. There is a reason why most senior team members don't get an opportunity to leadership and management roles, and the Bauer EMBA provided that transformational opportunity to students who made the targeted effort.
Advice for Travelers
Prepare well, and let loose. Take a calculated risk wherever possible. Besides learning about the different countries, businesses and people, observe how executives from diverse backgrounds handle things outside of the office, school or formal situations..
Benefits of the Bauer EMBA
The Bauer EMBA helped me to get the role I wanted during the middle of the course itself, and they helped me navigate through the preparation, interviews and even negotiation process.
---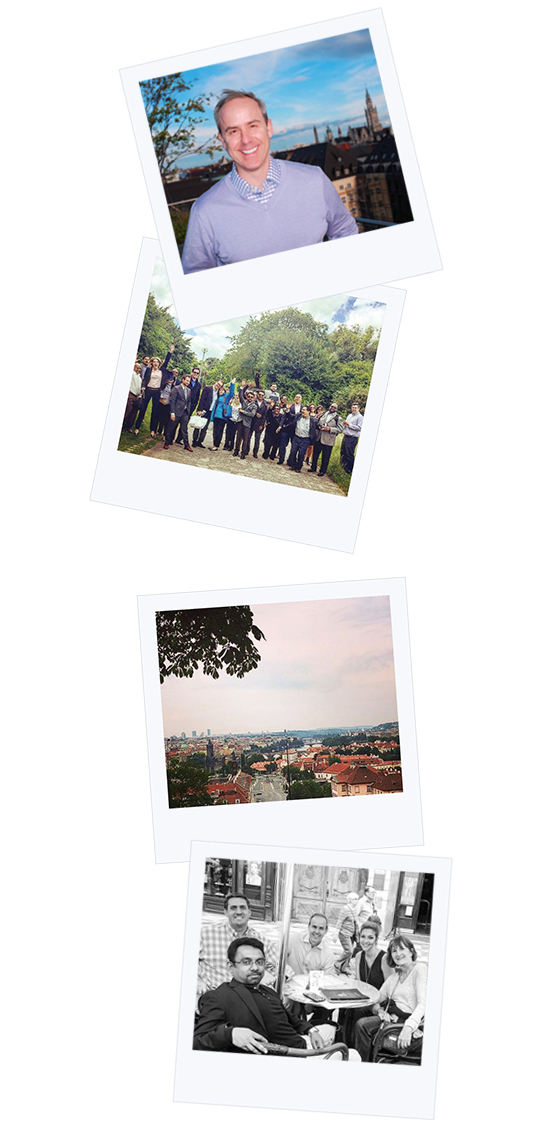 Germany & Prague (2015)
ALEX WHITE (EMBA '16)
SENIOR ASSOCIATE, MERCER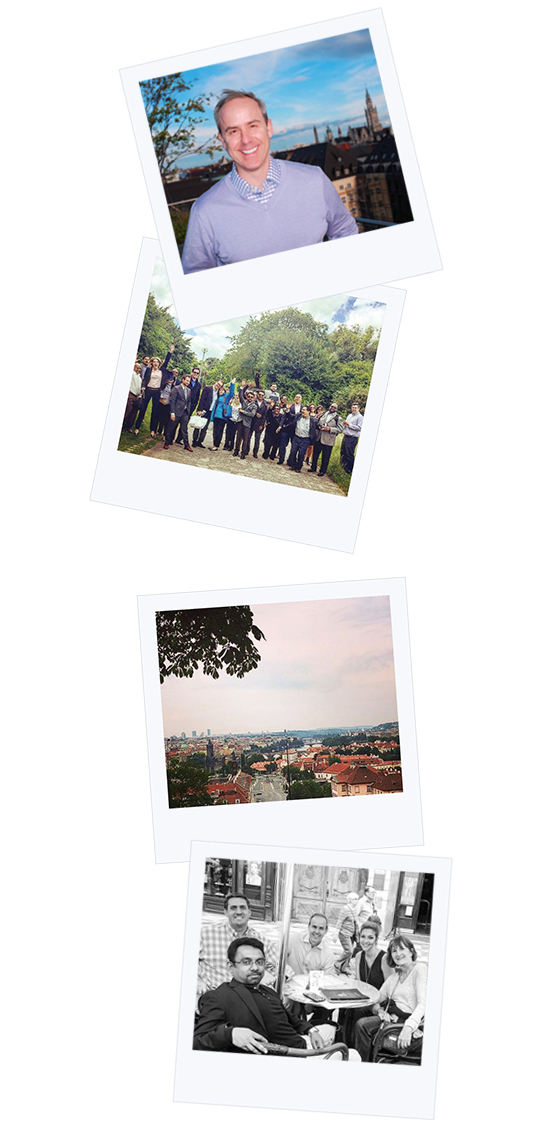 Planning & Preparation
I did slightly wonder why we had to travel all the way to Europe to learn more about the business subjects we had been studying. I went online and researched each of the companies we planned to visit and the local history of Munich and Prague.
Standout Memory
I have many amazing memories from the trip. Seeing robotics in action at the BMW plant was incredible. I loved listening to the BMW engineers discuss Tesla. Discussing business development with a VP from Fujitsu — "Don't always try to sell new technology to a leader who is not interested. Sell innovation to the young, up-and-coming manager who embraces the benefits of technology and who will one day lead the company…".
Seeing workers in rural Czechoslovakia piece together multi-million dollar servers for use around the world was fascinating.
I have a particularly warm memory of our first night in Munich and eating at an Italian restaurant and just laughing out loud with my classmates Aaraj and German. We were so excited to finally be in Europe and see things we've never seen before. In the street market in Prague I purchased a little pink toy carousel for my daughter. To this day, we wind it up every night and it plays a little song. She likes to listen to it as she falls asleep. When I hear it, I always remember walking through the cobblestone streets of Prague as the sun began to set and the old man in the market who sold it to me.
Lessons Learned
I definitely feel I understand business much more now that I have been to Europe and talked to leaders and been inside these companies.
Although each company had their own perspective and culture, many focused on some of the same trends we see here: technology disruption in business, five generations in the workforce, finding work-life balance, artificial intelligence, healthy lifestyle, China's emergence, online safety and diversity and inclusion.
Meeting and talking to leaders really opened my eyes to new possibilities in my own career. I began to consider that it may be possible for me to find a new and more fulfilling job and take my career a much more exciting and dynamic direction. While grateful to be employed, I sensed my current job had become a bit of a dead-end for me.
When I saw in-person the exciting jobs and careers these leaders in Munich and Prague had, I was convinced there may be a better career out there for me too if I had the guts to take a few chances.
---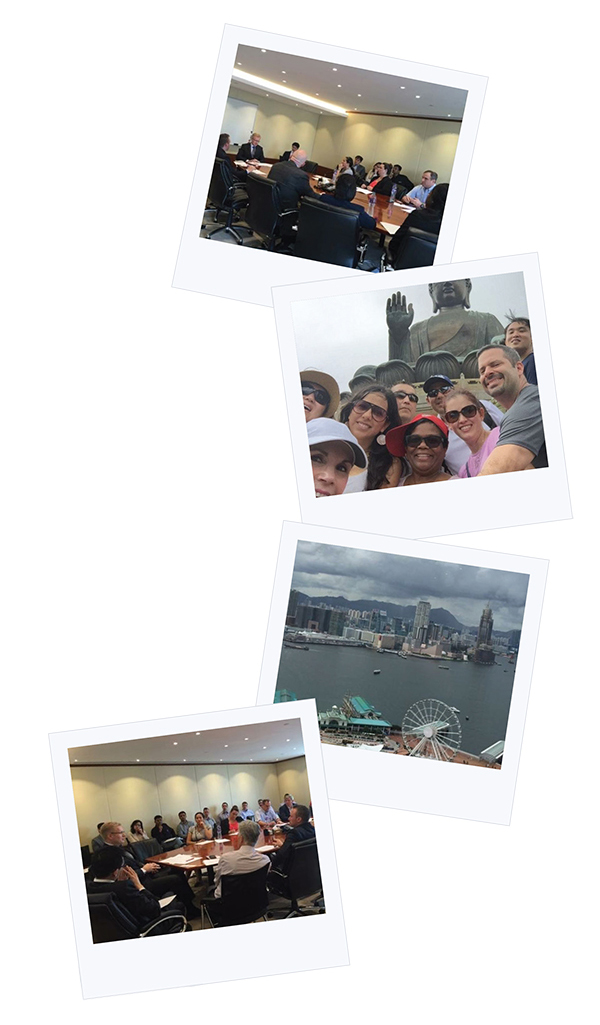 Beijing, Chengdu & Hong Kong (2016)
ANDREA COURSE (EMBA '17)
VENTURE PRINCIPAL, SCHLUMBERGER
TECHNOLOGY INVESTMENTS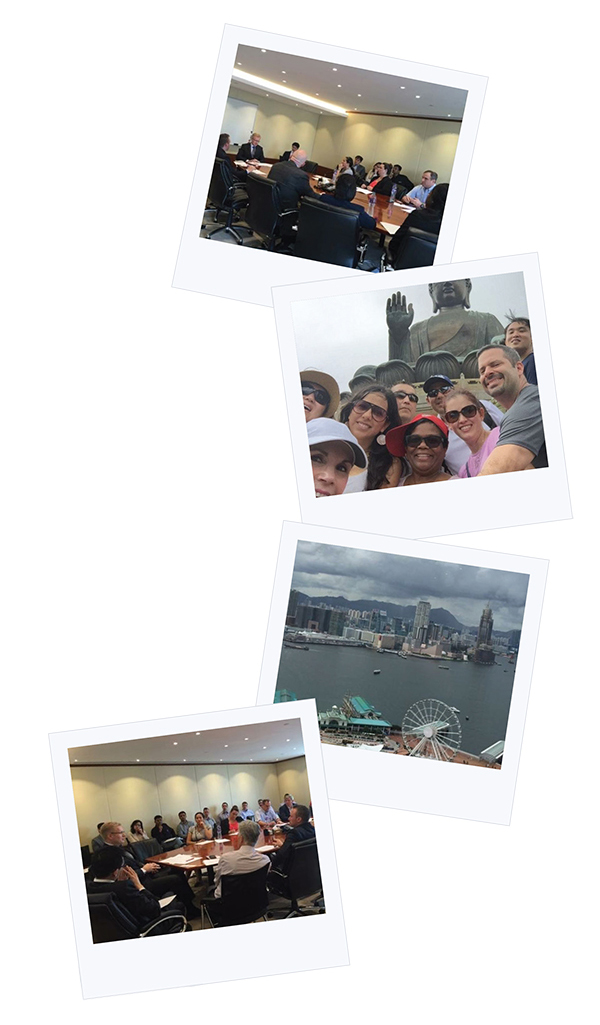 Standout Memory
I think the trip was great to allow our team to become even closer. Traveling for 10 days together and sharing experiences every day really brought us together. We remain very good friends to this day.
Lessons Learned
The main lesson I learned from our trip to China was to understand and respect the Chinese culture. We had a series of meetings with different companies where it was evident that the way we do business over here is very different. By having an open mind and understanding cultural differences it is possible to be successful in a global job.
In a Word
I would describe the Bauer EMBA and IBR as "growth." I feel I have really grown both as a person and as a professional, thanks to the program. The EMBA allowed me to get out of my comfort zone and built my confidence. Without my Bauer MBA, I wouldn't be where I am today.
---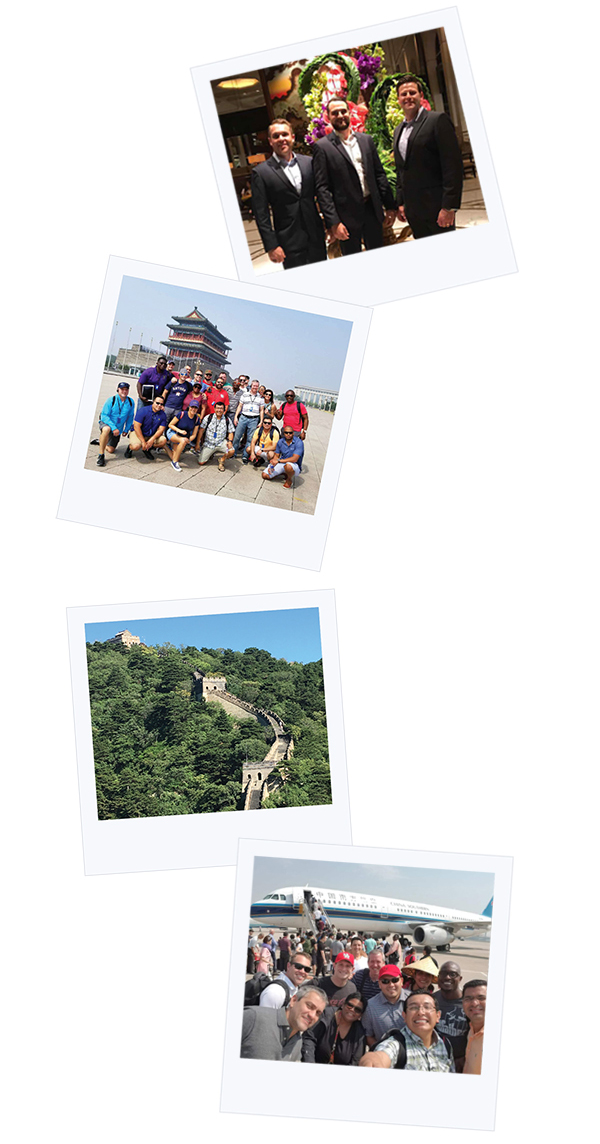 Beijing, Shenzhen & Hong Kong (2017)
CHRISTOPHER CROXSON (EMBA '18)
PROJECT MANAGER, TECHNIPFMC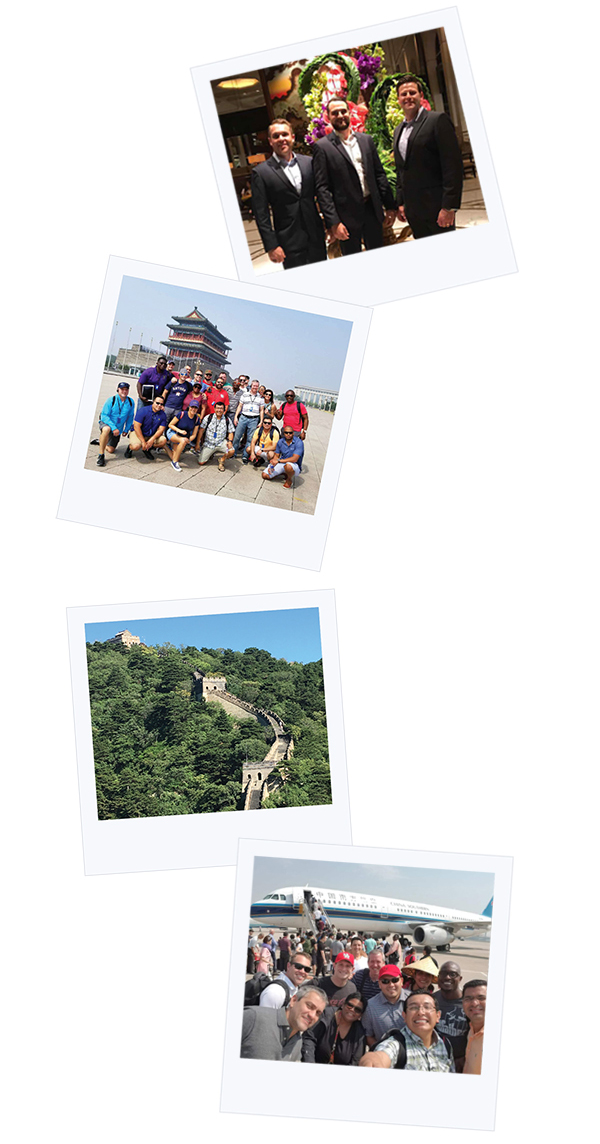 Planning & Preparation
Each team researched a company or two we were going to visit while on the trip. The teams would present their report either the night of at a group dinner or while on the bus traveling to the companies schedule that next day. On my own time, I researched the culture and climate to have a better idea of what to expect.
Standout Memory
The Great Wall of China is one of the world's greatest monuments and has been on my bucket list to visit. The bus ride to the Great Wall took us out of the city and through the countryside with our personal tour guide providing interesting facts about everything along the way. The view of the villages from on top of the wall were just incredible.
I was also with a small group that broke off from the main group to see "The Big Buddha" in Hong Kong. Having the freedom to go off on our own to explore was an amazing experience to share with the friends and classmates we'd made in the EMBA program.
Benefits of the Bauer EMBA
Networking and taking risks are essential in defining career moments. Never be afraid to fail — "Every failure is a lesson. If you are not willing to fail, you are not ready to succeed."
---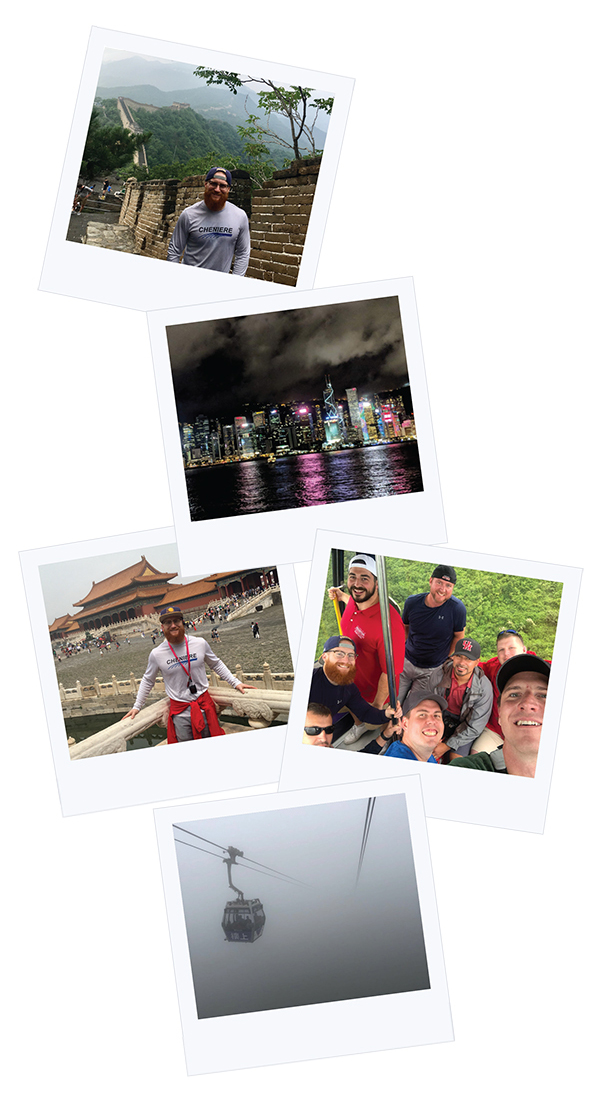 Beijing, Shenzhen & Hong Kong (2018)
JACOB RAPE (EMBA '19)
PROJECT MANAGER,
CHENIERE ENERGY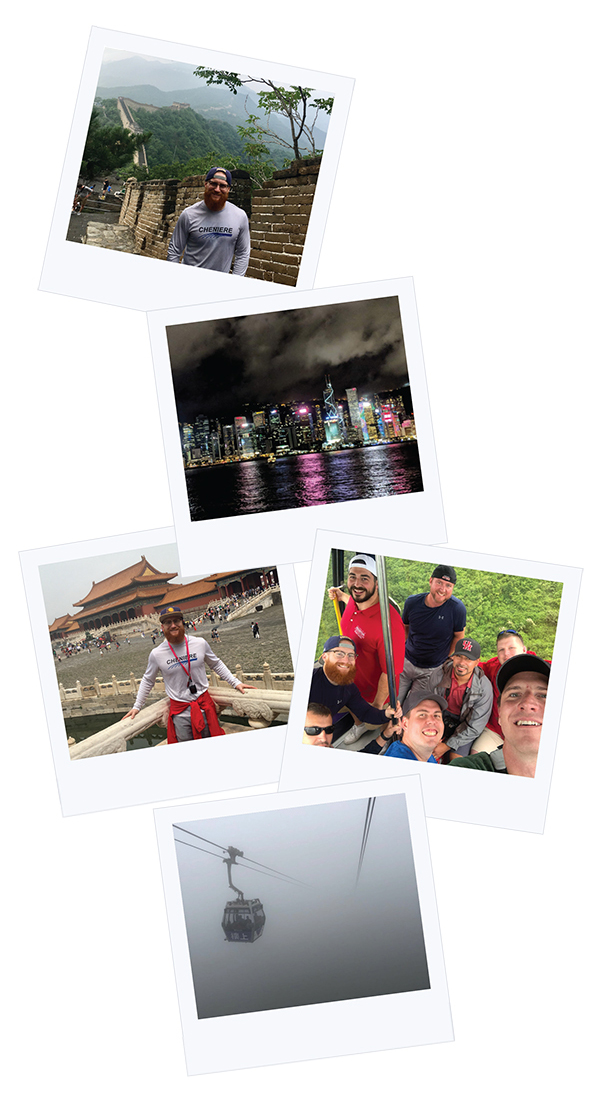 Planning & Preparation
My only concern before the trip was communicating with the locals while we were out exploring during our free time, but we didn't have any issues. Most of the locals at restaurants and shops spoke enough English that we could get by ordering food or buying souvenirs, and at small shops, it was fun just trying to communicate by pointing and with gestures. The people of China were very welcoming and embrace tourists, so they enjoyed trying to communicate with us just as much as we did with them.
Standout Memory
It's really hard to choose just one memory, but we did have a particularly terrifying experience that was equally as beautiful. After visiting the Tian Tan Buddha in Hong Kong on one of our cultural tours, we took the Ngong Ping 360 Gondola ride from the top of the mountain back to our transportation terminal. The ride was intended to be 25 minutes, but we happened to catch an outlying storm resulting from Typhoon Maria that had made landfall in eastern China the day prior. Right as we took off from the top of the mountain, a soup-like fog and high winds rolled in from over the water. There were patches of the trip, in between mountain peaks where the fog was so dense that we couldn't see anything whatsoever; no ground, no sky, and no other passenger gondolas, and the operators kept shutting down the ride due to sustained high winds. After 45 minutes of amazing views mixed with patches of helpless uneasiness, we finally made it back to the ground. That's one bonding experience with seven classmates in that gondola that I will never forget.
In a Word
Objective. Oftentimes when you mention China, people already have preconceived opinions about their government, culture or people. The Bauer EMBA IBR was strictly educational, and there was no pressure or influence from our travel agency, chaperones or local guides to think one way or another during any of our cultural tours or business visits. We were encouraged to think for ourselves on this trip, and I know many of us came away with very different perspectives about the people we met, companies we toured, and the country as a whole.
Benefits of the Bauer EMBA
Obviously relationships with brilliant classmates, successful alumni and world-class professors are a major benefit of this program, but I won't elaborate more on this because you'll hear about it from anyone that you ask. One of the biggest takeaways this EMBA program has taught me so far is that you don't have to be pigeonholed by your undergraduate degree. If you have a passion for something and can develop the skills to market your talents, you can be successful at anything and enjoy your work. For me specifically, as an engineer, I've seen firsthand how statistics can make you a better marketer, how attention to detail can help you dig anomalies out of a company's financial statements, and how geometry and calculus help you understand and explain supply and demand.