Giving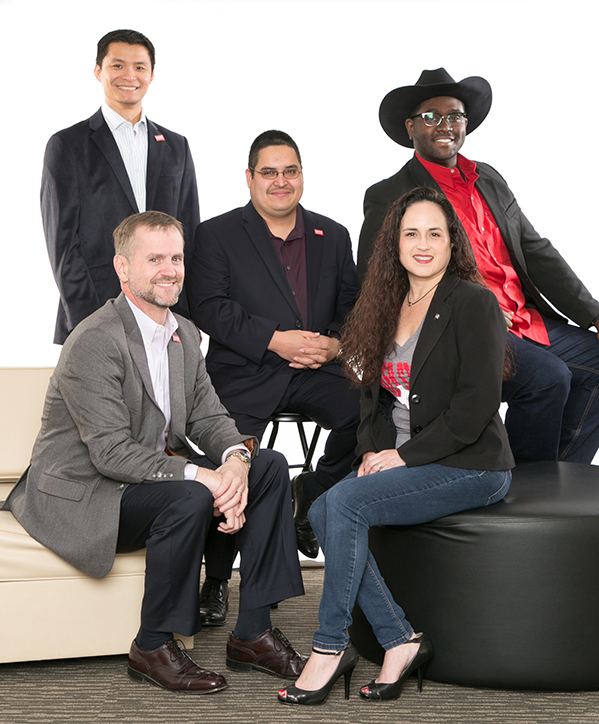 BAUER COLLEGE'S OFFICE OF EXTERNAL RELATIONS AND DEVELOPMENT INCLUDES, (FROM BOTTOM LEFT, CLOCKWISE), ROBERT KING, SENIOR DIRECTOR OF ADVANCEMENT; TA-LUNG LIN, DEVELOPMENT OFFICER; JOE PINEDA, PROGRAM MANAGER, SCHOLARSHIPS; LONNIE DEGGINS, DEVELOPMENT COORDINATOR; KIMBERLY FERNANDEZ, EXECUTIVE ADMINISTRATIVE ASSISTANT.
The Giving Process
Bauer Senior Director of Advancement Shares Perspective
Introducing yourself to someone can be a tricky thing.
After your name, the next piece of information you generally give a new acquaintance is your job title or brief job description. For me, that's the tricky part. I admit that I still pause before providing that piece of information mainly because it can be difficult to gauge what response I'm going to get from the person I'm meeting.
Do I use the word "fundraiser" and wait to see if I get the traditional, raised eyebrow response of, "Oh, I see," or do I try to be more creative and say that I'm a "charitable gift planner" and wait to see if I get the puzzled, wrinkled eyebrow response of, "Excuse me?"
Setting aside actual job titles or attempts at clever descriptions, the role of the Office of External Relations and Development really comes down to one thing: it is our job to make you proud for being involved with the C. T. Bauer College of Business.
SOLICITOR OR FACILITATOR
It is certainly a fair statement to say that our office is responsible for soliciting funds from donors in order to support the college's mission of educating deserving students. It is a responsibility that we willingly accept because we ourselves are committed to the belief that the University of Houston, and particularly the C. T. Bauer College of Business, is an institution that contributes to the well-being of others, not only in the city of Houston but on a national and international scale.
Philanthropy doesn't start with the money to give. It starts with a desire to help.
Robert E. King
Senior Director of Advancement
But while our responsibilities to UH and Bauer technically put us in the category of solicitors of charitable gifts, it is our deep appreciation for the mission of the college that make us facilitators of our donors' desires to help make a difference in the lives of our students. One of the true joys of working at Bauer is knowing that through our fundraising efforts, donors have a direct, positive impact on the lives of our students and their families. Each day we see the tangible results of the support donors have provided to Bauer. We see it when we talk with grateful students about the scholarships they are receiving, and we see it when we talk with faculty members who were recruited to Bauer thanks to the generous support of our donors.
To that end, it is our job to focus not simply on asking you for a gift of your money, but to instead focus on finding out what it is about the college that interests you and how you can turn your interest into meaningful support of the college.
AN INFORMED DESIRE TO HELP
One of the true benefits of working with donors is the consistent affirmation that most people have a genuine desire to help others. The common thread of philanthropy is the recognition that our decision to help another person results in a feeling of accomplishment can be repeated at will through the choices we make.
We recognize that the belief in helping others is reinforced when you can see and appreciate the desired effect of your decision to help. Our responsibility as facilitators for Bauer donors is to ensure that you can make a thoughtful, informed decision about what you want to do for Bauer and that you fully understand the options you have to make a gift that supports your intentions. It is our duty to make sure we understand your intentions for Bauer, the way in which your intentions should be fulfilled, and your timeline for making it happen. Most of all, it is our responsibility to ensure that you believe in Bauer's ability to change lives and have confidence in the college's ability to fulfill your intentions to help others.
FOCUS ON THE BLUEPRINT, NOT THE TOOLS
Even though you need tools to build a house, the process of building really starts with a blueprint. Likewise, philanthropy doesn't start with the money to give; it starts with a desire to help. We don't expect donors to know all the options for supporting Bauer, or the ends and outs of tax deductions and how to use assets other than cash to make a gift — that's our job as facilitators. We have the tools and expertise to help you design and build your plan to support Bauer. You get the fun part of thinking of how to make Bauer a place you can be proud to call your own.