Programs
Leaps and Bounds
Bauer Business Honors Program Celebrates
15 Years of Growth and Connection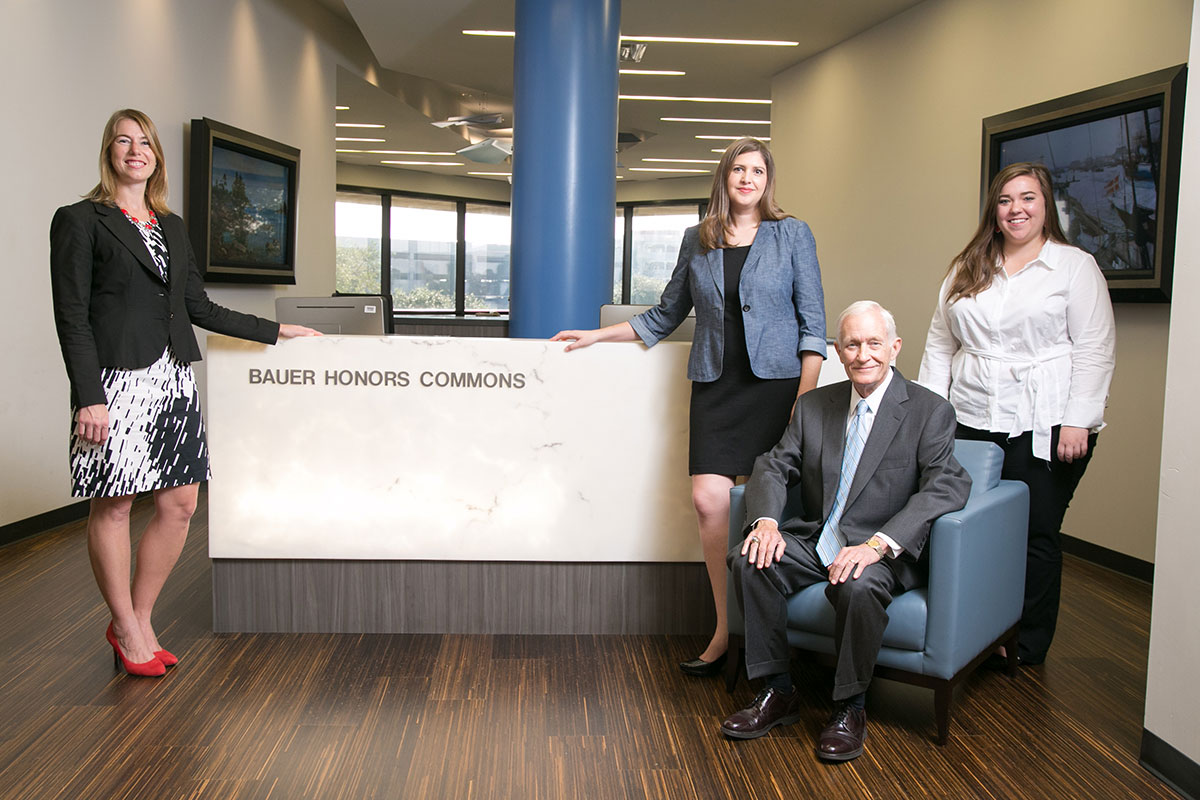 NOW IN ITS 15TH YEAR, THE BAUER BUSINESS HONORS PROGRAM HAS MORE THAN TRIPLED ITS ENROLLMENT AND BOASTS A FRESHMAN RETENTION RATE OF 97 PERCENT, AN OVERALL RETENTION RATE OF 90 PERCENT AND A SIX-YEAR GRADUATION RATE OF 88 PERCENT.
I cannot find another business school in the nation that has made such an investment in honors education.
PROFESSOR EVERETTE GARDNER,
FACULTY DIRECTOR
"Build it, and they will come."
That popular quote from Field of Dreams was what Bauer College Professor Everette Gardner lived by 15 years ago, when he helped to start the college's Bauer Business Honors Program, which offers selected University of Houston students an education that combines a solid liberal arts foundation with specialized business curriculum.
Bauer Honors is fully integrated with the university's Honors College, providing students smaller classes, a sense of scholarly community and the opportunity to do research alongside faculty.
Gardner presented his idea in 2001 to the college's dean at the time, Arthur Warga.
"The day after he became dean, I went to see him to discuss honors education," Gardner said. "We didn't have many students, and we taught only two honors courses intermittently. Students pursuing an honors degree were forced to petition courses for honors credit, a tedious and uncertain process. The result was that we lost good students to other universities."
Warga agreed with Gardner's case, making him the director of the new program. Gardner went to work developing curriculum alongside Honors College Dean Bill Monroe and Bauer Director of Pre-Business and Special Programs Brent Spraggins.
"The final product called for teaching the complete business core curriculum in honors sections of no more than 24 students. This would require going from two honors sections per year to 10 sections every semester taught by the equivalent of five full-time faculty," Gardner said.
The first two years of Bauer Honors were trial-and-error, as Gardner and his team worked to make prospective students aware of the program.
"During the third year, we started to grow, and by the fourth year, almost all our classes were full," Gardner said. "I went back to Dean Warga and told him we needed a full-time staff position to advise honors students and he said simply — 'Do it.'"
From there, Gardner went on to hire a full-time academic advisor in 2005. Fast-forward a few years later when Sarah Gnospelius joined Bauer Honors. She previously served as the college's marketing and entrepreneurship academic advisor before accepting the new position. As administrative director of Bauer Honors, Gnospelius is responsible for overseeing all aspects of the program, from recruiting to program admissions.
"It's my job to make sure Bauer Honors students get the best possible experience from the minute they walk onto campus as a prospective student until they walk across the stage at graduation," she said. "I'm constantly looking for ways we can enhance our students' experiences and help them get the most out of their education."
Community has also become a major keystone of the Bauer Honors experience. Students attend freshman mentor and sophomore leadership programs, along with several social and networking events throughout the year.
"Through these events and programs, as well as our small class sizes, our students really get to know one another and create lasting bonds. They also have access to our Bauer Honors Commons, which provides a space to socialize between classes, form study groups or just take a break," Gnospelius said.
Now in its 15th year, Bauer Honors has grown to 350 students with a dedicated facility and student advisory board. The team has also added two additional staff positions, with academic advisor Colleen Davies and program manager Meredith Walley, and works each year to enhance and develop the program.
"We've recently implemented a new community service requirement for all our freshmen. Our goal is for students to have experiences outside the classroom that will help them grow as individuals," Gnospelius said.
Gardner credits the team and the college's administrative support for the success of Bauer Honors.
"Arthur (Warga) was a big part of the Bauer Honors family — in his almost 10 years as dean, he never missed one of our events," Gardner said. "We've been blessed with his successor, Dean Latha Ramchand, and growth has continued apace under her leadership, with more than 100 students added to our enrollment since she became dean."
He added: "Our competitors cannot match many of the things we do. I cannot find another business school in the nation that has made such an investment in honors education."