Programs
DONOR SUPPORT
Donor support is helping to grow the Bauer in D.C. Fellowship Program, which is able to provide housing for fellows during their internships. This summer, Chain Bridge Bank President Sam Schreiber (BBA '74) and his wife, Ellen, of McLean, Virginia, made a pledge of $50,000 to the Bauer in D.C. Fellowship Program to help send two additional students to D.C. for the next five years.
"I have watched with great interest the Bauer in D.C. program for the last few years and been so impressed with the caliber of our students. It is a pleasure to see them as they experience their respective internships here in the Nation's Capital," Schreiber said. "The Greater Washington, D.C., region offers so much diversity both economically and socially, that the experience here will enrich our students' journey as they decide where to launch their professional careers."
With further support like Schreiber's, Bauer can not only help more students participate, but can also add depth to the program in various ways, such as funding research opportunities and presentations at national conferences, providing year-long internships, and funding opportunities to meet with nationally recognized experts in the fields of energy, finance and policy.
Creating Change
Bauer College Students Transform Through Bauer in D.C. Fellowship
LEARN MORE: Bauer in D.C. Program →
It's hard to ignore.
Every newspaper, TV station and social media outlet is brimming with political content. Gone are the days when only political science students are staying current with the news from Washington, D.C.
Over the last five years, Bauer College has given selected students the opportunity to see history as it happens through the Bauer in D.C. Fellowship Program, a competitive academic and professional experience for undergraduate students who get to spend a semester interning in the nation's capital.
"What happens there affects all of our lives," said Colleen Davies, Bauer Honors Advisor and Bauer in D.C. Fellowship Program founder.
She added: "We're allowing business students to witness the intersection of government and industry. The fellowship program allows them to experience the vibrancy of Washington, D.C., a place where local news is national and world news everywhere else."
Davies created the program in 2012 after moving to Houston from Washington, D.C., where she worked for The Archer Center, an organization that provides University of Texas students internship opportunities.
Over the last five years, 20 students have participated in the Bauer College program. For many of the Bauer in D.C. fellows, the experience was more than an internship — it was life-changing. Most had never lived on their own before, and some had never been out of Texas or on an airplane.
The Bauer in D.C. Fellowship gave these students the opportunity to intern with the White House (including the Office of the First Lady and the Office of Scheduling and Advance), the U.S. Committee for Refugees and Immigrants and the U.S. Chamber of Commerce, among other organizations.
---
JASON JOHN (BBA '14)
CONSULTANT, DELOITTE ADVISORY – HOUSTON
SPRING 2013 FELLOW
For Jason John, applying to the first class of the Bauer in D.C. Fellowship was an easy decision.
"I've always had a love for government and politics, and getting the chance to live and work in the center of it all in our nation's capital was a once-in-a-lifetime opportunity," John said.
As a public affairs intern for the Department of Commerce's Office of the Secretary, John saw firsthand the role that government plays in business, and vice versa.
"Working here, not only did I gain valuable working and life skills, but I also got an inside look at our government's different initiatives to bolster the national economy," he said.
John added: "Bauer in D.C. helped me build confidence in myself and in my abilities as a young professional. Working for the government as a young intern in a cutthroat town not only helped me strengthen my work ethic, but made me value the concept of building my network."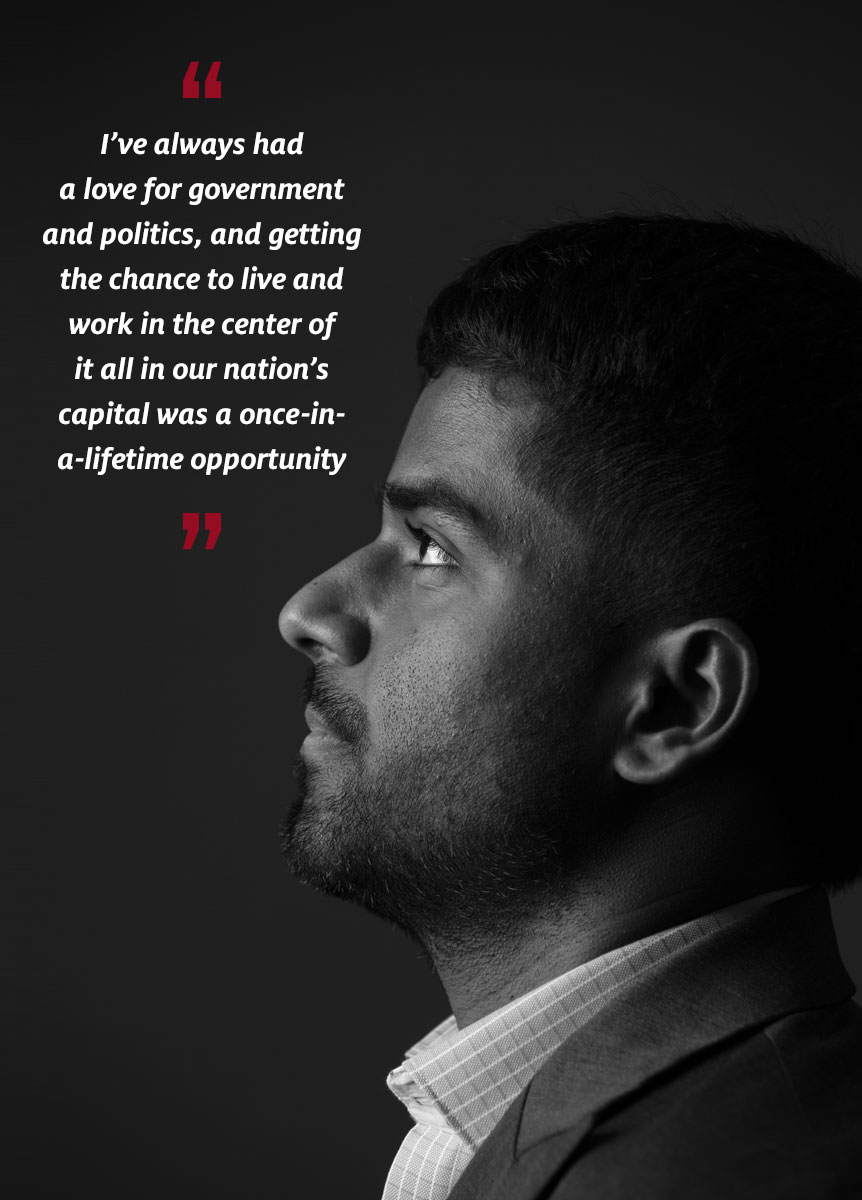 ---
TRACY DO (BBA '14)
FUNCTIONAL SUPPORT ANALYST, ANALYST DEVELOPMENT PROGRAM, TARGA RESOURCES
SPRING 2013 FELLOW
Tracy Do was looking for something new. "I wanted to experience what it was like to live in the city where change was the only constant," she said.
As a fellow in the first class of Bauer in D.C., she got just that, along with the opportunity to see from the ground level how policies that shape the country are developed.
While adjusting to the fast-paced life as an intern for the Financial Services Roundtable's Housing Policy Council, Do discovered that the change she craved was what she needed to grow personally and professionally.
"The most important thing I learned while in the program was that true growth comes from being outside your comfort zone," she said.
Do added: "When I was uncomfortable, I was forced to work smarter, ask more in-depth questions and challenge the process. It was when I was outside my comfort zone that I took away the most valuable lessons about self-awareness, growth and courage."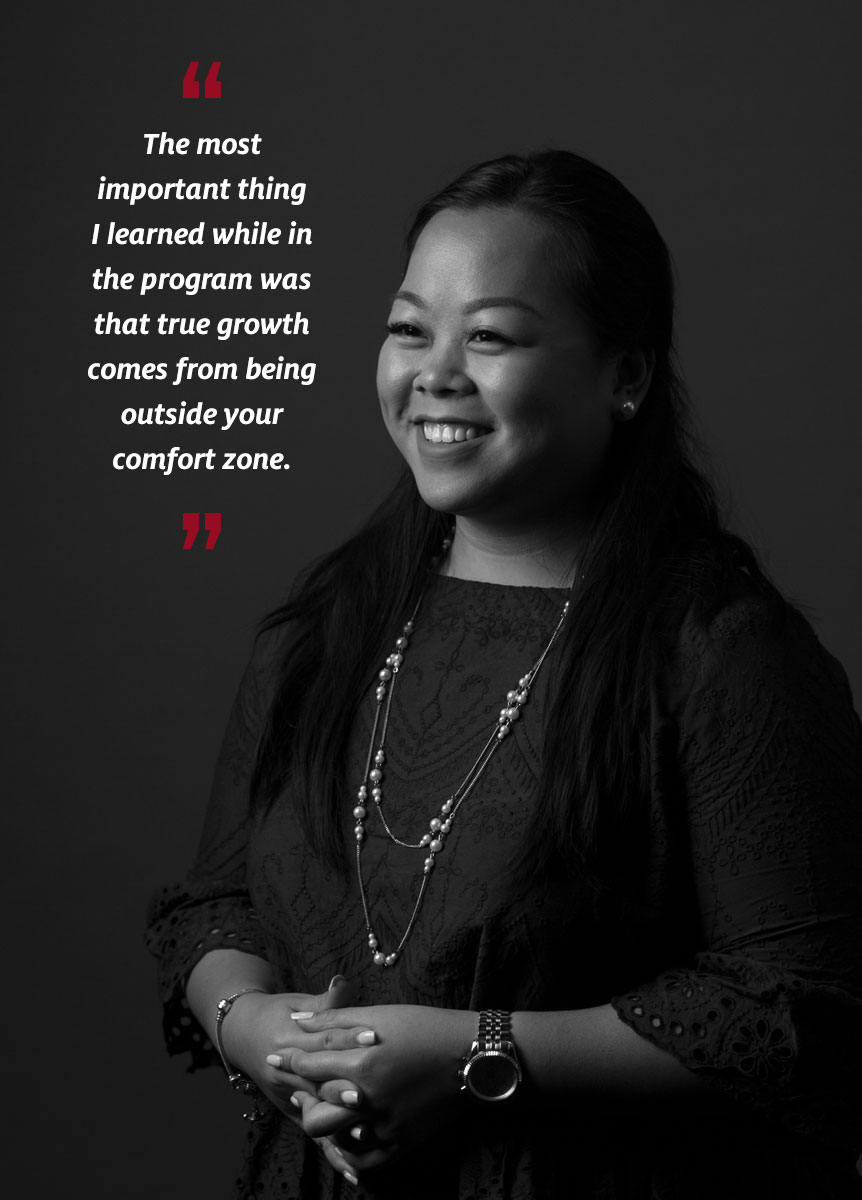 ---
NANCY VALERO (BBA '15)
TRANSPORT LOGISTICS ANALYST, TARGA RESOURCES
SPRING 2014 FELLOW
Nancy Valero knew that if she wanted to make an impact, she needed to go to D.C. "I wanted to experience the energy and growth of a nation firsthand," she said. "I wanted to contribute to history, even if it was for a temporary period of time, knowing that when I left D.C. I had made an impact for whoever I was working for."
Valero interned at The Financial Services Roundtable, working with Senior Vice President for Risk Management and Government Affairs Anthony Cimino. She's using the skills she developed there in her role now as a transportation analyst for Targa Resources.
"The program helped me grow and mature mentally. I knew that anything I did I wanted to do it with patience, passion, and perseverance," she said.
Valero added: "One of the most important things I learned is how to network more and knowing that distance should not separate your network. I also developed my communication skills, as well as the confidence I have in myself and the work that I do."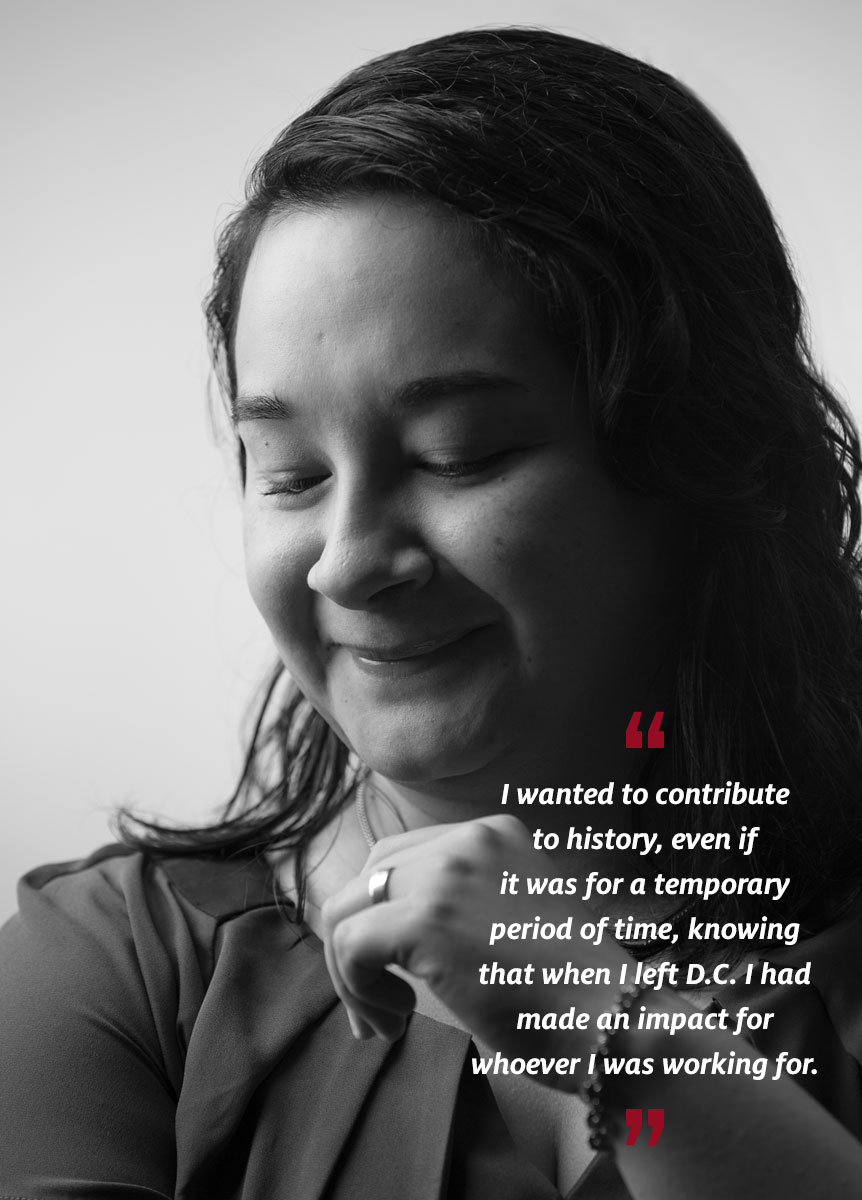 ---
JOSHUA FERGUSON (BBA '17)
FINANCE GRADUATE ROTATION AND DEVELOPMENT PROGRAM (GRAD), CHEVRON PHILLIPS CHEMICAL
SPRING 2016 FELLOW
Before being accepted to the fourth class of Bauer in D.C. fellows, Joshua Ferguson was doing well in his undergraduate career.
He had plenty of friends, was making good grades and serving as a student leader.
But he knew he could do more.
"I felt like I had become comfortable in my life," Ferguson said. "Bauer in D.C. allowed me the chance to expand my offerings beyond being just an accounting and finance student, so I set out a goal to aim for opportunities in D.C. that would add depth not just to my résumé, but also to my development as a person."
He quickly realized that a semester living alone in a new environment would do just that.
"I learned how to be comfortable with adventuring out into the world by myself and enjoying life with just me," Ferguson said.
He interned in The White House Office of the First Lady under the Obama administration, where he honed his professional skills along with his confidence.
"Being in the White House taught me to respect, admire and educate myself on the path to success," Ferguson said. "D.C. helped me to take ownership of my story and provided me with an assurance that I was capable of tackling any challenge ahead of me."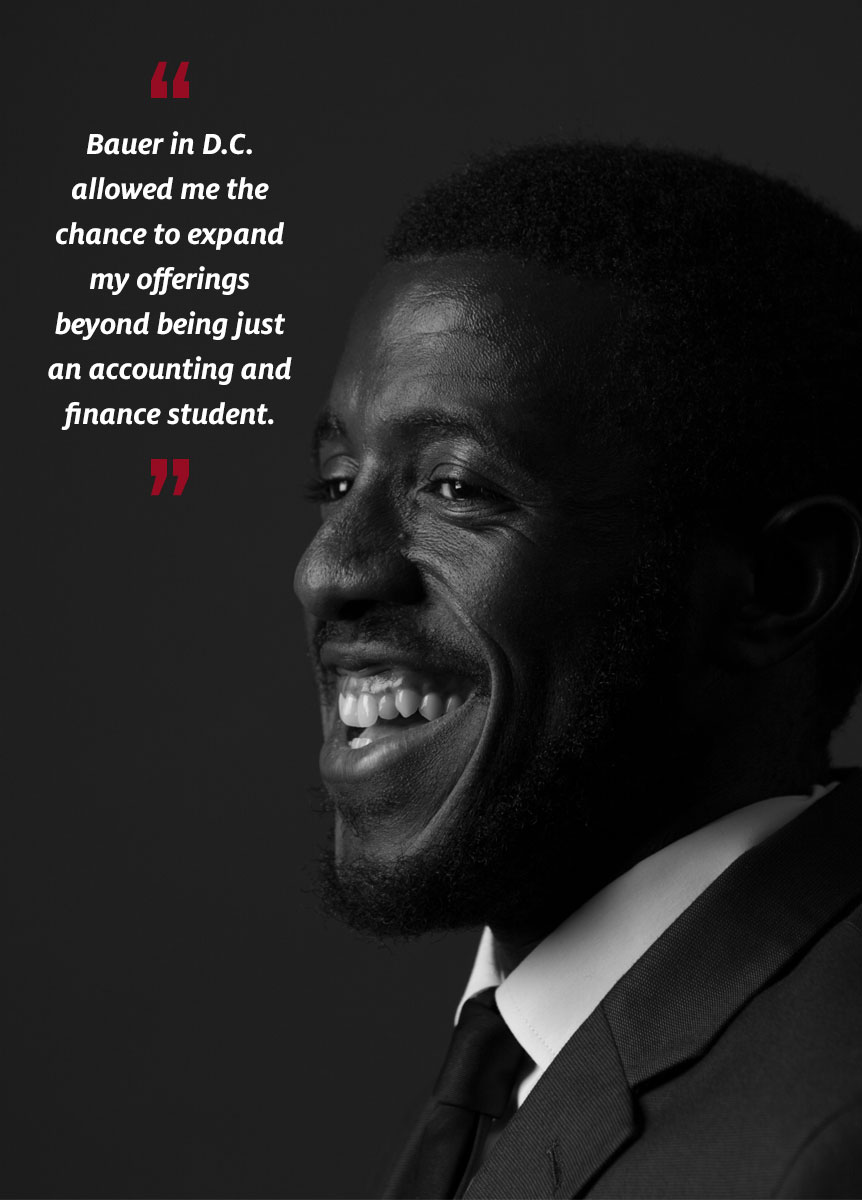 ---
BRINDA PENMETSA
FINANCE SENIOR
SPRING 2017 FELLOW
As part of the most recent class of Bauer in D.C. fellows, Brinda Penmetsa realized a dream from her childhood.
She'd fallen in love with D.C. during a visit one summer and knew she wanted to go back, not just as a tourist, but as a working professional.
"I made a promise to myself that I would, at some point in my college career, spend a summer or semester in D.C. living and learning," Penmetsa said. "When I found out about Bauer in D.C., I thought it was the perfect opportunity for me to grow as a student, leader and lifelong learner."
During her fellowship, Penmetsa threw herself into her work as a grant writing and fundraising intern for the U.S. Committee for Refugees and Immigrants, a nonprofit headquarters that protects the rights of those who have been uprooted.
"There is a lot of potential for growth when we are not in environments we are familiar with," she said. "Participating in Bauer in D.C. allowed for me to expand my perception of the opportunities available to me and recognize my potential for growth."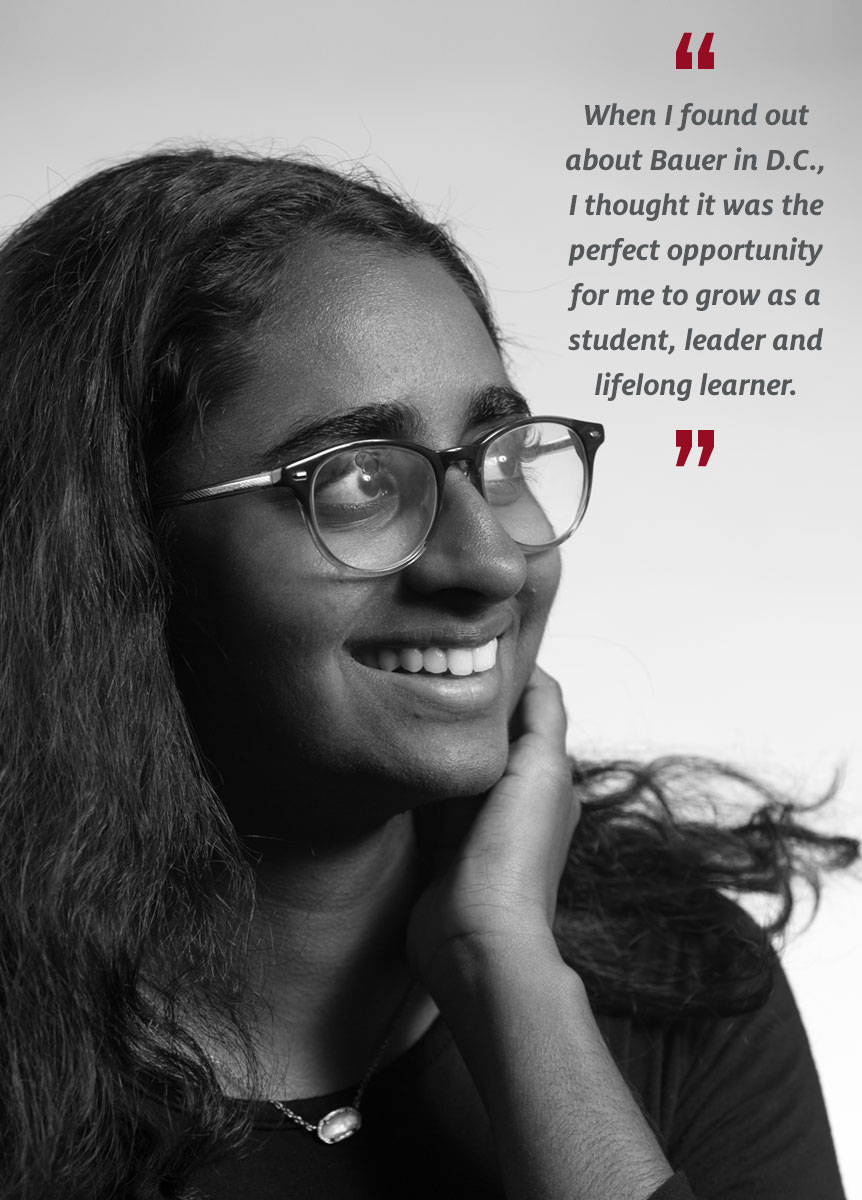 ---