Rockwell Career Center
Dear Alumni,
Download the Alumni Career Resources brochure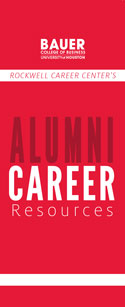 Congratulations on taking the first step toward your next career! At the Rockwell Career Center, we develop programs and opportunities to help you transition and attain successful fulfilling careers. We work hard to develop strong employer networks to ensure a wide variety of job opportunities are available to alumni.
We also develop programs and services so you can successfully compete for the best positions in the marketplace. Developed in partnership with our employers, this site is a working reference for you. We encourage you to take advantage of this web site as well as our many other services, such as online tools, individualized career coaching, resume books, job postings and networking events.
The Rockwell Career Center provides a wealth of opportunities and resources for alumni. We will assist you throughout this process. More information about the many opportunities to partner with our office and the college on your job search is detailed on the website.
Information for Alumni
As a recent University of Houston graduate you will continue to have free access to the Career Services Network resources, services, and programs for one calendar year from the date of graduation. Access to the Bauer Career Gateway remains active for two calendar years from the date of graduation.
You are also eligible to join the University of Houston Alumni Association where you can access a range of resources and services geared toward the experienced job seeker. Go to University Career Services for details.
We urge you to stay connected ... after all you are a Cougar for life!
A great way to stay connected the group is on LinkedIn, designed to help connect current students with University of Houston Alumni. Join the University of Houston Bauer Global group or any other UH group and start a discussion and connect with students!
You can also follow the Rockwell Career Center Team on Twitter.
Bauer Career Gateway
Built from the ground up by career services professionals, the Bauer Career Gateway enhances how information is shared and processed both within the university and between students and employers. Learn more about its unique features below!
---
Company Events
Company Events offer a convenient way to learn about prospective employers and start building relationships with key recruiting contacts.
Simply login to find out which employers will be hosting information sessions on campus. Once you've found a session you'd like to attend, you can RSVP with a click.
---
On-Campus Interview
The on campus interview is an exciting opportunity to meet face-to-face with top employers and open the door to your dream career.
Apply to job postings in minutes.
---
Jobs and Internships
Looking for a job or internship? All the tools you need for a successful job hunt are right here!
Browse hundreds of local and nationwide opportunities from reputable employers.
Apply to postings in minutes utilizing your stored resume. Stay organized — view your application history at any time.
---
Workshops
The employer you've had your eye on just posted your dream job. now what? Need some help writing the perfect resume? Unsure how to find common ground in the interview? Not confident in your lunch interview etiquette?
Fortunately, your career center offers a variety of Workshops throughout the year to help you develop and refine your career-related skills. From mock interviews, to discussing appropriate business attire; Workshops provide all the tips and skills you need to ensure job search success.
Simply login to view and RSVP for upcoming Workshops!
You are also welcome to join the University of Houston Alumni Association.
Simply login to view and set up a Gateway account
Log in
---
Volunteer with the Rockwell Career Center
Recruit a Bauer Student (Internship or full-time jobs)
Mentor a Bauer Student
---
Walk In Hours
| | |
| --- | --- |
| BBA & MSACCY Counseling | Mon. 3 – 4 p.m. |
| | Tues. 2:30 – 4:30 p.m. |
| | Wed. & Thurs. 11 a.m. – 12 p.m. |